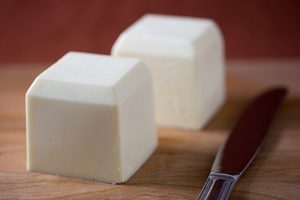 The more I learn about pastry, the more I realize that European pastry is on a completely different level compared to classic American pastry. My impression is that European pastry is all about introducing flavor depth through manipulating eggs, butter and technique.
Croissants
,
strudel
and danish pastries come to mind. American pastry, on the other hand, tends to build off bold flavors with a strong sugar backbone accentuated by spices.
Apple pie
,
cupcakes
and
cookies
come to mind here.
In the quest to become an adept baker, it's important to draw from as many influences as possible. One trick that many American style bakers use to improve flavor depth is taking a cue from European bakers by using cultured European style butter.
How does American style butter differ from European style butter? Let's take a look.