Vegan Parsnip Cake

Mattie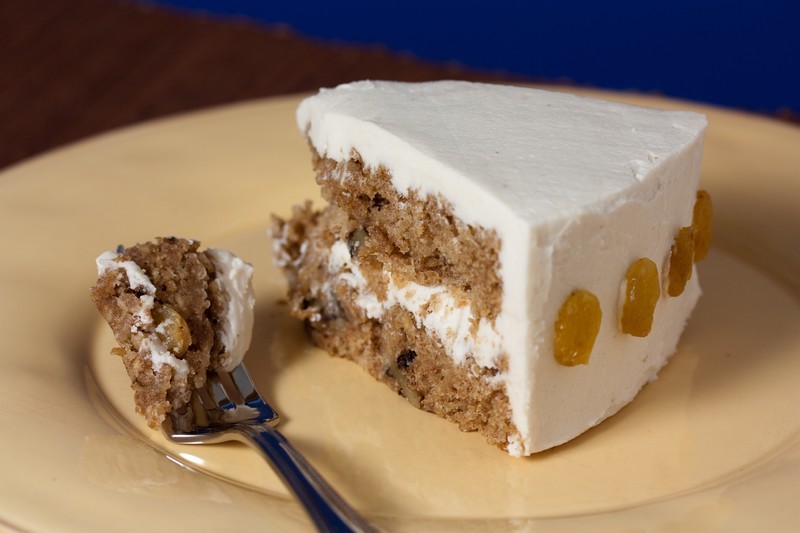 This Vegan Parsnip Cake recipe is carrot cake's long lost brother, featuring parsnips which are slightly spicy and astringent. Parsnips are teamed up with pineapple, golden raisins, non-diary yogurt and a touch of cardamom to make a vegan cake that's lighter and spicier than carrot cake but every bit as tasty. Like carrot cake, Vegan Parsnip Cake should be liberally frosted with
Easy Vegan Cream Cheese Frosting
or a
variant thereof
for best results.
Find more
Fall recipes
on Veganbaking.net
Vegan Parsnip Cake Recipe
1 cup grated parsnips (about 1 ½ parsnips)
½ cup + 2 Tablespoons sugar
½ cup pineapple, shredded
1/3 cup non-dairy yogurt
2 Tablespoons
vegetable oil
1 ½ teaspoons cardamom
1 teaspoon vanilla extract
½ teaspoon cinnamon
½ teaspoon nutmeg
½ teaspoon ginger
¼ teaspoon salt
¾ cup whole wheat flour
¼ cup all purpose flour
1 teaspoon baking powder
½ teaspoon baking soda
¼ cup golden raisins
¼ cup chopped walnuts
1) Grate your parsnips
Preheat oven to 350F (177C). Grate the parsnips until you have 1 cup capacity. This can be done in seconds with a food processor with a grate attachment. Set aside.
2) Mix together the flavor building ingredients
In a medium bowl, mix together the sugar, shredded pineapple, non-dairy yogurt, vegetable oil, cardamom, vanilla extract, cinnamon, nutmeg, ginger and salt until well combined.
3) Whisk together the dry ingredients
In a large mixing bowl whisk together the whole wheat flour, all purpose flour, baking powder and baking soda.
4) Build the cake batter
Add the wet ingredients to the bowl containing the dry ingredients and mix until well combined. With a spoon, mix in the grated parsnips followed by the golden raisins and walnuts.
5) Bake the vegan parsnip cake to perfection
Pour the mixture into an 8 inch round cake pan and bake for about 30 minutes or until an inserted toothpick comes out clean. This recipe makes one 8 inch round of Vegan Parsnip Cake.