Vegan Parsnip Cake

Mattie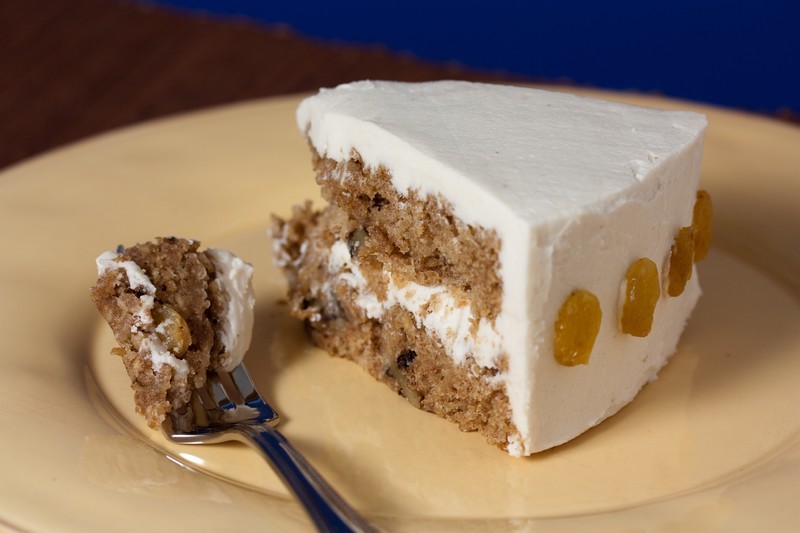 This Vegan Parsnip Cake recipe is carrot cake's long lost brother, featuring parsnips which are slightly spicy and astringent. Parsnips are teamed up with pineapple, golden raisins, non-diary yogurt and a touch of cardamom to make a vegan cake that's lighter and spicier than carrot cake but every bit as tasty. Like carrot cake, Vegan Parsnip Cake should be liberally frosted with
Easy Vegan Cream Cheese Frosting
or a
variant thereof
for best results.
Find more
Fall recipes
on Veganbaking.net
Vegan Parsnip Cake Recipe
1 cup grated parsnips (about 1 ½ parsnips)
½ cup + 2 Tablespoons sugar
½ cup pineapple, shredded
1/3 cup non-dairy yogurt
2 Tablespoons
vegetable oil
1 ½ teaspoons cardamom
1 teaspoon vanilla extract
½ teaspoon cinnamon
½ teaspoon nutmeg
½ teaspoon ginger
¼ teaspoon salt
¾ cup whole wheat flour
¼ cup all purpose flour
1 teaspoon baking powder
½ teaspoon baking soda
¼ cup golden raisins
¼ cup chopped walnuts
1) Grate your parsnips
Preheat oven to 350F (177C). Grate the parsnips until you have 1 cup capacity. This can be done in seconds with a food processor with a grate attachment. Set aside.
2) Mix together the flavor building ingredients
In a medium bowl, mix together the sugar, shredded pineapple, non-dairy yogurt, vegetable oil, cardamom, vanilla extract, cinnamon, nutmeg, ginger and salt until well combined.
3) Whisk together the dry ingredients
In a large mixing bowl whisk together the whole wheat flour, all purpose flour, baking powder and baking soda.
4) Build the cake batter
Add the wet ingredients to the bowl containing the dry ingredients and mix until well combined. With a spoon, mix in the grated parsnips followed by the golden raisins and walnuts.
5) Bake the vegan parsnip cake to perfection
Pour the mixture into an 8 inch round cake pan and bake for about 30 minutes or until an inserted toothpick comes out clean. This recipe makes one 8 inch round of Vegan Parsnip Cake.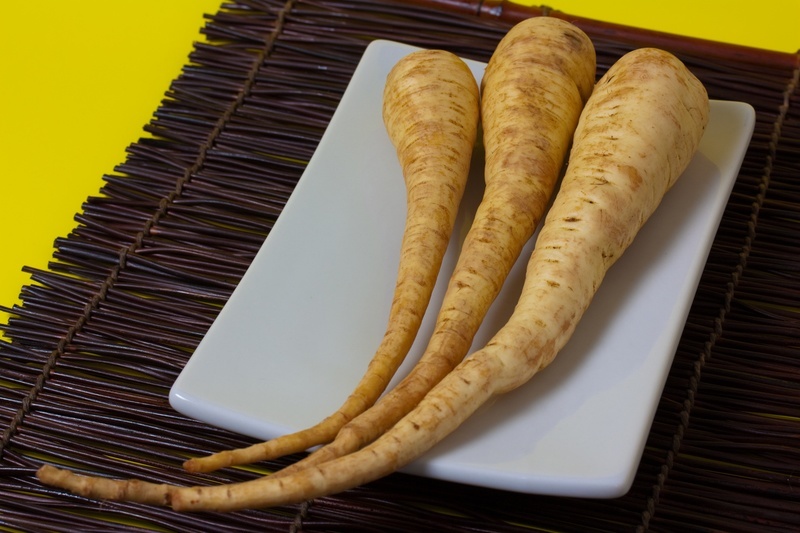 User reviews

Karen Selway
Vegan Parsnip Cake
I found this recipe a few weeks ago. Everyone loves it. My daughter 30 says it' s the best cake she's ever tasted. It' s been asked for again and again. I' ve just put my fourth or fifth cake mix into the oven since finding this recipe. I'm passing ALL the credit to you because that's where it belongs. Thankyou!???
Was this review helpful to you?

R
How long in advance can this cake be made?
Was this review helpful to you?

Cassia
This was a great cake. My only complaint was the amount of cardamon over powers it. 1/2 a teaspoon works best for me.
Was this review helpful to you?

skinnyvegan
Top 10 Reviewer
View all my reviews (9)
SO good
I was so excited to try this! Never had parsnips before and was intrigued by the unique idea of putting them in a cake. I was so pleased with the result! I made this cake with the easy cream cheese frosting and it was amazing!! Beautiful cake too. Definitely recommend this!!
Was this review helpful to you?

Elizabeth
Epic win!
This cake tastes amazing!!! I made this for my boyfriend who recently proclaimed parsnips his new favorite thing. I followed the recipe exactly, except I didn't have whole wheat flour so I just used all-purpose flour. I also substituted dried cranberries for the walnuts and that was nice.

The only problem was the presentation. The cake was soft and mushy upon serving and didn't slice like a cake (I baked in an 8" cake pan). I attribute this to the pineapple, but not sure. I think these would make excellent muffins or even baking in a loaf like banana bread. Any suggestions on how to make this more cake-like so it could hold up to slicing?
Was this review helpful to you?

Roxy
amazing!
This cake is absolutely delicious! I made it using 3x the ingredients, makes a gorgeous cake for a whole baking tray! Amaze your family and astonish your friends with this supercake!
Was this review helpful to you?

Brit Chick Runs
Oh my
Wowzer! I made this cake today, sticking to the exact recipe. The only changes I made were turning the cake into 12 muffins, instead of one 8inch cake, and using 1/4c chopped dates in place of the walnuts and raisins (I didn't have the former and I don't like the latter :p). The cooking time was the same pretty much, and they turned out INCREDIBLE. So moist, full of spice and totally delicious. MAKE THEM!
Was this review helpful to you?

jacqui
shredded...
The picture of the parsnip cake is beautiful! I can't wait to make this....
Is the pineapple fresh or dried?
Should I grate the pineapple to shred it?
Thanks!
Was this review helpful to you?