Waffles

A waffle is a batter-based cake that is cooked in a waffle iron which gives it a specific shape and a crispy exterior. They are usually chemically leavened. Vegan waffle recipes often utilize egg replacers such as flax or starch.
4 results - showing 1 - 4

Mattie
7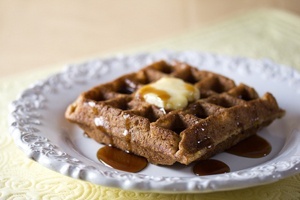 Curdled soy milk produces a buttermilk tang that's perfect in this Vegan Buttermilk Waffle recipe. The cornmeal allows them to attain a nice balance between crispy exterior and moist interior. Avoid making this recipe with anything other than soy milk; other non-dairy milks lack the protein content to curdle effectively which is paramount to rich buttermilk flavor. Try these waffles with a slathering of almond butter, vegan butter, fresh fruit or maple syrup.

Mattie
2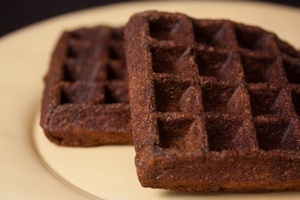 One of my favorite breakfasts is this Vegan Gingerbread Waffle recipe accompanied by a cup of strong coffee and veggie sausage on the side. Just when you''re thinking that you may be eating dessert you'll notice a savoriness that will assert that this is indeed breakfast. Slather these vegan waffles with a touch of almond butter, a splash of maple syrup and a sprinkling of
Balsamic Candied Pecans
to make this a truly memorable experience.

Mattie
0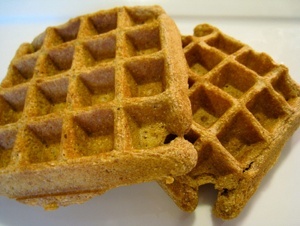 This Hearty Vegan Waffle recipe makes light and fluffy vegan waffles sporting a nice crispy exterior and a soft, moist interior due to the use of toasted cornmeal. They're delightful topped with a touch of almond butter, fruit and/or real maple syrup.

Mattie
1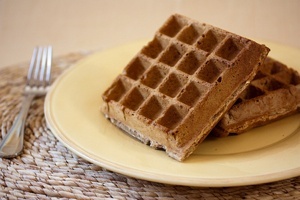 Growing up, my Dad would make pancakes every Sunday. On the rare occasions he made waffles, I knew he was pulling out all the stops for Sunday breakfast. Inspired by the waffles I grew up with, I created this Vegan Multigrain Waffle recipe that features rolled oats, whole wheat flour and your choice of toasted corn meal, oat bran or wheat germ. Top it with real maple syrup or fresh organic berries to be transported back to my dining room circa 1985.
4 results - showing 1 - 4