Muffins

Muffins are a type of
quick bread
that's baked into multiple small individual pieces so it can be enjoyed by one person. Muffins are similar to
cupcakes
except they are more dense and hearty, lack frosting and are less sweet. Vegan muffin recipes usually substitute eggs with egg replacer ingredients such as flax, starches or fruit purées.
14 results - showing 1 - 14

Mattie
1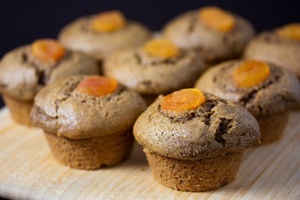 The sweetness of apricots and the earthiness of 100% rye flour complement each other, especially when accompanied by molasses, cardamom and espresso powder in this Vegan Apricot Rye Muffin recipe. Rye flour contains a low amount of gluten compared to wheat based flour so in order to enhance binding, the batter is mixed for 1 minute to allow the starches in the flour to become activated. The pectin in the apricot preserves also acts wonderfully as a binder in these vegan muffins.

Mattie
11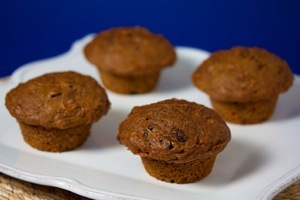 Carrot cake is my all-time favorite dessert so I adapted it into a heartier quick bread in the form of this Vegan Carrot Cake Muffin recipe so I could justify having it for breakfast. It's pointless to resist carrot cake goodness in it's new quick bread form so don't even try. A dollop of almond butter on top contrasts nicely with carrot cake flavor and adds extra nutritious oomph to power your day of world domination.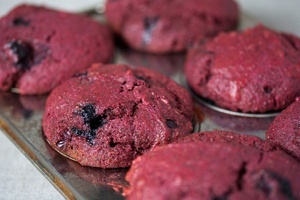 This Vegan Blueberry Beetnik Muffin recipe takes advantage of baked beets which harbor wonderful butter caramel flavors when their sugars caramelize. The vegan muffins are then complimented by the tartness of blueberries and just the right ratio of whole wheat flour and all-purpose flour. Lemon juice enhances flavor while allowing the beet purée to retain its vibrant reddish color during baking. This is because acids reduce the oxidation of plant-based compounds called anthocyanins, which are responsible for the red color in foods like beets and raspberries.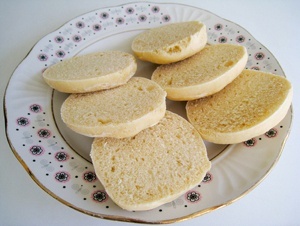 This Vegan English Muffin recipe features just a touch of lemon juice and sugar to enhance its yeast-induced flavors. They're awesome fresh out of the toaster with a little
Vegan Butter
, jam or whatever your preferred muffin topping is. I've been known to use these as burger buns too. They're not loaded with preservatives and dough conditioners like their store-bought cousins but they'll still keep in the freezer stored in a plastic freezer bag for several months.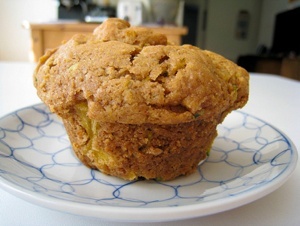 The subtle buttery flavor of zucchini and intensely sweet flavors of pineapple collide with delicious chaos in this Vegan Zucchini Pineapple Muffin recipe. Flavors are further enhanced by the addition of vanilla extract, cinnamon and nutmeg. Just the right ratio of whole wheat flour and all-purpose flour is used to give these vegan muffins the optimum level of fluffiness.

Mattie
7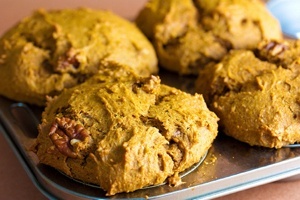 This Vegan Pumpkin Spice Muffin recipe has a wonderful warm, buttery flavor that is enhanced by barley malt syrup, lemon juice, cinnamon, ginger and a touch of cloves. Pecans add flavor complexity and a delightful crunch. These vegan muffins are equally good with baked sweet potato purée substituted for the pumpkin as well.

Mattie
1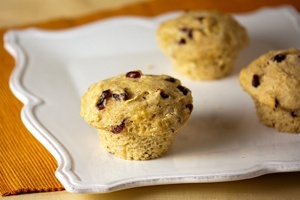 Orange chunks and dried cranberries make a perfect combination of sweet, tart flavors in this Vegan Orange Cranberry Muffin recipe. Lemon zest further unifies the orange and cranberry and just the right amount of vanilla extract ties it all together.

Mattie
5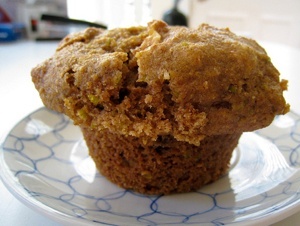 Pear chunks, pear purée and ginger come together to compliment each other in this tasty Vegan Ginger Pear Muffin recipe. Lemon juice, cinnamon and nutmeg further unify flavors and a touch of vanilla extract brings it all together.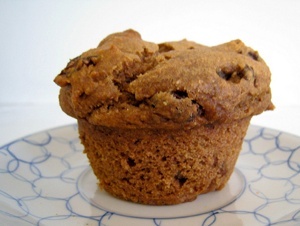 This 100% fruit sweetened Vegan Date Spice Muffin recipe features the satisfying malty flavor of medjool dates puréed with cinnamon, ginger and a touch of vanilla extract. These vegan muffins also feature pecans and raisins for an irresistibly earthy flavor complexity and texture.

Mattie
2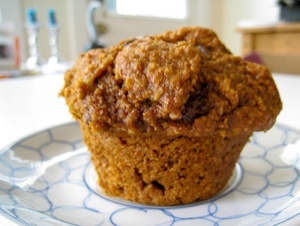 This Vegan Carrot Bran Muffin recipe features carrots which lend sweet, buttery notes. These flavors are further enhanced by just the right amount of molasses and your choice of wheat germ, wheat bran or oat bran. Raisins are added for additional sweetness and flavor depth and a touch of vanilla extract ties the flavors together into a dense and hearty muffin.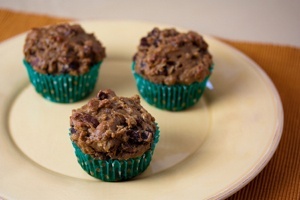 This Hearty Vegan Breakfast Muffin recipe was created because I wanted a healthy, hearty vegan muffin that provided good energy for the first meal of the day without giving me a mega-dose of sugar like most other muffins often do. These fruit sweetened muffins contain no refined sugar, more protein, complex carbs and fiber than most other muffins because they feature ingredients like dates, raisins, walnuts, rolled oats, hemp protein powder or soy flour, maple syrup and molasses. These ingredients lend a delightfully complex taste and contribute to a dense hearty texture. They're easy to make and provide about one week of breakfasts. Try them topped with almond butter.

Mattie
13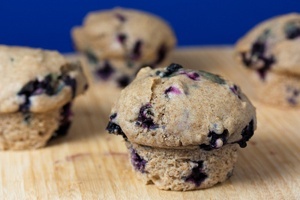 These Vegan Blueberry Muffins feature a buttery flavor and smooth texture thanks to the combined efforts of non-dairy milk, lemon juice and lemon extract. This compliments the tartness of the blueberries, making a delectable snack for breakfast or any other occasion. The combination of lemon juice and lemon extract in this recipe is so the lemon flavor can be brought up to tasty levels without excessive acidity, which in large amounts can negatively affect gluten's ability to bind.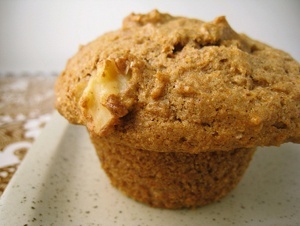 There's something about bananas and walnuts that just makes a perfect quick bread. This Vegan Banana Walnut Muffin recipe delivers it to your tastebuds thanks to the help of cinnamon, nutmeg a touch of vanilla extract. A slice of these vegan muffins topped with almond butter is a great thing.

Mattie
2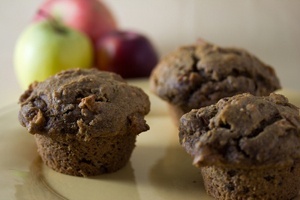 This Vegan Apple Pecan Muffin recipe has a wonderful apple notes enhanced by maple syrup, lemon juice, allspice and cinnamon. The addition of pecans adds a welcome flavor and texture contrast and a touch of unrefined coconut oil makes you not miss the fact that they don't contain any butter. Using tart apples like Granny Smith is preferred for maximum apple flavor.
14 results - showing 1 - 14