Easy Vegan Granola

Mattie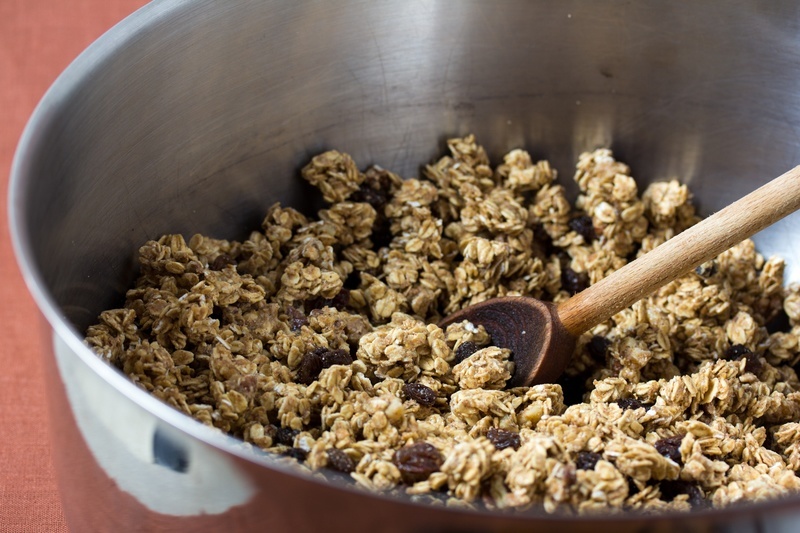 Making this Easy Vegan Granola recipe is only slightly harder and much more fun than scooping it out of the bulk bins at the local health food store. It features almond butter for its base, rolled oats, cinnamon and nutmeg and just the right amount of walnuts and pecans to round out the crunch. A touch of raisins add a welcoming sweetness.
I prefer to not overload with sugar in the morning so my granola recipes tend to err on the side of reduced sweetness which is a contrast from most store-bought granola. If you like your granola sweet then you may consider adding a few Tablespoons additional sugar. The reduced sweetness allows other flavor nuances to come through. The almond butter toasts during baking which brings on a rich flavor. A small amount of unrefined coconut oil increases flavor complexity further. Use this granola recipe as a base for future granola recipes. Enjoy it with non-dairy milk, top it with non-dairy yogurt or crumble it over ice cream.
Find more
Healthy recipes
on Veganbaking.net
Easy Vegan Granola Recipe
¾ cup sugar
½ cup non-dairy milk
6 Tablespoons
canola, light olive oil or rice bran oil
½ cup almond butter
2 Tablespoons unrefined coconut oil
1 Tablespoon vanilla extract
1 teaspoon cinnamon
½ teaspoon nutmeg
½ + ⅛ teaspoon salt
5 cups rolled oats (aka old fashioned)
1 cup wheat germ, wheat bran or oat bran
½ cup chopped walnuts
½ cup chopped pecans

1 cup raisins
1) Prepare your flavor building ingredients
Preheat your oven to 300F (149C). In a large bowl, whisk together the sugar, non-dairy milk, canola oil, almond butter, coconut oil, vanilla extract, cinnamon, nutmeg and salt.
2) Combine the ingredients to make your vegan granola
In a large mixing bowl, stir together the oats, wheat germ, walnuts and pecans. Add the wet ingredients from Step 1 and thoroughly stir until well combined.
3) Bake to perfection
Place the mixture on a baking sheet and spread it out flat. Bake for 30 minutes, or until the granola starts to dry. If using two baking sheets, switch racks halfway during the baking duration. Remove from the oven and let cool.
4) Break the vegan granola into smaller pieces
Transfer the granola to a large mixing bowl and break it up into smaller pieces. Stir in the raisins or other dried fruit. Store in a covered container at room temperature for up to 2 months. This recipe makes about 8 cups of Easy Vegan Granola.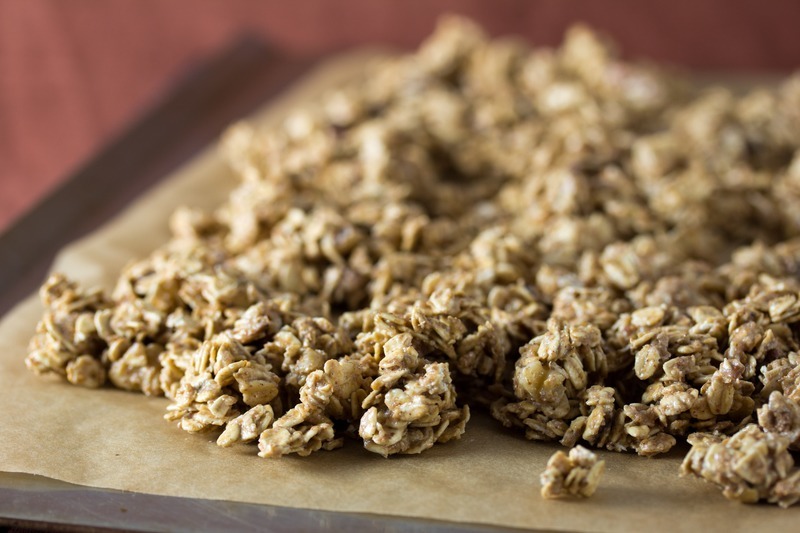 User reviews

vajiya3892
#1 Reviewer
View all my reviews (57)
Homemade granola is always better looking than industrial made! Try it
Was this review helpful to you?

Brenda
Yum!
Delicious! We love granola!
https://www.fargopaintingpros.com
Was this review helpful to you?

monique
View all my reviews (1)
must be great!
I love homemade granola and this one is the best! I know its good when my egg loving husband requests it for breakfast so he doesnt make an egg sandwich! That is a small victory for this vegan married to a carnivore. thanks so much! making yet another batch today.
Was this review helpful to you?

prettyleodia
Top 50 Reviewer
View all my reviews (5)
sooo good!
Love this stuff! The only problem is that it doesn't last long because I'm always chowing down on it!
Thank you for posting this recipe!!
Was this review helpful to you?