Confections

19 results - showing 1 - 15

thesweetlife
7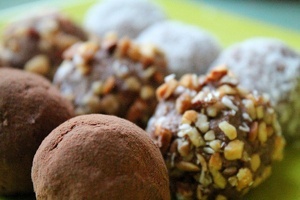 This super easy Vegan Coconut Almond Truffle recipe will satisfy that late night chocolate craving without the excess sugar and empty calories of other desserts. This perfect blend of coconut, chocolate and almond will keep you coming back for more.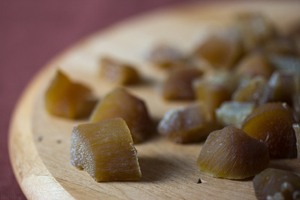 Crystallized ginger is somewhat of a magical candy from nature usually made from just ginger, sugar and a little heat to bring the two together. It seems there are almost as many crystallized ginger recipes as there are ginger pieces. After doing extensive testing I learned that the key to successful crystallized ginger boils down (pun intended) to three main things: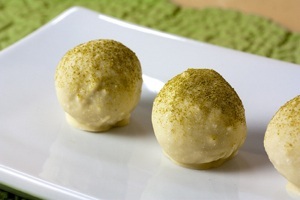 This Vegan White Chocolate Matcha Bonbon recipe is a great example of the possibilities that can be achieved with white chocolate and ganache. The ganache is enhanced with matcha green tea powder and a touch of rum, enrobed in a white chocolate coating then dusted again with matcha powder for a beautiful confection with subtle green tea overtones. Cocoa butter has a very small temperature range between being too runny and too solid so remember to keep this in mind before rolling the ganache into balls and later coating them in the white chocolate.

Mattie
7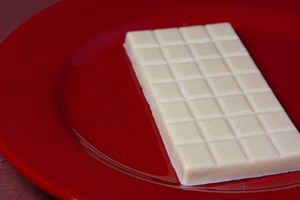 Commercial vegan white chocolate is relatively difficult to find but is an extremely versatile ingredient to have in your kitchen. Luckily, white chocolate's main ingredient, cocoa butter, is
easy to find at affordable prices on the internet
if you can't find it at your local health food store. A touch of
soy milk powder
and vanilla extract enhances depth of flavor in this chocolate.
Earlier attempts at making this Vegan White Chocolate recipe have resulted in excessively grainy bars due to the absence of industrial chocolate making equipment. A few extra steps will ensure this bar is as smooth as possible. Grinding your soy milk powder in a rotary coffee grinder will make the powder granules as small as possible and cause them to not be as noticeable on the palate. Tempering the chocolate to ensure proper fat crystal formation is the other crucial step to ensuring a smooth, high quality bar. Once you've mastered these steps you can add flavorings like cardamom, matcha, cinnamon and ginger powder for a truly outstanding vegan white chocolate.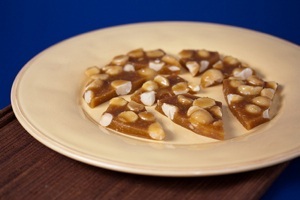 If pirates ate brittle (and you know they did) this Vegan Coconut Macadamia Nut Brittle would be the flavor and this is how they'd describe it:
Yaaar ya kitchen dwellin' landlubber! Coconut, caramelized sugar and macadamia nuts be tied together with a splash o' rum t' make this t' brittle o' t' pirate seas, matey! So whip up a batch and hand 'er over before ya be plank walkin'!
They might also marvel in the fact that this vegan brittle recipe uses coconut milk,
coconut oil
and shredded coconut for maximum coconut flavor, except it would be hard to hear yowled in that thick pirate accent.

Mattie
6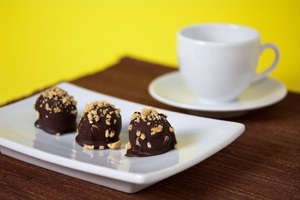 With this Vegan Peanut Butter Bomb recipe I captured the essence of fine, natural peanut butter, combined it with some lightly caramelized sugar and
Regular Vegan Butter
or margarine, then covered it in a dark chocolate exterior, completing an irresistible vegan chocolate bonbon.
Ever since the eighties when two people were walking down the street in opposite directions, one eating a chocolate bar, the other eating peanut butter out of a jar, we've known that the two go together really well. We know this because the two people allegedly collided exclaiming, "hey you're chocolate's in my peanut butter!" "My peanut butter's in your chocolate!" This has been documented as a true occurrence because I saw it in a Reese's Peanut Butter Cup commercial. I'm so thankful they just happened to have TV cameras rolling to get that on film. But what is up with the peanut butter in those things? It always tastes like it's deemed at the factory to be too low quality to actually make it into the panut butter jars. And the chocolate seemed like typical mass produced American chocolate fare, over-sweetened and chalky which barely qualifies as chocolate to this chocaholic.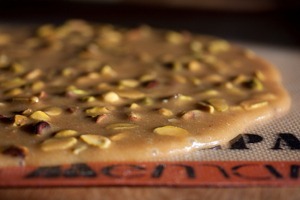 Pistachios paired with
cardamom
then kissed with rum makes this Vegan Pistachio Cardamom Brittle recipe stand out. Cover it in melted dark chocolate to transform it into pistachio chocolate bark if you want to give it another flavor dimension.

Mattie
3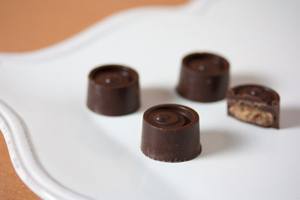 One of the reasons marzipan goes back ages is because it's extremely versatile. It can be used for anything from cake decorations, fillings in cookies and pastries or in this case, a center in this Vegan Bonbon recipe. A touch of almond extract brings out some extra flavor so it can compete on the same level as the chocolate. This recipe uses a
chocolate mold
. If you don't have one, place the marzipan balls in the freezer for an hour or so, roll them in melted chocolate, then place them on a parchment paper lined cookie sheet before returning them to the freezer for about another hour.

Mattie
3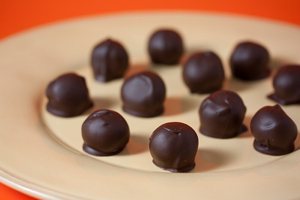 This Vegan Chocolate Orange Bomb bonbon recipe packs a seductive orange one two punch: They involve candied orange peel pureed with a kiss of Grand Marnier, mixed together with chocolate, then enrobed in a chocolate shell. This is a great vegan bonbon to have on hand when assembling your own box of chocolates for a special occasion.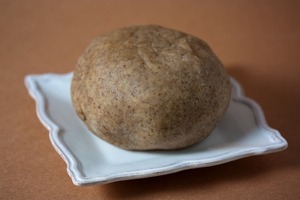 Marzipan is almond meal that's been added to caramelized sugar which makes it similar to frosting in consistency. It's origins come from present day Iran or Spain according to theory but its true origins, as well as where the term 'marzipan' originated from are shrouded in mystery. It's extremely versatile, making a fantastic filling for cookies and pastries, a center for chocolates like
Marzipan Truffles
or rolled into stollen. It can be colored, flavored and formed into candies or used in cake decorating. You can even use other nuts besides almonds like macadamia nuts, cashews or brazil nuts. Marzipan can also be mixed with fruit and served in squares. In the vegan recipe below I didn't remove the skins of the almonds so it came out a light brown.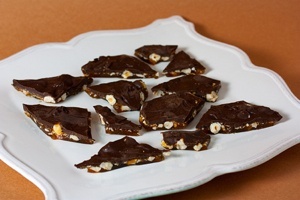 Hazelnuts, also known as filberts, are toasted to give this Vegan Chocolate Hazelnut Bark recipe a great crunch. Frangelico, a hazelnut liqueur, ups the ante with the hazelnuts for a deep, rich flavor. This vegan brittle is further enhanced with orange zest and then smothered in chocolate.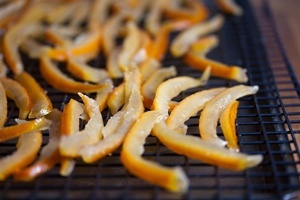 I used to get so grossed out at the mere thought of accidentally eating orange peel while eating an orange. Then I had candied orange peels and appreciated their candy form and created this recipe. Candied orange peels are a very versatile delicacy. Use them in Panettone, Stollen, Hot Cross Buns, pair them with almonds and cover them with chocolate or mince them and use them for topping on ice cream. Feel free to use other citrus peels in place, or in addition to orange such as lemon or lime. Just be sure to use organic peels because non-organic ones often have high concentrations of pesticide residues.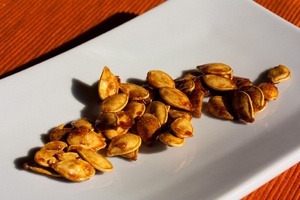 Don't know what to do with all those pumpkin seeds from pumpkin carving? Take those little pepitas and dress them up in little spiced sugar costumes with this Candied Spiced Pumpkin Seeds recipe. They'll love it and you will too because this vegan recipe features barley malt syrup, cinnamon, cloves and cardamom to help push the savory pumpkin seed flavors forward.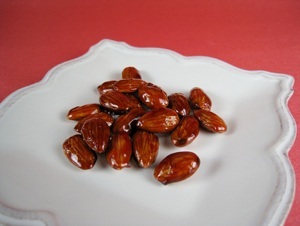 This Cherry Candied Almond recipe is an excuse for me to combine two of my most favorite flavor combinations: cherries and almonds. I used brown sugar and olive oil for a more complex sweetness profile and just the right amount of almond extract to bind the cherry and almond flavor in holy matrimony. Try these as a relatively guilt-free vegan snack, add them to salads or sprinkle them on your ice cream.

Mattie
6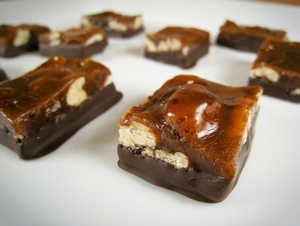 These chewy Vegan Pecan Caramel Chews are reminiscent of those little caramels you used to get from trick or treating when you were little, except they're packed with pecans and dipped in chocolate! Be sure to use a candy thermometer with this vegan caramel recipe for best results. If you like your caramel extra soft or extra hard, adjust the caramelization temperature 10F (6 C) lower or 10F (6 C) higher respectively.
19 results - showing 1 - 15