Frozen Yogurts

Frozen yogurt is a smooth
frozen dessert
made from yogurt and other flavorings such as fruit. Frozen yogurts are lighter in texture, contain less fat and usually not as sweet as ice creams. Vegan frozen yogurt recipes utilize
non-dairy yogurts
which usually consist of soy, nut or coconut.
1 results - showing 1 - 1

Mattie
1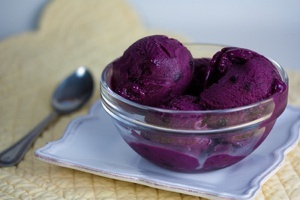 This Vegan Blueberry Frozen Soy Yogurt recipe is super simple to make. It's just unsweetened vegan soy yogurt mixed in an ice cream maker with the fruit jam of your choice. I happened to have blueberry jam when I made this batch. Be sure to use quality soy yogurt. There are some brands out there that don't taste anything remotely like yogurt and they are to be avoided. It's also recommended using quality jam made with sugar instead of high-fructose corn syrup. Be sure to use unsweetened soy yogurt or else your frozen soy yogurt will come out too sweet. This recipe is already on the sweet side so the fruit comes through with intensity.
1 results - showing 1 - 1