Brittles and Barks

A brittle or bark is a
confection
made of set
caramel
, other additives and embedded with nuts that has fully crystallized into a solid state. A bark differs from a brittle in that it contains a chocolate coating on one side that resembles the bark of a tree. Vegan brittle and bark recipes utilize vegan caramel mixtures often containing nut butters,
vegan butters
and vegetable oils instead of animal-based cream and butter.
3 results - showing 1 - 3

Mattie
2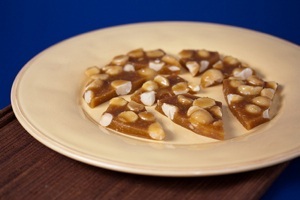 If pirates ate brittle (and you know they did) this Vegan Coconut Macadamia Nut Brittle would be the flavor and this is how they'd describe it:
Yaaar ya kitchen dwellin' landlubber! Coconut, caramelized sugar and macadamia nuts be tied together with a splash o' rum t' make this t' brittle o' t' pirate seas, matey! So whip up a batch and hand 'er over before ya be plank walkin'!
They might also marvel in the fact that this vegan brittle recipe uses coconut milk,
coconut oil
and shredded coconut for maximum coconut flavor, except it would be hard to hear yowled in that thick pirate accent.

Mattie
1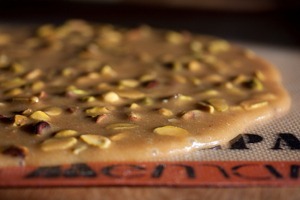 Pistachios paired with
cardamom
then kissed with rum makes this Vegan Pistachio Cardamom Brittle recipe stand out. Cover it in melted dark chocolate to transform it into pistachio chocolate bark if you want to give it another flavor dimension.

Mattie
2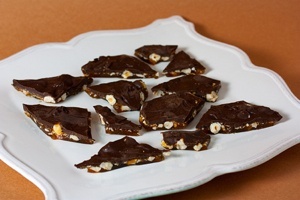 Hazelnuts, also known as filberts, are toasted to give this Vegan Chocolate Hazelnut Bark recipe a great crunch. Frangelico, a hazelnut liqueur, ups the ante with the hazelnuts for a deep, rich flavor. This vegan brittle is further enhanced with orange zest and then smothered in chocolate.
3 results - showing 1 - 3