Candies

Candy is a broad group of
confections
consisting of a mixture of sugar, water, chocolate or fruit, among other ingredients. Vegan candy recipes utilize methods where animal products are not necessary and often include ingredients such as coconut oil, cocoa butter, nut butters, starches, gums and caramelized sugars.
8 results - showing 1 - 8

Mattie
1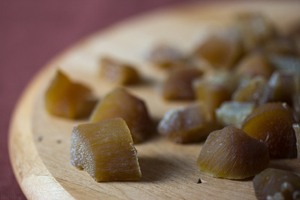 Crystallized ginger is somewhat of a magical candy from nature usually made from just ginger, sugar and a little heat to bring the two together. It seems there are almost as many crystallized ginger recipes as there are ginger pieces. After doing extensive testing I learned that the key to successful crystallized ginger boils down (pun intended) to three main things:

Mattie
7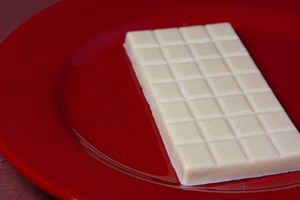 Commercial vegan white chocolate is relatively difficult to find but is an extremely versatile ingredient to have in your kitchen. Luckily, white chocolate's main ingredient, cocoa butter, is
easy to find at affordable prices on the internet
if you can't find it at your local health food store. A touch of
soy milk powder
and vanilla extract enhances depth of flavor in this chocolate.
Earlier attempts at making this Vegan White Chocolate recipe have resulted in excessively grainy bars due to the absence of industrial chocolate making equipment. A few extra steps will ensure this bar is as smooth as possible. Grinding your soy milk powder in a rotary coffee grinder will make the powder granules as small as possible and cause them to not be as noticeable on the palate. Tempering the chocolate to ensure proper fat crystal formation is the other crucial step to ensuring a smooth, high quality bar. Once you've mastered these steps you can add flavorings like cardamom, matcha, cinnamon and ginger powder for a truly outstanding vegan white chocolate.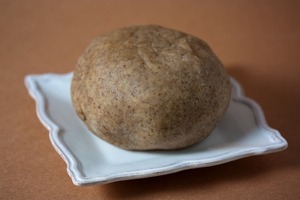 Marzipan is almond meal that's been added to caramelized sugar which makes it similar to frosting in consistency. It's origins come from present day Iran or Spain according to theory but its true origins, as well as where the term 'marzipan' originated from are shrouded in mystery. It's extremely versatile, making a fantastic filling for cookies and pastries, a center for chocolates like
Marzipan Truffles
or rolled into stollen. It can be colored, flavored and formed into candies or used in cake decorating. You can even use other nuts besides almonds like macadamia nuts, cashews or brazil nuts. Marzipan can also be mixed with fruit and served in squares. In the vegan recipe below I didn't remove the skins of the almonds so it came out a light brown.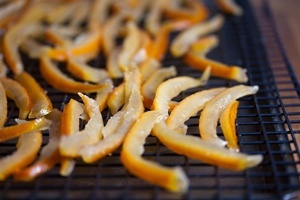 I used to get so grossed out at the mere thought of accidentally eating orange peel while eating an orange. Then I had candied orange peels and appreciated their candy form and created this recipe. Candied orange peels are a very versatile delicacy. Use them in Panettone, Stollen, Hot Cross Buns, pair them with almonds and cover them with chocolate or mince them and use them for topping on ice cream. Feel free to use other citrus peels in place, or in addition to orange such as lemon or lime. Just be sure to use organic peels because non-organic ones often have high concentrations of pesticide residues.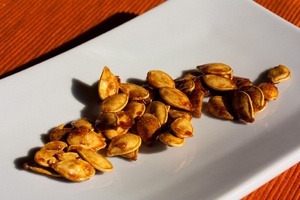 Don't know what to do with all those pumpkin seeds from pumpkin carving? Take those little pepitas and dress them up in little spiced sugar costumes with this Candied Spiced Pumpkin Seeds recipe. They'll love it and you will too because this vegan recipe features barley malt syrup, cinnamon, cloves and cardamom to help push the savory pumpkin seed flavors forward.

Mattie
1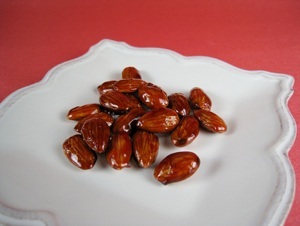 This Cherry Candied Almond recipe is an excuse for me to combine two of my most favorite flavor combinations: cherries and almonds. I used brown sugar and olive oil for a more complex sweetness profile and just the right amount of almond extract to bind the cherry and almond flavor in holy matrimony. Try these as a relatively guilt-free vegan snack, add them to salads or sprinkle them on your ice cream.

Mattie
6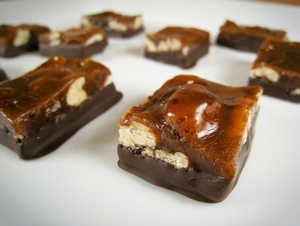 These chewy Vegan Pecan Caramel Chews are reminiscent of those little caramels you used to get from trick or treating when you were little, except they're packed with pecans and dipped in chocolate! Be sure to use a candy thermometer with this vegan caramel recipe for best results. If you like your caramel extra soft or extra hard, adjust the caramelization temperature 10F (6 C) lower or 10F (6 C) higher respectively.

Mattie
6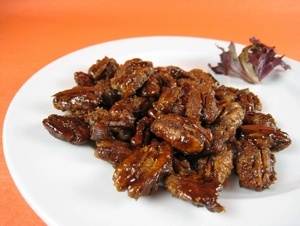 These Balsamic Candied Pecans are great for salads, ice cream or just random munching. It's one of those examples of how balsamic vinegar can mysteriously elevate certain foods to
food crack
status. This vegan recipe also features a touch of molasses and salt that work behind-the-scenes to enable proper texture and complex flavors. Don't like molasses? Too bad! Or should I say, "please add it. Pretty please?" It's essential for allowing the proper texture and flavors come through. You shouldn't be able to taste it in the finished product. Oh and here's a little secret: Put these babies in your next pecan pie for a secret candy coated weapon that's sure to wow your pie eating brethren.
8 results - showing 1 - 8