Candy Making Temperature Chart - Sugar Caramelization Stages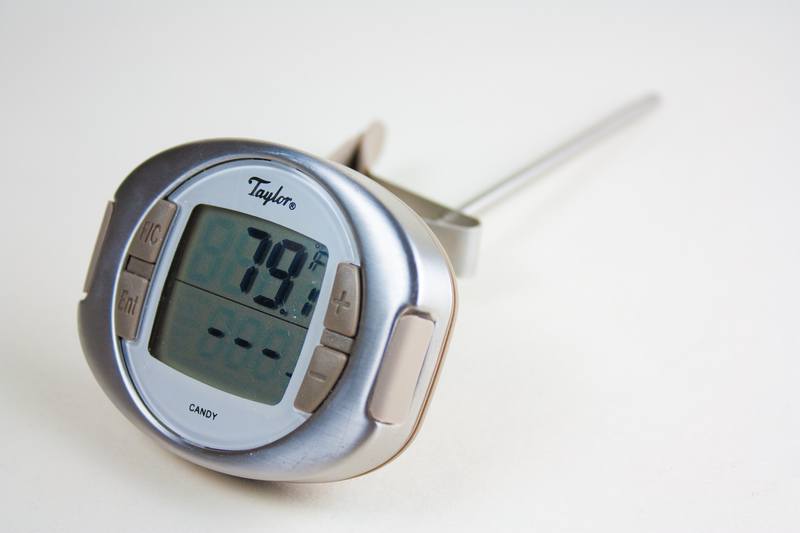 Candy consists of foods made with large amounts of sugar. This includes lollipops,
brittle
, taffy, nougat,
some chocolates
,
fudge
, toffee, licorice and jelly beans. Candy is made by combining water and sugar and exposing it to various temperature stages so it caramelizes. Eventually the heat causes the sugar crystals to melt and darken and the water to evaporate. The water evaporation causes the mixture to increase in density. The extent to which this happens is what makes the difference between caramel syrup, chewy taffy or hard rock candy. This is because the heat is one of the most important factors that determine how these sugar crystals reform when the mixture cools.
Keep in mind that humid days (over 60%) and some rainy days can affect how your candy making turns out because the candy absorbs more moisture from the air. Some people increase their candy making temperatures by a degree or two higher than indicated on the recipe but it's still a gamble. We recommend waiting until a less humid day if you're interested in consistent results.
Before making candy, test your candy thermometer for accuracy by putting the probe in a pot of boiling water. The thermometer should read 212F (100C).
Use the candy making chart below in conjunction with a candy thermometer to determine which temperatures are optimal for your desired type of candy.
Sugar Caramelization Temperatures and Stages
Temperature

Sugar Stage
Description and Uses
400F
(204C)
Burned Caramel
Too bitter- You've gone too far
375F
(191C)
Very Dark Caramel
Dark and bittersweet
350F
(177C)
Dark Caramel
Dark and intense. Glazes
345F
(174C)
Amber Caramel
Rich and sweet. Glazes
325F
(163C)
Light Caramel
Sugars start to break down and form more complex flavors. Brittle, Spun Sugar, Lollipop, Glaze
320F
(160C)
285F-315F
(141C-157C)
Hard Crack
Becomes Brittle. Caramel stage begins at 310F (155C).
275F-280F
(135C-138C)
Crack
270F-275F
(132C-135C)
Soft Crack
Separates into bendable threads. Taffy, Butterscotch
260F-265F
(127C-129C)
Hard Ball
Nougat, Divinity
245F-255F
(118C-124C)
Firm Ball
Firmer Caramel
240F-245F
(116C-118C)
Soft Ball
Fudge, Fondant, Soft Caramel, Pralines
230F-235F
(110C-113C)
Thread
Makes a long thread when dropped in cold water. Syrup, Italian Meringue
225F
(107C)
Clear
Syrup, Delicate sugar candy
213F-223F
(101C-106C)
Clear
Syrup, Jelly, Some icings
212F
(100C)
Boiling