Brownies

A brownie is a bar or square that utilizes chocolate. It has a texture between a
cookie
and a
cake
and is baked in a flat, square dish. Brownies contain a large amount of fat and sugar in relation to water which gives them a dense and soft texture. Vegan brownie recipes use egg replacers instead of eggs and usually other solid fats instead of butter.
4 results - showing 1 - 4

Mattie
8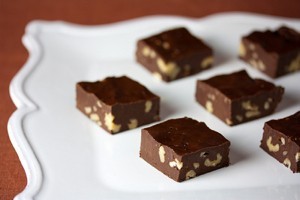 When working on this Vegan Double Chocolate Fudge recipe I learned that in order to master fudge, you need to thoroughly understand caramelization. Luckily, after dozens of fudgy failures, I now understand caramelization well enough to the point of where I can proudly share my recipe for all to enjoy, because you, dear reader, are worth more than marshmallow fluff. This recipe is easy as long as you follow it closely.

Mattie
53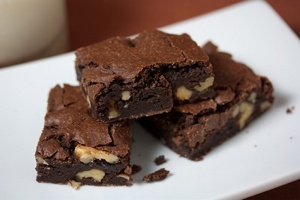 Ultimate is not something that I throw around lightly, especially for vegan brownies. I've had my share of vegan and regular brownies and been baffled by how lacking vegan versions are. Growing up on my Grandmother's brownies, I learned that a good brownie should be dense, fudgy and soft; not light, cakey and dry. Why is it so hard to emulate a traditional brownie recipe that simply consists of a few simple ingredients? Hint: it's due to the egg, which emulsifies, binds, slightly leavens then bakes up as part of the actual base of the brownie itself. To emulate this takes an expedition deep into the innards of brownie science, oh and for me, about seven years of failing until figuring this out.

Mattie
0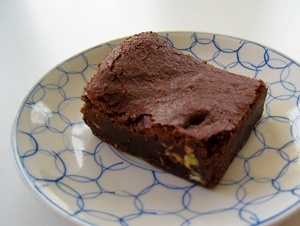 This Vegan Chocolate Dream Brownie recipe is fudgy, dense and chewy; three things that you absolutely must have in order to achieve vegan brownie nirvana. They feature arrowroot flour and brown rice syrup to aid in their chewiness. Margarine adds a welcome buttery flavor and vanilla extract ties it all together.

Mattie
2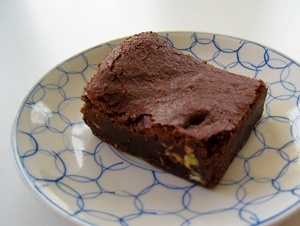 This Vegan Choc-tacular Brownie recipe utilizes
coconut oil
to make them dense and rich, arrowroot flour and brown rice syrup for a dense chew factor and vanilla extract for delicious unification. Use unrefined coconut oil instead of refined coconut oil if you're interested in imparting a subtle coconut flavor in these vegan brownies.
4 results - showing 1 - 4