Vegan American Apple Pie

Mattie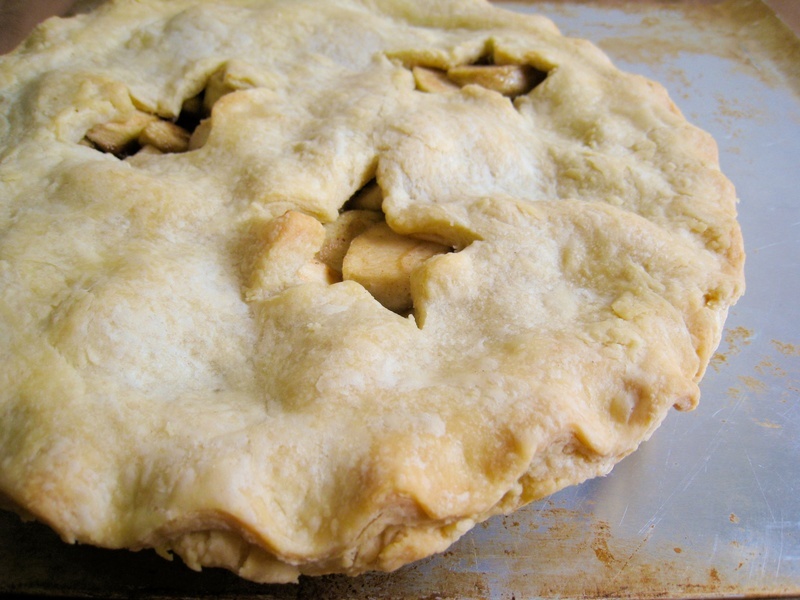 Studies have shown that vegan apple pie transfers flavors to the taste buds faster than the speed of sound. Ok, maybe not but you would think so right? This vegan Apple Pie recipe calls for
tart green apples
such as Granny Smith for prominent apple flavor. Apple notes are further enhanced with ingredients such as Vegan Butter, molasses, calvados or brandy, cinnamon, nutmeg and a touch of allspice.
Flaky Vegan Pie Crust
is recommended.
Find more
Apple recipes
on Veganbaking.net
Vegan American Apple Pie Recipe
6 ½ cups thinly sliced Granny Smith apples (about 4 to 6 apples), peeled, cored and sliced about 3 millimeters thick
½ cup sugar
3 Tablespoons
Regular Vegan Butter
or margarine, melted
2 Tablespoons arrowroot powder or tapioca starch
2 Tablespoons Calvados or brandy (optional)
1 teaspoon molasses
¾ teaspoon cinnamon
½ teaspoon nutmeg
¼ teaspoon allspice
9 inch double pie crust
1) Prepare your apples
Preheat your oven to 425F (218C). Place an over rack on the lowest setting and place a rimmed baking sheet on it. Peel, core, and thinly slice your apples and place them in a large bowl. Set aside.
2) Whisk together your flavor building ingredients
In a medium mixing bowl whisk together the sugar, Vegan Butter, arrowroot powder, Calvados if using, molasses, cinnamon, nutmeg and allspice until well incorporated. Add this mixture to the bowl containing the sliced apples and mix until the apples are evenly coated. Arrange the apple slices in concentric layers in the pie crust so they're packed as compact as possible. Makes 1 Vegan American Apple Pie.
3) Prepare your crust
If you're using a store bought crust
Usually store bought crusts come with two crusts. Take the extra pie crust shell and crumble it into small pieces. Place it in a food processor and pulse a few times until the consistency is of cumbs resembling gravel. If you don't have a food processor, place the crust pieces in a large bowl and break into large crumbs with your bare hands. When topping the filling, sprinkle these crumbs in top of the pie until it's well covered.
If you're using a homemade pie crust
Roll out your top pie dough until it's about an inch larger than the outside diameter of your pie dish. Using a paring knife, cut a few designs out of this crust. Stars or leaf shapes work well for this. Fill a small bowl with water and use a culinary brush or your finger to coat the outside top diameter of the pie crust shell that your apples are in. Now take your rolled out pie crust top and using a large spatula to help you, pick it up and transfer it over to the top of your pie. Once it's centered onto the top of your pie, use scissors to cut the excess off of the pie crust top so it matches the pie crust bottom. Go around the pie and horizontally crimp the outside diameter of the top crust with the bottom crust together with your fingers.
4) Bake the vegan apple pie to perfection
Place the pie on the baking sheet in the oven and bake for about 15 minutes. Lower heat to 375F (191C) and bake until the crust is golden brown, about 30 minutes. To store, cover the pie with plastic wrap and keep it in the refrigerator for up to 1 week. This recipe makes one 9 inch Vegan American Apple Pie.