Vegan Caramel Apple Cheesecake

Mattie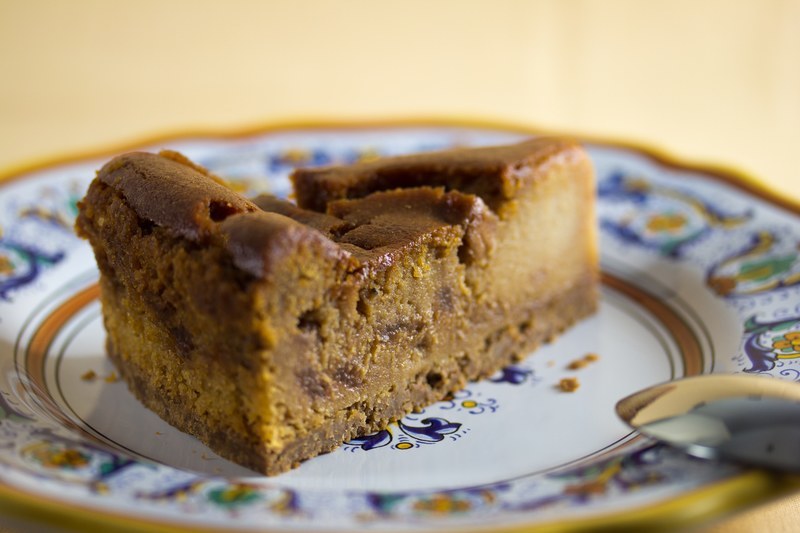 For those difficult times when you can't decide whether to make a
vegan apple pie
or a
cheesecake
, do both! This Vegan Caramel Apple Cheesecake recipe utilizes soy yogurt that is left with pureed almond and non-dairy milk for up to 24 hours so the
Lactobacillus
cultures in the yogurt can enhance the flavors of the mixture. In order for this to work as effectively as possible it's important to use unsweetened non-dairy soy yogurt containing
Lactobacillus
and with as little additives and thickeners as possible.
Lactobacillus
cultures are bacteria that ferment sugars in the food and produce complex flavors and acids such as lactic acid.
Choose the right kind of soy yogurt
Try to stay away from soy yogurts that contain ingredients ending in starch or gum. These thickeners isolate the activity of the Lactobacillus, making it less effective. This recipe must be used with soy yogurt. Non-soy yogurts such as almond yogurt and coconut yogurt lack sufficient flavor and fermentable materials necessary to develop the tart, dairy-esque flavor we're looking for. Plus, non-soy yogurts consist of large amounts of starches and gums which often make them more similar to pudding than yogurt.
If you don't have access to almond flour, 240 grams of whole unsoaked almonds, cashews, hazelnuts, peanuts or even pine nuts will do as long as nuts with skins have their skins removed. Each different type of nut will bring its own distinctive flavor to this cheesecake. Imagine using hazelnuts in a chocolate cheesecake! To use whole nuts, grind them in a food processor or blender until they're the consistency of fine sand. Then add them to the soy yogurt and blend as directed in the recipe.
Further enhancing vegan cheesecake flavor and texture
Coconut oil, lemon juice, vanilla extract and salt further enhance the yogurt mixture. Caramel and caramelized apples are then folded in, which truly brings this cheesecake to another level. I prefer to bake vegan cheesecakes at lower temperatures for longer periods rather than using thickeners like agar to save time. Thickeners tend to coat flavor molecules in their gel-like suspension which can make flavors draw out longer but less intense. I find that vegan cheesecakes benefit by as much flavor intensity of well balanced flavors as possible. The recipe steps may seem daunting at first but fear not, dear baker. This cheesecake can be prepared in sections leading up to serving day.
Learn how I made
vegan cream cheese
.
Vegan Caramel Apple Cheesecake Recipe
For the crust
For the cheesecake
2 ½ cups plain, unsweetened soy yogurt
2 cups (240 grams) almond flour, or similar nut flour
½ cup non-dairy milk
1 cup sugar
2 Tablespoons unrefined coconut oil
1 Tablespoon + 1 teaspoon lemon juice
2 teaspoons vanilla extract
1 teaspoon salt
For the caramel
For the apples
2 Tablespoons sugar
2 teaspoons unrefined coconut oil
1 ½ teaspoons cinnamon
½ teaspoon nutmeg
½ teaspoon allspice
1 pinch salt
½ cup all-purpose flour or rice flour (if you're making it gluten-free)
1) Prepare the crust
Spring Form Crust
can be made several days ahead and stored in an air-tight container in the refrigerator.
2) Blend the cheesecake mixture
Place the soy yogurt, almond flour and non-dairy milk in a blender and blend for 2 minutes on the highest setting. Transfer the mixture to a bowl and leave it out for no more than 24 hours so more flavor can develop. If you don't have enough time to wait 24 hours, proceed to Step 2.
3) Blend the cheesecake mixture again
Preheat your oven to 300F (149C). Transfer the mixture back to the blender and add the sugar, coconut oil, lemon juice, vanilla extract and salt. Blend for 2 more minutes on the highest setting. There should be no noticeable solid particles in the mixture at this point.
4) Prepare the caramel sauce
5) Prepare the apples
In a medium frying pan or wok, add the apples, sugar, coconut oil, cinnamon, nutmeg, allspice and salt. Saute on medium heat for 10 minutes. Set aside.
6) Assemble the vegan cheesecake and bake to perfection
Add 1 ¼ cups of the apple mixture and ⅓ cup of the caramel to a medium mixing bowl and stir to combine. Set aside. Whisk the ½ cup of all-purpose flour or rice flour into the cheesecake mixture until well combined. Now fold in the apple caramel mixture until barely combined. Pour the mixture into your prepared spring form crust and bake for 3 hours or until the cheesecake barely jiggles when nudged.
7) Allow the cheesecake to cool completely
Allow the cheesecake to cool completely then transfer it to the refrigerator for at least a few hours before slicing and serving. Serve cold. Store in the refrigerator for up to 1 week or stored in a plastic freezer bag in the freezer for up to 2 months. This recipe makes 1 Vegan Caramel Apple Cheesecake.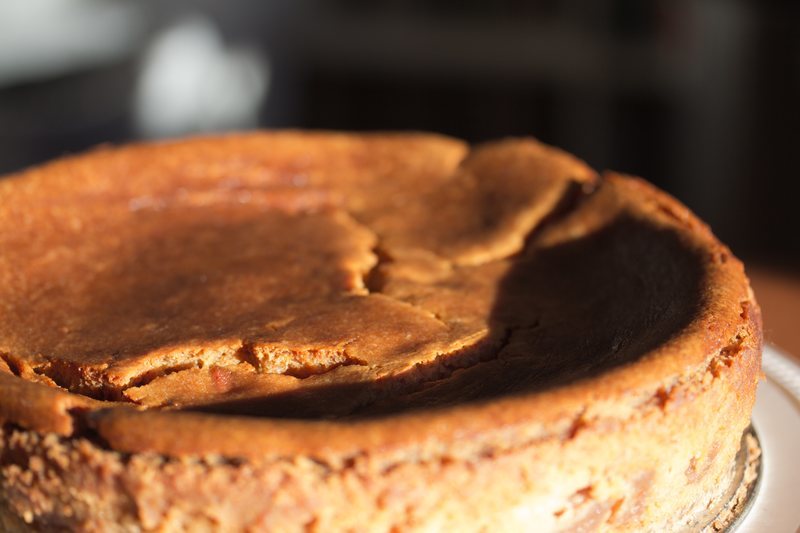 User reviews
Thanksgiving desert
This looks amazing, I am going to try this for Thanksgiving.
Was this review helpful to you?

appliancerepaircalg
Top 50 Reviewer
View all my reviews (4)
YUM!
Vegan cheesecake.... mmmmm! I am going to have to grab the ingredients for this and make it this weekend. Thank you for this awesome recipe!
Was this review helpful to you?

JessHanover
Top 1000 Reviewer
View all my reviews (1)
Oh my goodness!
Absolutely delicious. The guys at my husband's paving comapny's office really enjoyed when I brought this one in!
Was this review helpful to you?

Ingrid
I love cheesecake
I love cheesecake. It's seriously so amazing. This vegan version is no different, i highly recommend it.
Was this review helpful to you?

Kevin
homemade yogurt?
Hello, we make a lot of vegan yogurt at home made simply from cashews, soy milk (with no additives), and vegan yogurt culture. Is there any reason to think that this recipe will not work with our yogurt?
Was this review helpful to you?

sewvegan
View all my reviews (1)
Caramel Sauce Link?
Hmm, the caramel sauce link does not seem to be working.
Thanks!
thevegansisters.blogspot.com
Was this review helpful to you?

Hui
Best Vegan Cheesecake Recipe
Easy, so delicious. Beginner baker - let alone vegan baking...Beginner-proof recipe!!!
Didn't have a few of the ingredients, didn't make the caramel sauce and used a flavored soygurt and almond yogurt instead. Halved the sugar and everything was still really good.

Used a soaked cashew nuts crust (mixed with a few wheat crackers) because I didn't have any ginger grahams.

No lemon juice, so used apple cider vinegar as a substitute.
Coconut oil is a must, the fragrance and richness are truly irreplaceable!!!

Loved it a lot better than the usual soy cheese/tofu versions.
Was this review helpful to you?

Mithuna
will this work?
Hi Mattie,
Ive got a bottle of soy yogurt but its cultures are l.acidophilus and bifidus (bummer). Do you think this will work? Is the other culture mostly required for taste and so will my cheesecake still set?
By the way, if you do write a book I'd buy it so fast :P
Please do!
Was this review helpful to you?

yessir
I think you have a typo. for the cheesecake ingredients you mention "2 1/2 cups (12 ounces) plain, unsweetened soy yogurt". well 2 1/2 cups is actually 20 ounces. should I use 12 or 20 ounces soy yogurt?
thanks
Was this review helpful to you?

Alysia
Is there a certain brand you use or can recommend for the soy yogurt? Or is it a homemade version?
Was this review helpful to you?