Spreadable Olive Oil Vegan Butter

Mattie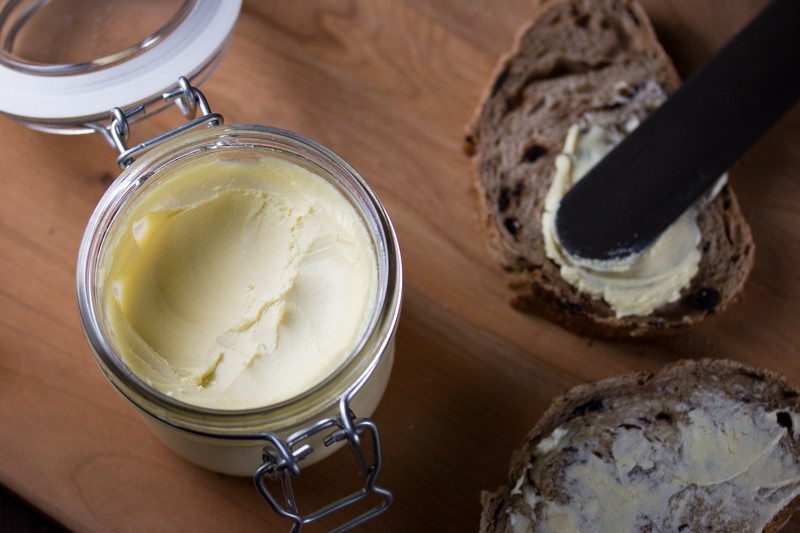 I've gotten into the habit of using various Vegan Butters in my baking projects. I like having the peace of mind in knowing I have complete control over what goes into it. These butters were designed to mimic real butter. But lately I've been noticing something. The same hard consistency that allows the butter to work well with creaming into cookie batter, cutting into pie crust dough and rolling with croissant dough can also be its downfall.
This firmness inhibits the butter from being enjoyed on a completely different level: being spread onto toasty pieces of hearth breads, smeared on steamy biscuits and dabbed on pancakes fresh off the griddle. In these cases, butters that are optimal for baking tend to sit on the food, desperately depending on the residual heat to allow them to melt so they hopefully spread out as they ooze along. Then while you're eating, hopefully you'll eventually get to the part with the melted butter on it. What a treat that's going to be! It shouldn't have to be this way.
So naturally, I've been using my Vegan Butters for baking only and I only noticed there was a problem when another type of commercial vegan butter somehow ended up in my refrigerator, unannounced. "How did that get in there?" I wondered. If I'm having trouble spreading Vegan Butter that's designed for baking, how many other people out there are having the same issues? Sharpen your butter knives, it's time to enjoy Spreadable Vegan Butter!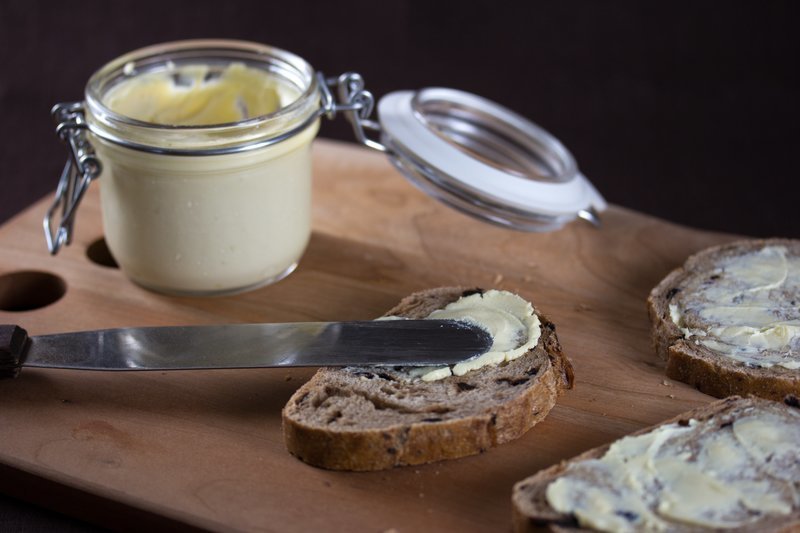 Let's break some buttery rules
The most exciting part of developing this Vegan Butter was that I didn't have to follow as many rules as I did when I worked on the vegan-baking-centric Vegan Butters. This is because we're not emulating real butter from the ground up here. I decided to keep the fat-to-water ratio about the same as regular butter which is in the neighborhood of 80% fat, 20% water. Since we're free to focus on spreadable, savory butteriness, let's see what else we have in our food toolbox!
Not all extra virgin olive oils are created equal
Why not showcase the regal, grassy, earthy flavors of extra virgin olive oil and pair it with buttery flavors? This would make it a healthier and possibly more flavorful option than the commercial competition. To really drive olive oil notes, I recommend seeking out unfiltered extra virgin olive oil because it contains more tasty compounds such as polyphenols and terpenes. I'm a huge fan of unfiltered arbequina and kalamata extra virgin olive oils. Most of the stuff on the US market seems to be intentionally dumbed down and relatively light on flavor. Go forth and be bold ye olive oil taster! Don't be afraid to try a variety of extra virgin olive oils and select what you prefer. No matter what type of olive oil you choose, keep in mind that the olive oil notes will be in the background due to it only consisting of about half of the overall fat content of this Vegan Butter. The ratio of fats is important because the refined coconut oil takes care of enabling just the firmness we need so things remain spreadable.
The subtle role of acids
Originally I preferred the light tang of apple cider vinegar in my Vegan Butters. Apple cider contains both malic acid as well as acetic acid. The malic acid profices a sharp, fruity tang followed by the acetic acid notes that can emulate cultured flavors. For some people this initial malic acid burst can be a bit much. It also tends to drop off rather quickly after its initial rush. Recently I've come to enjoy the smooth, soft acidity of coconut vinegar. I now prefer to combine these characteristics in my Vegan Butters so there's a more subtle fruity start which evolves into a drawn out, smooth and buttery finish that lingers longer on the palate. Of course all of this should be perceived in the background. If it's a little too strong for your liking, feel free to reduce the acid content. If you're having trouble locating coconut vinegar I recommend adding the full amount of apple cider vinegar.
Let's upgrade the salt
Since we're going to be spreading this vegan butter on our favorite eats, why not enhance it with a larger amount of a next-level salt such as fleur de sel or Maldon salt? That'll elevate the olive oil and butter notes to Butter 2.0! Alright then!
If you haven't tried fleur de sel or Maldon salts for finishing, or sprinkling on top of already cooked or raw food like salads and bruschetta, you're missing out. I'm obsessed with this stuff. These salts offer layers of complex, minerally, earthy saltiness. Normally you wouldn't put them inside your food; they're usually used strictly as finishing salts only. But since we're breaking the rules, we're going for it! Just please don't tell anyone.
Not into breaking the rules or having a hard time finding these salts? If you're having difficulty ordering them online, there's hope. Ready? Just use regular salt. Your vegan butter will still rival commercial spreadable vegan butter. I promise.
One of the caveats of using these types of salts is that they're made up of large, rather strange looking flakes that don't dissolve easily. This is one of the reasons these salts are used mostly for finishing. To get around this, I call for some extra time in the food processor so these little guys get a chance to dissolve completely.
Spreadable vegan butter prefers jars, not cubes
Since this Vegan Butter is spreadable, it'll melt into your warm toast on-contact. This spreadability and meltability means that it should be poured into a mold resembling a small jar or bowl so it can be easily accessible by your spreading knife. That's right- no more juggling with cubes anymore! This spreadability also means that this Vegan Butter shouldn't be left out of the refrigerator for extended periods. Since it's not loaded with hydrocolloids like the commercial alternatives, it'll eventually soften and liquify. In this case It'll need to be whizzed in the food processor and frozen to get back to its buttery self again.
The great thing about using a jar is that it makes your Vegan Butter even easier to make; just pour it into the mold and place it in the freezer so it solidifies quickly. An hour later, place the lid on, transfer it to the refrigerator and marvel at never having to buy the store-bought stuff again. I love wire bale jars because, hey, life is short. Why not store your vegan butter in a cute Bormioli Fido 200 mL wire bale jar? This size happens to hold exactly what this recipe makes.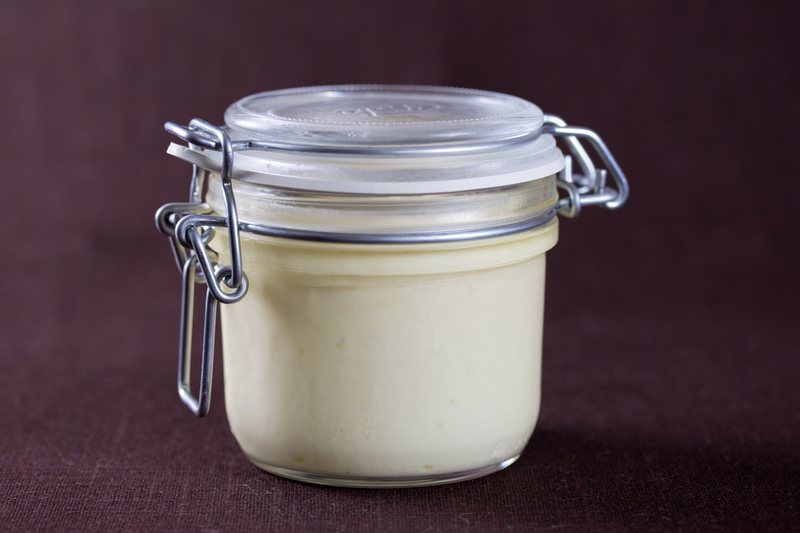 Be fearless when it comes to mixing up your Vegan Butter by adding fresh or dried herbs, swapping out the olive oil for hemp oil or swapping out the refined coconut oil with unrefined coconut oil. You could even include a dash of smoked paprika or other spice to see how it affects the savoriness. Oh and one more thing: smoked Maldon salt. It's waiting for you when you're ready.
This Vegan Butter is for spreading and general cooking only. For baking applications, use other non-spreadable vegan butters such as Regular Vegan Butter. This link also covers the food science of Vegan Butter in more detail.
Spreadable Olive Oil Vegan Butter Recipe
¼ cup + 2 teaspoons soy milk
½ teaspoon apple cider vinegar
½ teaspoon coconut vinegar (if you can't find coconut vinegar, substitute with ½ teaspoon apple cider vinegar so the total is 1 teaspoon apple cider vinegar)
4 grams fleur de sel, Maldon salt or regular salt (if you don't have a scale, use ¾ + ⅛ teaspoon regular salt)
¼ cup + 2 Tablespoons + 1 teaspoon refined coconut oil, melted
¼ cup + 1 Tablespoon extra virgin olive oil
1) Curdle your soy milk
Place the soy milk, apple cider vinegar, coconut vinegar and salt in a small cup and whisk together with a fork. Let it sit for about 10 minutes so the mixture curdles.
2) Mix your Vegan Butter ingredients
Melt the coconut oil in a microwave so it's barely melted and as close to room temperature as possible. Measure it and add it and the olive oil to a food processor. Making smooth vegan butter is dependent on the mixture solidifying as quickly as possible after it's mixed. This is why it's important to make sure your coconut oil is as close to room temperature as possible before you mix it with the rest of the ingredients.
3) Transfer the Vegan Butter to a mold so it solidifies
Add the soy milk mixture, soy lecithin and xanthan gum to the food processor. Process for 3 minutes then scrape down the sides with a spatula. Process for 3 additional minutes. This lengthy processing time is to allow the salt to dissolve completely. Pour the mixture into a shallow jar or other container and place it in the freezer to solidify with the lid removed so it solidifies as quickly as possible. A 7 ounce wire bale glass jar or similar container works well. The Vegan Butter should be ready to use in about an hour. Store it in an airtight container in the refrigerator for up to 1 month or in the freezer for up to 1 year. Makes about 1 cup (215 grams), or 8 fluid ounces Spreadable Olive Oil Vegan Butter.

For more Vegan Butter recipes check out the Vegan Butter recipe section.