Cooking

7 results - showing 1 - 7

Mattie
4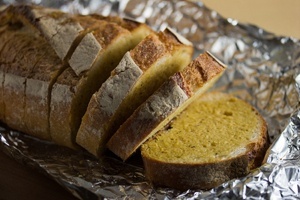 This Vegan Garlic Tarragon Bread Spread recipe features extra virgin olive oil, onion, garlic, fresh tarragon and just a touch of white wine vinegar to evoke a complex buttery flavor with a sharp cheese inspired finish.
Holiday dinners at my Godparent's house was always a special occasion. The food was inspirational but the the one dish that my brother and I looked forward to all year was the simple but perfect implementation of garlic bread. This consisted of a store-bought flute of San Francisco sourdough, sliced but leaving the bottom crust intact so the slices could be torn off as the loaf worked its way around the table. This loaf was buttered between the slices, wrapped in tin foil and warmed in the oven. Buttering the slices while leaving the loaf intact had the advantage of ensuring both sides of each slice was buttered. Wrapping the loaf in tin foil had the benefit of allowing the entire loaf to be saturated with buttery aromas and flavors during its time in the oven and the tin foil could be folded back over the loaf in between servings to keep the bread warm while it was on the table. Brilliant!

Mattie
1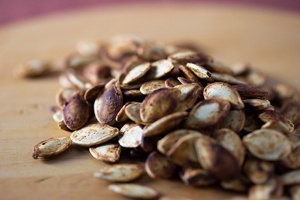 Every year for the last several years I've been experimenting with the seeds that come with my fall pumpkins. I enjoy roasting them
and candying them
but I've always grappled with their often tough mouthfeel. I always seem to be gnawing on them for eternity as the texture slowly starts to remind me of sawdust. Every year I've tackled this problem differently; usually simmering them in water for a certain amount of time to soften them before roasting. This tactic has only yielded me marginally more tender pumpkin seeds. I needed to take this further.
A few months ago I picked up my first slow cooker. After some initial testing I found that slow cooking the pumpkin seeds in water on high (about 210F (99C) for 10 hours allowed me to roast them to perfection. Using this method, your pumpkin seeds will be crispy on the outside and give way to a subtle chew on the inside as they release their flavors. Oh yeah, the flavor. Now that found the optimum texture, I opted for a savory punch thanks to the shiro miso, paprika and a dash of sugar and cayenne for depth of flavor. Now I can finally really enjoy pumpkin seeds as an easy going snack.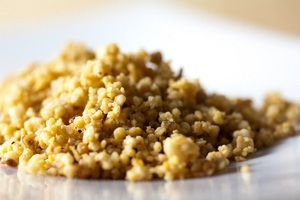 Toppings can really add depth to a dish. I remember the cheesy kick of grated parmesan cheese and how effective it is at adding another layer of flavor to things like pasta, garlic bread and pizza. I set out to make my own cheesy Vegan Parmesan with Pine Nuts and Fleur de Sel and borrow some concepts from grated parmesan but also attempt to build a flavor that rivals it in it's own way. I used pine nuts (also known as pignolis) that are freshly toasted for maximum rich flavor. Toasting the pine nuts yourself ensures that their rich flavor compounds are freshly infused and haven't had a chance to diminish. Pre-toasted pine nuts can frequently lack their toasty essence due to the amount of time that has passed since they've been toasted. Nutritional yeast flakes are used for their cheesy notes. Fleur de Sel is a rare salt that is selected by hand from the coast of Western France. I utilize it in this recipe for the fascinating flavor depth it adds.

Mattie
0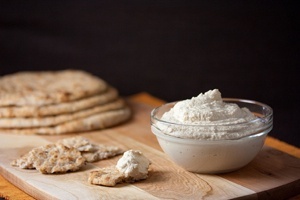 This Raw Sprouted Hummus Recipe is a zesty, high protein, versatile spread that's just teeming with nutrients. Since the chickpeas are sprouted you don't have to babysit a saucepan for an hour, making sure it doesn't boil over or run out of water. All that's needed is to visit to the chickpeas to give them a shower whenever you have a few spare seconds during the day such as before work, after you get home from work and right before bed. This hummus has a fresh, subtle grassy flavor that is great on salads, sandwiches, with pita bread or paired with almost any savory food.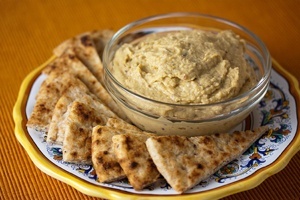 Sweet and savory flavors are brought together in a mysteriously perfect combination in this Sweet Potato Hummus recipe. Thyme along with ginger, cinnamon, cloves and just a touch of cayenne assist with the perfect flavor pairing which allows this hummus to go with almost anything.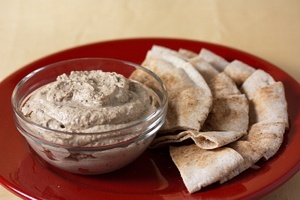 During the presidential election of 2009 my roommate told me about a pretty hilarious campaign funding tactic: Ralph Nader had an offer where if you donated a specific amount of money to his campaign you would receive his grandmother's hummus recipe in the mail. I'm about to one up Ralph Nader. I'm going to offer you my Three Bean Hummus recipe right here, for free. No donation to my upcoming presidential campaign required.
This Three Bean Hummus recipe features chickpeas, black beans and lentils which all contribute different angles of legume flavor. The result is a hummus with a more depth of flavor than regular hummus that's based on 100% chickpeas. This hummus is extremely versatile so don't be afraid to use this recipe as a base and swap out the legumes with any variety that you choose. Also feel free to swap out the tahini with other nut butters. I've been making this recipe for over a decade and I've done all sorts of variations with great results.

Mattie
0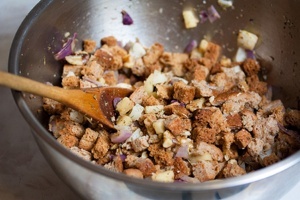 This Vegan Apple Walnut Stuffing recipe is great inside
Stuffed Seitan
or alongside some
Cranberry Sauce
during holiday feasts. Apples give it a light flavor-enhancing sweetness which is a great accompaniment to the textures of water chestnuts and walnuts.
7 results - showing 1 - 7