French Toast

French toast is a
breakfast dish
consisting of bread soaked with a savory liquid sometimes including eggs and milk then fried. It is commonly topped with syrup or fruit. Vegan French toast recipes usually utilize nut butters, tofu or starches instead of eggs and milk.
2 results - showing 1 - 2

Mattie
3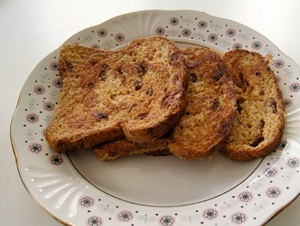 This Easy Vegan French Toast recipe is just one more reason to get up in the morning. It's great for brunch with friends too because you don't have to waste the whole morning being on griddle duty as much as you do with pancakes. It features chickpea flour, nutritional yeast flakes, cinnamon, nutmeg and cardamom to bring out the best combination of savory and sweet flavors.

Mattie
2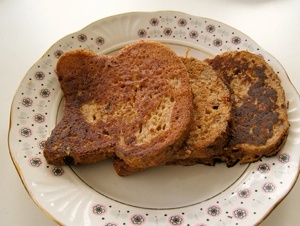 This Ferocious Vegan French Toast recipe utilizes the creaminess of cashew butter and just the right combination of tahini instead of the usual eggs. These nut butters get slightly toasted during cooking which adds a complex savory richness that's further enhanced by cinnamon and nutmeg. It's a delicious vegan take on the old classic.
2 results - showing 1 - 2