Quick Breads

A quick bread is any bread leavened with chemical leavening agents such as baking powder or baking soda instead of yeast. These leavening agents allow quick breads be prepared faster and with less effort. Vegan quick bread recipes usually substitute eggs with egg replacer ingredients such as
flax
,
starches
or
fruit purées
.
5 results - showing 1 - 5

guest
2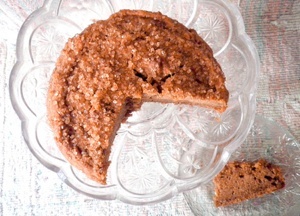 I glanced over at my fruit basket yesterday and found four moldy looking apples at the bottom. They had been languishing there for over a week, with no one paying them any attention. Now, I'm a bit of a purist with my apples. I only like them tart and crunchy with faint green veins running through their flesh. Bruised apples with brown spots go straight on my list of foods I most hate to eat. Still, something had to be done with those apples, and without much of a plan, I peeled, cored, and chopped them up.
Then I spied a jar full of demerara sugar that I'd bought recently, and inspiration took form. I decided I'd bake an apple bread. The principle would be the same as banana bread, only since apple has a higher water content, I could consider lowering the amount of fat in my recipe, and under bake slightly, so my cake would remain moist. A small quantity of vinegar provides just enough acid for leavening, and the baking soda helps it rise. This bread bakes up dense.

Mattie
5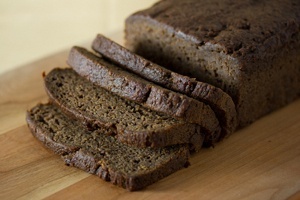 "See those bananas over there?", I asked, tilting my head towards the end of the aisle at the health food store. "I'll buy fifteen of 'em for half price", I suggested confidently. The cashier paused for a moment, not knowing whether to believe me. Why would anyone want to buy bananas that were almost more suitable for the compost bin than the kitchen for any price? "Sure", he sighed. He knew they were garbage unless I took them in. I laughed to myself when I realized how excited I was to buy bananas that most people wouldn't even think of eating. I started to feel bad about not liberating the others but I had to get home; there was work to do! How cool would it be to peel the bananas, purée them and slow cook them into a thick syrup to use as a base for fruit sweetened banana bread? Finally, something to do with all those bananas laying around in your freezer!

Renoodle
12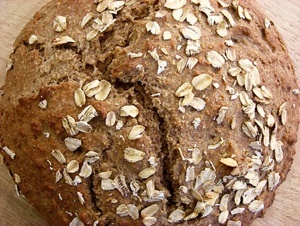 I veganized this Oatmeal Whole Wheat Quick Bread from a recipe found
here
. All I can say is WOW! Moist, full of texture, earthy and oh so delicious.

Mattie
5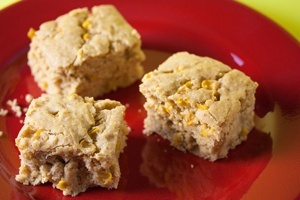 This Golden Vegan Corn Bread Recipe takes advantage of nutritional yeast flakes and a touch of maple syrup which gives it a rich, buttery flavor while corn kernels enhance its hearty texture. It's a Northern style corn bread so it features a mixture of corn flour and all-purpose flour. It's baked in a square baking pan instead of a cast iron skillet and designed to be a little sweeter and more moist than its Southern counterpart.

Mattie
3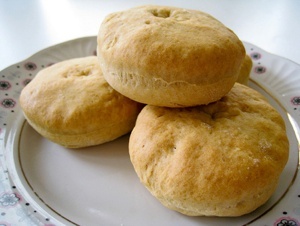 This Vegan Buttermilk Biscuit recipe makes great vegan dinner rolls that pair well with American feast-style dinners on holidays like Thanksgiving and Christmas. They feature just the right amount of tahini and lemon juice to accurately impart buttermilk flavors.These biscuits are also great served as a snack with a smear of margarine or almond butter. Serve them warm.
5 results - showing 1 - 5