Creamy Vegan Cashew Cheesecake

Mattie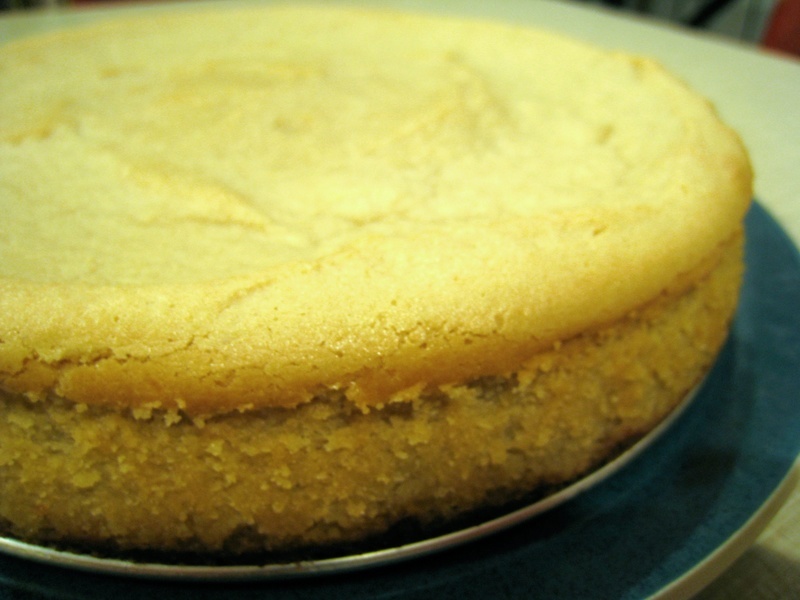 This Creamy Vegan Cashew Cheesecake recipe is a natural take on a vegan cheesecake that doesn't use space age ingredients like cheesecakes using store bought vegan cream cheeses often do. I tried to strike a good balance between unprocessed ingredients and high quality flavor. This cheesecake uses a cashew base enhanced with apple cider vinegar, lemon juice and just the right amount of sugar and vanilla extract to tie it all together.
Please note that it's important to include the xanthan or guar gum in the Creamy Cashew Cream Cheese recipe in order for this cheesecake to have the proper mouthfeel. Also please take into consideration that this recipe is a two day investment in order to obtain the flavors we're after: You have to soak the cashews overnight, let the Creamy Cashew Cream Cheese rest after it's puréed so complex flavor compounds are developed, make the Creamy Cashew Cheesecake and then allow it to cool slightly in the refrigerator.
Find more
Cashew recipes
on Veganbaking.net
Creamy Vegan Cashew Cheesecake Recipe
3 cups
Creamy Vegan Cashew Cream Cheese
(3, 8oz recipe quantity) or my more involved
Vegan Cashew Cream Cheese
1 ¼ cups graham cracker crumbs (about 9 ½ crackers)
1 teaspoon cinnamon
1/3 cup
Regular Vegan Butter
or margarine, melted
1 Tablespoon brown rice syrup
¾ cup soy milk
1 ½ teaspoons lemon juice
¾ cup, + 1 Tablespoon sugar
1 Tablespoon nutritional yeast flakes
1 teaspoon vanilla extract
½ teaspoon salt
1) Process the graham crackers for the crust
Break the graham crackers into small pieces and place them in a food processor or blender with the cinnamon. Pulse them until they are fine crumbs. Add the crumbs to a medium size mixing bowl.
2) Combine the Vegan Butter and brown rice syrup
In a small saucepan, whisk together the melted Vegan Butter and brown rice syrup on low heat until well combined.
3) Mix the Vegan Butter mixture with the graham cracker crumbs
Add the melted Vegan Butter mixture to the bowl containing the graham cracker crumbs and thoroughly hand mix with a fork until they're evenly saturated.
4) Compress the crust into your spring form pan
If possible, turn an empty medium mixing bowl upside-down and place the spring form on top of it. This will allow you to compress the crumbs with greater force, without risking the spring form 'popping' and ejecting all of your crumbs. Being able to compress the crumbs more will make a better crust. Compress the crumbs into the bottom of a 9 inch spring form pan using the flat bottom of a drinking glass.
Learn more about
Vegan Spring Form Crusts
.
5) Curdle the non-dairy milk
Preheat oven to 325F (163C). In a small saucepan whisk together the non-dairy milk and lemon juice. Let sit for about 10 minutes so the non-dairy milk begins to curdle.
6) Beat the vegan cream cheese
In a medium mixing bowl, beat the Creamy Cashew Cream Cheese until it's slightly fluffy. Set aside.
7) Mix together the non-dairy milk mixture, flavor building ingredients and vegan cream cheese
In another medium mixing bowl, mix together the non-dairy milk and lemon juice mixture, sugar, nutritional yeast flakes, vanilla extract and salt. Add this mixture to the mixing bowl containing the Creamy Cashew Cream Cheese and beat several minutes until slightly fluffy.
8) Bake the vegan cheesecake to perfection
Pour the mixture into the 9 inch spring form pan and bake for 1 hour and 15 minutes. It's important not to open the oven or else the cheesecake will cave in. Let the cheesecake cool overnight.
9) Cool the cheesecake and remove it from the spring form pan
When the cheesecake has cooled, use a small knife to go around the edges carefully to free the remaining cheesecake from the spring form pan. Open up the spring form pan as far as you can and shake it slightly to get it to release from the cheesecake. Lift the spring form siding away. Place the cheesecake in the refrigerator for a couple hours for it to become a little more firm. When serving, top it with your favorite high-quality preserves. This recipe makes one 9 inch Creamy Vegan Cashew Cheesecake.
User reviews

Christen M
How long will this cheesecake last in the fridge?
Hi, I just made 2 of these. Well, 4 to be exact, one big one and 3 little heart shaped cheesecakes, and for the big one I added 1/3 cup cocoa and 2 TBS of Justin's chocolate hazelnut spread... the uncooked dough tasted delicious!

I've got a party to go to 5 days after I baked them. How long should the cooked cakes last in the fridge? And are they freezable?

Thanks!
Was this review helpful to you?

Ryan
Trying to choose a vegan cheesecake recipe
Hey, I'm trying to choose a recipe for my first vegan baked good. This one appeals to me because it doesn't use the wacky store bought subs and it doesn't have to be frozen to hold its form.
What does the inside look like? Is it white and smooth like a traditional dairy cheesecake? Also, how would you say the texture and flavor compare?

Thank you!
Was this review helpful to you?

An
doubling ok?
This looks amazing and I want to try it, but I just had a question. I really like high/tall cheesecakes with a lot of filling. Do you think I could 1 1/2x or double the amount of filling to make a taller cheesecake? Or would this mess things up somehow?
Thanks for all the great recipes!

ps--if this ever goes through. The 'security code' letters you have to enter at the bottom of the page to submit a comment are impossible! You have to get them exactly right and I keep trying but for whatever reason it's not good enough. Could you pretty please consider switching to an easier/more forgiving code option? thank you
Was this review helpful to you?