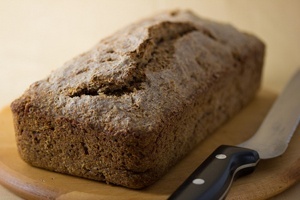 Traditional flour is ground endosperm powder which is the result of the flour mill removing most of the hard pieces and hence, nutrition from the wheat berry. I'm a huge fan of whole sprouted grains because they're more flavorful and contain significantly more nutrients than bread made with traditional flour. This Flourless Sprouted Whole Wheat Bread recipe utilizes sprouted wheat berries that are then ground into a purée. This requires a substantially hardy food processor. If you're not sure if your food processor is powerful enough, look on the bottom. It should say at least 6.5 Amps or "6.5 A".
This bread was difficult to design due to the nature of the wheat berry. This hardy seed contains the germ which is the heart and soul of the seed. The germ is the embryo of the plant in its dormant state. It's accompanied by the starchy endosperm which acts as fuel for the germ when it sprouts or
germinates
. This package is encased in a firm fibrous shell called the bran. This protects the seed kind of like an egg shell protects an egg.