Vegan Oatmeal Whole Wheat Quick Bread

Renoodle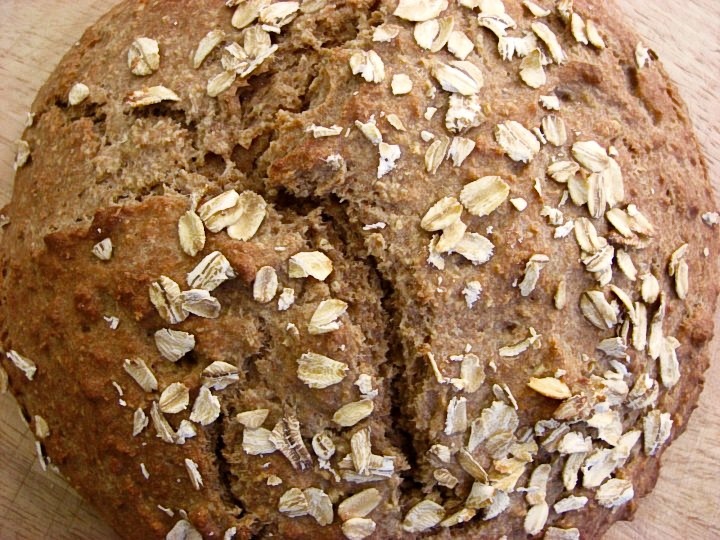 I veganized this Oatmeal Whole Wheat Quick Bread from a recipe found
here
. All I can say is WOW! Moist, full of texture, earthy and oh so delicious.
Find more
Healthy recipes
on Veganbaking.net
Vegan Oatmeal Whole Wheat Quick Bread Recipe
1 cup rolled oats
1 cup whole wheat flour
2 teaspoons baking powder
1 teaspoon salt (I like salt)
1 ½ Tablespoons agave syrup
1 Tablespoon vegetable oil
1 cup soy milk
1)
Preheat oven to 450F (232C). Grind oatmeal in a food processor or blender.
2)
In a large bowl, combine oatmeal, flour, baking powder and salt. In a separate bowl, dissolve agave syrup in vegetable oil then stir in the soy milk. Combine both mixtures and stir until a soft dough is formed. Form the dough into a ball and place on a lightly oiled baking sheet.
3)
Bake in preheated oven for about 20 minutes, or until bottom of loaf sounds hollow when tapped.
This recipe makes one loaf of Vegan Oatmeal Whole Wheat Quick Bread.
User reviews
My daughter is on an histamine elimination diet, and bread has been the hardest thing to replace in her diet. This recipe is one of two I have found that meet all the requirements with a little substitution. I subbed honey for the agave syrup and coconut milk for the soy. The bread turned out fantastic! It is dense but moist. We tossed a little coconut butter on top. Just perfect. Thanks!
Was this review helpful to you?
Brilliant!
I forwent the agave and used plain flour instead of wholewheat (it was all I had in the cupboard!). I think I added less salt than I should have done, but it was still delicious! Dense, savoury and so soft! For those of you who are worried, my mix was still sticky when I popped it in the oven and it turned out just fine. Don't expect a dry dough.
I might add some herbs and/or spices to it next time. Keeping it plain (without agave) makes it a great base!
Was this review helpful to you?
Was this review helpful to you?
We made this yesterday as a vegan source to go with a nice homemade soup. We too added almond milk instead of soy but it came out amazing! Thank you so much for sharing this recipe. It is a keeper! : )
L. J. Cookie
Was this review helpful to you?
Fan oven: 215C
Very tasty bread. Really good warm with soya margarine or peanut butter.

I used a little less than a cup of soya milk so the dough held its shape better. I also used a fine sea salt.

As I used a fan assisted oven, I set the temperature to 215C and kept the cooking time the same. My bread was cooked through fine.

Also try: Use this as a pizza base. Half cook before adding toppings
Was this review helpful to you?
Almond milk
Hi there! I baked today with almond milk and it turned out to be great and very healthy taste. I guess almond milk can be alternated as well. Thank you!
Was this review helpful to you?
Reply to Almond Milk
Hi Renata...thank you for getting back to me. Sure I will definitely let you know after I try that one. Will be in touch. I think I will bake this weekend. Thank you Renata!
Was this review helpful to you?
Almond Milk
Hi..I just need to ask a question before I bake this one. I want to know if I can use almond milk instead of soy milk? Thanks Grace
Was this review helpful to you?
Altered it but still yummy!
This recipe has changed my life! I didn't have oats so I used one cup of fine polenta instead or soya which I substituted for oat milk, honey instead of agave also and took the liberty of adding a bit of coarse black pepper and some chia seeds.
What can I say, I can eat a whole bread in one sitting by myself, it's lovely with humus and hot sauce
Thank you so much for posting it!
Was this review helpful to you?
I wanted to make this to bring to a dinner I was invited to but...I don't know what I did wrong. I've made plenty of bread before and followed the recipe exactly until I had to add a whole extra cup of flour and the dough was still very wet and sticky. It did not form into a ball. I finally said screw it and threw it in the oven... cross your fingers?
Was this review helpful to you?
A++++
I love baking but breads are often a challenge. This recipe was foolproof, delicious...everyone of my family loved it. Thanks so much for veganizing it.
Was this review helpful to you?
Not working :(
This bread is not cooking for me for some reason - I've followed the recipe and instructions exactly, my oven is at 450 and the middle is still not cooked - I've even cooked it for a total of about 30 minutes now.

I'm supposed to blend the oats into a flour-consistency, right? What could I be doing wrong? It also was very soggy before baking for me...
Was this review helpful to you?
Very quick and very tasty
Loved this! Took it to a potluck and everyone there loved it as well. So much, so, that I didn't get to take home any leftovers.
Was this review helpful to you?
OATMEAL WHOLE WHEAT QUICK BREAD
TO KEEP ANY BREAD FROM STICKING TO THE BAKING SHEET OR LOAF PAN, SIMPLY SPRINKLE CORNMEAL OVER THE SHEET/PAN AFTER OILING. THIS IS A GUARANTEED METHOD FOR NON-STICKAGE.
Was this review helpful to you?
Easy Recipe!
I just made this bread with my niece, and we both loved it! Very easy to make and very tasty. I used honey instead of agave and it turned out great!
Was this review helpful to you?
Enjoy eating oats with this one
They ended as cookies, not sure why but I tough it was a cookie recipe, I added a half cup brown sugar to it and it turned out very yummy!

Thanks! a good whole wheat dough is always good to have close ;)
Was this review helpful to you?
Great tasting bread, easy to make
I made this bread last night and was very impressed. It was easy to make, smelled great, and tasted wonderful.

One question, though... When I stopped stirring, the dough slowly spread back out in the bowl instead of staying in a ball. The dough was stiff and hard to stir but wouldn't stay balled up. It baked just fine, but the loaf came out thinner than your photo. Would it be better to add a bit of extra flour, decrease the milk, or do I just need to stir longer?
Was this review helpful to you?
Quick Bread!
I've made about 5 loaves of this quick bread substituting honey for agave syrup. At first it was tough to keep the bread from sticking to the baking sheet. My remedy is to take the bread out at 15 minutes, carefully slide the dough to the other side of the baking sheet, re-oil the bottom of the sheet, slide the dough back to its original position, and then put it in for another 5 minutes or so. Great quick recipe!
Was this review helpful to you?
good
This bread was pretty delightful, very filling. instead of agave syrup i used honey though.
Was this review helpful to you?