100% Wholemeal Wheat Bread

HildaJorgensen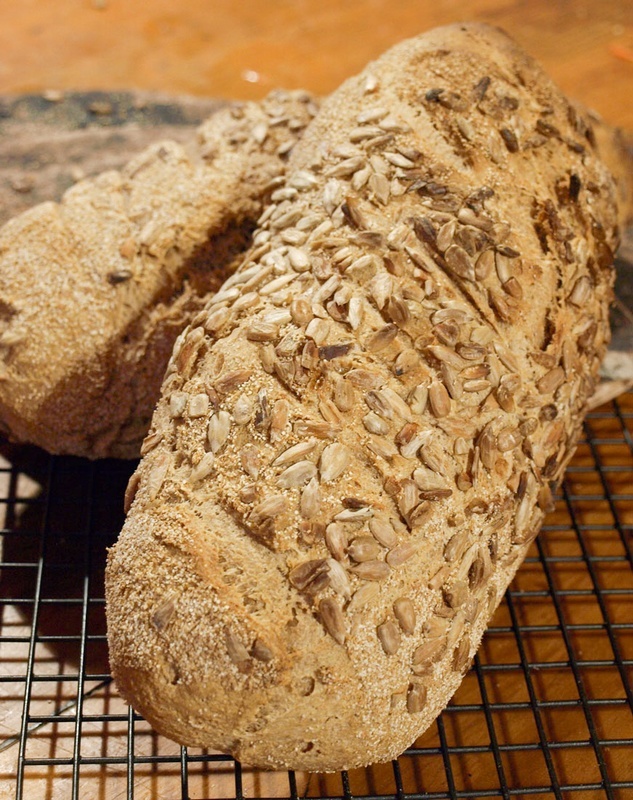 A recipe from my book Triumph of the Lentil, this is my staple bread recipe. Even with a newborn and a toddler to look after I manage to bake this twice a week, so that we never have to buy bread. Because of the slow rising time it requires very minimal kneading (only enough to mix in the flour), doesn't require any oil or sugar to taste good and stays fresh for longer. The slow rise develops the gluten in the same way that kneading would, but results in a superior taste.
Each rise can take between eight and twenty hours and put in the fridge at any stage, to be baked within two weeks. I like to make each rise around twelve hours. It can also be sped up a little, to make the total time as little as 16 hours by doubling the amount of yeast and combining the first and second rise together.
Kitchen time 5 minutes, Resting time 16-60 hours, Baking time 35-60 minutes.
Find more
Whole Wheat recipes
on Veganbaking.net
100% Wholemeal Wheat Bread Recipe
First rise
1/3 teaspoon fresh yeast, or 1/6 teaspoon dried
1 cup wholemeal wheat flour
1 cup cold water
Mix these together and set aside for 8-20 hours
Second rise
2 cups cold water
3 cups wholemeal wheat flour
Mix this into the rest of the dough and set aside for 8-20 hours
Third rise
2 teaspoons salt
1 cup cold water
3 cups wholemeal wheat flour
Mix this in thoroughly to the rest of the dough. It may need to be briefly kneaded to incorporate all the flour. Set aside for 8-20 hours.
To bake
Preheat the oven with a pizza stone in it to 450-500F (230-260C) or as hot as your oven will go. When the pizza stone has been in there for at least half an hour, shape the loaves into whatever shapes you wish*, and coat in sesame seeds, cornmeal, or flour, making sure any cracks in the dough are on the bottom of the loaf. Place on the pizza stone, slash a few times with a bread knife, close oven door and reduce heat to 390-450F (200-230C).
Bake until the bottom of the loaves sound hollow when tapped, about 35-60 minutes.
*to shape into Vienna type loaves like the ones in the picture, get a dinner plate and cover it in sesame seeds, semolina, cornmeal, or flour. Get the portion you want to form into a loaf and place it over this as a flat-ish circle. Take the sides of this circle and fold them up to form a log, flattening the seam. Place seam-side down on the preheated pizza stone. This recipe makes 2 medium loaves of 100% Wholemeal Wheat Bread.
About the author: Hilda is the author of
Triumph of the Lentil: Soy-Free Vegan Wholefoods for all Appetites
User reviews

baskin115
Top 50 Reviewer
View all my reviews (6)
Fabulous
This looks amazing! I can taste this by just looking at it. Gonna make this very soon.
Was this review helpful to you?

Dan Drager
thanks for sharing this, great recipe.
Was this review helpful to you?

Mike Stevens
Hydration
Hi Hilda
The hydration rate seems too high.
I usually work with a rate of around 0.67 by weight.
In the UK we work in metric.
1 cup of whole wheat flour = 120gm
1 cup of water = 250gm
Recipe uses 7 cups of flour =840gm
Water for hydration rate of 0.67 = 840x0.67= 562gm
Recipe gives 4 cups of water = 1000gm
Am I missing something since the recipe appears to work ?
Mike Stevens
Was this review helpful to you?

Pat
My Dear Hilda Jorgensen
This is a very elegant whole wheat bread recipe with no extra fat or sugar, that rises beautifully and has great flavor. I searched in all the current wonderful bread maker's books and just about every whole wheat bread recipe site on the web, looking for simplicity with flavor. Your recipe for whole wheat bread tops them all!
Most sites shied away from an all whole wheat bread or used extra gluten to compensate for a lower rise. Many used too much yeast, honey (or other sweetener), butter (or other fat).
I added 2 T of crushed flax seeds and 1/4 cup of oat bran (reducing the flour by 1/4 cup) and the loaf developed a sweet, nutty flavor.
I used the Lahey method to bake the loaf, in a pre-heated covered pot from a pre-heated 500 degree F oven, reduced to 450 degrees F, after putting the bread in the oven.
Thank you for your sharing your genius with the rest of us!
Was this review helpful to you?

Hilda
Hi Silvia,

I haven't tried it with brown rice flour, but it works really well with wholemeal spelt or wholemeal kamut flours (I need to often use more flour for spelt, and less for kamut). I've made it using half barley flour before and it doesn't rise as well, but it does taste great. If you do try it with brown rice flour I would be interested to hear how it goes.
Was this review helpful to you?

Silvia
Can I substitute the whole wheat by brown rice flo
I love it and also my family approved! Every morning I have warm bread for breakfast.When I share with friends, it is always a success! Thank you, Hilda. Can I use the same recipe but using a different flour (like brown rice flour) ?
Was this review helpful to you?

Suzanne
YUM!
This turned out great for me. I did the shorter version (combining rises 1 and 2) and baked in a non-stick baking pan, since I didn't have a baking stone. I baked on 450 for about 40 minutes and ended up with a nice, crispy crust and a soft (but not soggy) center. Here's the finished product: http://farm8.staticflickr.com/7209/6792457130_d99a5659a7_z.jpg

Thanks for sharing the recipe!
Was this review helpful to you?

rainbowcarrot
Top 100 Reviewer
View all my reviews (2)
Good and forgiving recipe
My dough turned out too wet, the consistency was between a dough and a batter so I had to bake it in a Pyrex loaf pan.
I didn't expect much of it but still it turned out very well and most importantly, tasty.
The crust was perfect, though the center was a bit soggy. Next time I'll add less water, I think that will fix the sogginess.
Was this review helpful to you?

Hilda
Hi Gilly,

My kitchen is usually cold (typically between 7 and 20 degrees centigrade I think) and because of the long rise it seems to work in this temperature. I know other recipes sometimes have long rises in the fridge, so I hope it will work in your kitchen. Let me know how you go with it.

Hilda
Was this review helpful to you?

Gilly
cold kitchen
Hi Hilda,, thanks for the recipe I'm going to give it a try. It's almost pain au levain or sour dough with the long rises. Do you know if temperature of the kitchen makes any difference? It's winter and unless the oven is on our kitchen is freezing.
Was this review helpful to you?

Hilda
Thanks for letting me know Mike, I'm glad it worked for you without the preheating and the pizza stone. If you'd prefer a sweeter bread you could probably add some sugar or barley malt syrup to the dough.

I preheat my pizza stone because it cooks faster and more evenly that way, and the results are more predictable. In my electric oven after preheating I bake the loaves for 35 minutes before switching the oven off and opening the door, I don't need to test them anymore because they're always cooked all the way through whenever I do this.
Was this review helpful to you?

Mike
I tried this recipe today. I did your faster version with only two rises. It worked out well but, because of the long periods during which the bread sat out (about 10 hours for the first rise and 8 for the second) it wound up with a more fermented taste than the other no-knead breads I've made. It's good, but doesn't have the usual sweetness that bread has.

I made it in a Corningware dish because I don't have a pizza stone. I didn't preheat for half an hour either, because I can't bear to waste all that energy for a loaf of bread. It didn't seem to matter. Whatever the point of the pre-heating is, it's not make-or-break.

The loaf did indeed come out quite a bit spongier than my previous attempts at whole wheat no-knead bread. It's not quite as airy as white bread, but it's far from 'cakey'.
Was this review helpful to you?

Hilda
Responding to Mike's questions
Hi Mike,

I haven't made many other 100% wholemeal wheat bread recipes so I don't have much to compare this to, but I've found that the long rise time helps a lot in taste and texture. The porousness varies with each batch, but it always tastes great, and it's not as dense as other recipes I've tried.

This recipe does need to have the pizza stone preheated in the hot oven for at least half an hour, but that is all (I used to brush the loaves with water every few minutes but found it didn't make much of a difference, and was causing my pizza stone to crack!).

I hope you get a chance to try this, let me know how it goes if you do.
Was this review helpful to you?

Mike
A question
I have been experimenting with no-knead breads for a few weeks. I like the result I get with white flour, but I prefer the taste of whole wheat. My problem is that my whole wheat no-knead experiment resulted in a very dense, cakey loaf. Do you happen to know whether the texture is a function of the rise time? Will a longer rise give a more porous texture?

Also, I note that this recipe doesn't require any of the rather arcane cooking techniques required by other no-knead recipes (i.e. bake in a dutch oven which has been pre-heated for 30 minutes). Is this not necessary?

Thanks!
Was this review helpful to you?

Hilda
Responding to Caroline's question
The loaves in the photo are coated with a mixture of sunflower seeds and either semolina or cornmeal. I usually coat them with sesame seeds.
Was this review helpful to you?

Caroline
Question
What are the loaves in the picture coated with?
Was this review helpful to you?