Vegan Blueberry Beetnik Muffins or Bread

Mattie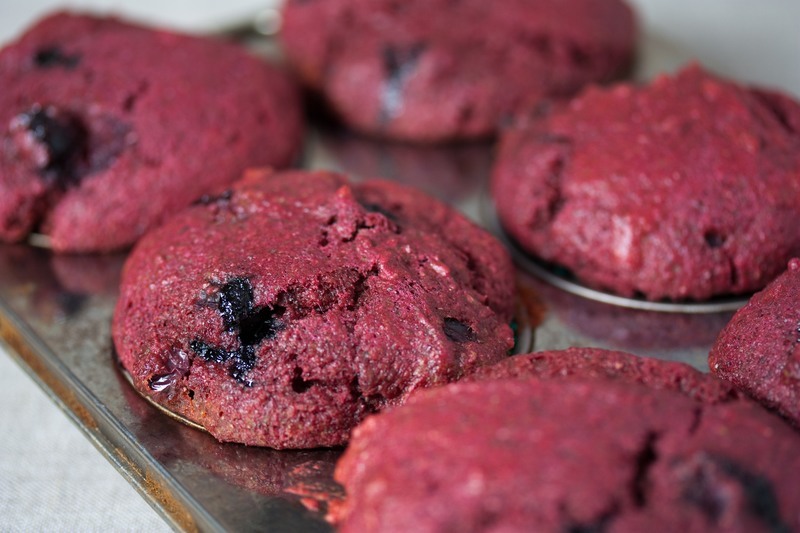 This Vegan Blueberry Beetnik Muffin recipe takes advantage of baked beets which harbor wonderful butter caramel flavors when their sugars caramelize. The vegan muffins are then complimented by the tartness of blueberries and just the right ratio of whole wheat flour and all-purpose flour. Lemon juice enhances flavor while allowing the beet purée to retain its vibrant reddish color during baking. This is because acids reduce the oxidation of plant-based compounds called anthocyanins, which are responsible for the red color in foods like beets and raspberries.
Find more
Blueberry recipes
on Veganbaking.net
Vegan Blueberry Beetnik Muffins Recipe
1 ¼ cups beet puree (about 2 beets)
3 Tablespoons non-dairy milk
2 Tablespoons lemon juice
1 ¾ cups whole wheat flour
½ cup all-purpose flour
1 ½ teaspoons non-aluminum baking powder
½ teaspoon baking soda
½ cup
vegetable oil
¾ cup sugar
1 ½ teaspoons vanilla extract
1 teaspoon salt
1 cup blueberries, fresh
1) Bake your beets
Preheat oven to 400F (204C). Chop 2 beets into 1 inch pieces and place them in a glass or ceramic casserole dish. Cover the dish with tin foil and poke about 6 small slits so steam can escape. Bake for 40 minutes. Puree in a food processor or blender until smooth. Measure out 1 ¼ cups and save the rest for future food projects. Reduce oven heat to 325F (163C).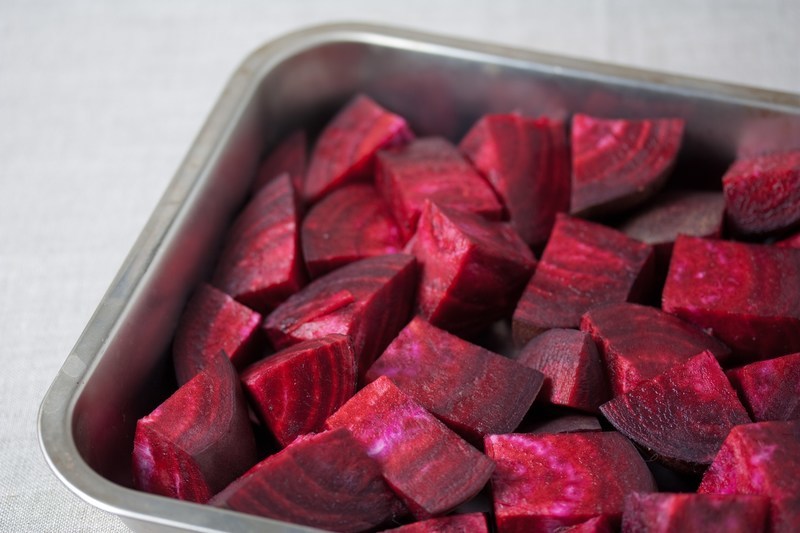 2) Curdle your non-dairy milk
In a small bowl, whisk together the non-dairy milk and lemon juice. Set aside for about 10 minutes so the non-dairy milk curdles.
3) Whisk together the dry ingredients
In a large bowl, whisk together the whole wheat flour, all-purpose flour, baking powder and baking soda.
4) Whisk together the flavor building ingredients
In another large bowl whisk together the the non-dairy milk and lemon juice mixture, vegetable oil, sugar, vanilla extract, salt and the beet purée.
5) Build the batter
Add the wet ingredients to the bowl containing the dry ingredients and mix with a spoon until well incorporated. Due to moisture variations of the beets, more non-dairy milk or flour may need to be added to achieve the desired dough thickness. The dough should be very thick.
6) Bake to perfection
To make muffins
Line a muffin tin with cupcake liners. The blueberries will cause the muffins to stick to the tin if cupcake liners aren't used. Pour the batter into the muffin tin making sure the dough is filled up to the top of the pan and domed. Bake for 25 to 30 minutes or until an inserted toothpick comes out clean.
To make bread
Pour the batter into a lightly oiled 8 x 4 inch loaf pan and bake for about 1 hour or until an inserted toothpick comes out clean. This recipe makes about 1 loaf or 6 to 8 Vegan Blueberry Beetnik Muffins.