Classic Vegan White Cake

Mattie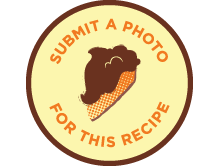 This Classic Vegan White Cake recipe is a simple way to make delectable light and fluffy vegan cakes. It features a touch of apple cider vinegar for a superior crumb and flavor depth and just the right amount of vanilla extract and lemon extract for a rich flavor. Its subtle vanilla notes won't compete for attention if you're interested in adapting it into more complex cakes.
Classic Vegan White Cake Recipe
¾ cup + 1 Tablespoon non-dairy milk
1 teaspoon apple cider vinegar
1 cup + 2 Tablespoons cake flour (preferred) or all-purpose flour
2 Tablespoons tapioca or arrowroot flour
1 ½ teaspoons baking powder
½ teaspoon baking soda
¼ cup + 3 Tablespoons sugar
1 Tablespoon
vegetable oil
1 Tablespoon unrefined coconut oil
2 teaspoons vanilla extract
¼ teaspoon salt
⅛ teaspoon lemon extract
1) Curdle the non-dairy milk
Preheat oven to 350F (177C). Lightly coat a 8 inch round cake pan with vegetable oil and dust it with flour, making sure to shake off any excess. In a small bowl, whisk together non-dairy milk and apple cider vinegar. Set aside for at least 5 minutes so the mixture thickens.
2) Whisk together the dry ingredients
In a medium mixing bowl, whisk together the cake flour, tapioca flour, baking powder and baking soda. Set aside.
3) Whisk together the wet ingredients
In another medium mixing bowl whisk together sugar, vegetable oil, canola oil, vanilla extract, salt and lemon extract. Now whisk in the non-dairy milk mixture from Step 1 until well incorporated.
4) Mix the Vegan White Cake batter
Add the dry ingredients to the bowl containing the wet ingredients and whisk together until just incorporated and the lumps are eliminated.
5) Bake to perfection
Pour mixture into the cake pan. To eliminate air bubbles lift the cake pan about 2 inches off the counter and drop it onto the counter a couple times. Bake for 18 to 22 minutes or until an inserted toothpick comes out clean. Cool for about an hour then transfer to a cake rack to cool completely before frosting. Store the cake in a covered container at room temperature for about 1 week or in a freezer bag in the freezer for up to 6 months. Makes 1 layer, 8 inch round Classic Vegan White Cake.
User reviews

Campfire Cook
Top 500 Reviewer
View all my reviews (1)
Hooray. At last an easy and reliable recipe...with
I've been looking for a basic Victoria sponge recipe that I can adapt for all kinds of other cakes. This one works brilliantly and is very easy. I have added a mixture of 2.5tbsps of ground flaxseed boiled in 3tbsps water to replace egg's binding qualities.
I've also converted the cup measurements to metric:
190ml mylk
180g flour
95g sugar
Can I post a photo?
Was this review helpful to you?
Awesome!
This is the best vegan white cake recipe that I have tried.It's delicate and not too dense and oily.I tried to submit my pic of the cake I made using this recipe but the site wouldn't let me?
Was this review helpful to you?

Maude
Large cake help please
Help please! I need to make a 12 inch round cake. Does anyone have success with tripling this recipe? I just made two batches of a similar recipe and the finished cake came out gummy and too moist (though cooked through). I cannot cut in into layers (too sticky) and won't be able to apply frosting. Any tips would be really appreciated! Thank you!
Was this review helpful to you?
Loved the recipe!
So I am new to this lifestyle and loved my sweets. I can bake anything using eggs of course. So I read the review on how vegan cakes differ from regular cakes. I got the ingredients and was ready to try my hand on pineapple upside down cake. So I read the reviews and liked the one user using almond milk instead of vinegar. So I used 1/2 cup vanilla soy milk and 1/4 cup pineapple juice instead. Plus used natural sweetener to reduced the sugar to half. I also used 1 tbsp. oil and 1 tbsp. water. Now I did forget to do the egg replacer after it was in the oven for 10 minutes. But it turned out great!! It was fluffy and oh so sweet and didn't fall. My husband even liked it! Thank you for putting out a great recipe that can aid as the base to any style vegan cake!
Was this review helpful to you?

Swegan
Delicious
I've made this cake six times. I use lemon juice instead of apple cider vinegar or just skip it, 1 extra teaspoon baking powder instead of baking soda and 1 extra tablespoon coconut oil instead of vegetable oil, and bake for 30 minutes in the middle of the oven. It's turned out perfect every time with just the right consistency and fluffiness.

Thanks for developing and sharing this recipe!

Tip: Use 1 teaspoon cardamom and 1 teaspoon cinnamon instead of the lemon extract, and less vanilla. It is called "bear cake" here in Sweden.
Was this review helpful to you?

praspino
Top 500 Reviewer
View all my reviews (1)
Tips...
Friends,
I was looking for a white vegan cake recipe for a friend's wedding and happened on this recipe-- sounds like a winner. I will experiment with the original and modified recipes to see what works best for my purposes-- multi-layers.
HOWEVER, I noticed someone asking how to make a cake that rises more evenly across the top, without so much of a cake mound in the center. As the veganbaking.net owner stated, this problem is due to uneven heat in the oven. Here are three possible solutions to consider:
1. Place a large cake pan of boiling water at the bottom of the oven before you begin baking. The steam will help diminish hotspots and balance the temperature in the oven, resulting in more even rising. Be certain to keep at least 1/2" water in the pan throughout the baking process.
2. You can purchase special wraps that you soak in water, then place around the edge of the baking pan before it is placed in the oven. I purchased mine through a popular cake decorating supplier; they are long 2" wide silver and muslin fabric strips with absorbent padding between layers. Really helps.
3. If you are replacing your oven and love to bake, consider purchasing a convection oven, (one with an interior fan that distributes heat evenly), which is a great choice for bakers for a variety of reasons. Heat in the oven is so even that you won't have hotspots- places where your baked item is over or under-cooked. Cakes will bake much more evenly than in conventional ovens. You can also bake on all racks in the oven at the same time-- two shelves of cookies, cupcakes, potatoes, lentil loaves, etc...
These solutions may not completely eliminate the problem of uneven rising, but in my experience I have had little or nothing left to trim in order to have nice even layers. GOOD LUCK!!!
Was this review helpful to you?

jazzgrass
Top 1000 Reviewer
View all my reviews (1)
Tweaks
Hi there! I searched for a vegan spongecake recipe and really liked the look of this one. I specifically wanted a spongecake that could be used in a jellyroll-type recipe. (I also remember reading comments, so maybe the person who asked about jellyroll cake can be notified?) I took to heart the comments about the recipe being crumbly and cornbread-like. I made one, following the recipe, but keeping in mind I may have to tweak.

While the cake itself is a nice recipe, it didn't work for my purposes for two reasons: 1. the texture was in fact way too crumbly to work for a rolled cake. 2. the lemon flavor (possible it was the lemon plus the apple cider vinegar) was far too strong and didn't blend with the other flavors I combine in the rolled cake (tiramisu, for what it's worth).

I would like to suggest a few changes to anyone who wants a fluffier and less-crumbly cake.

(First, the ingredients list calls for coconut, but the instructions say canola. I used coconut.)

I know Mattie says that curdling of milks is a favorite technique, but I don't favor it myself. Here's what I changed in the recipe, and got something just about perfect for my tiramisu.

1. No apple cider vinegar. Just the 3/4 cup of soymilk (it worked better than almond milk for me).
2. Change lemon extract to almond extract. I also tend to go heavy on vanilla. I used a whole Tablespoon.
3. Use 2 1/2 Tbsp ground flax and about 8 Tbsp water, cooked for a very few minutes on medium heat, stovetop, and add to "whisk wet ingredients together" section. This fabulous egg substitute held the batter together very well (and added Omega 3s!).

The cake came out fluffy, spongy, yummy, and very neutral in flavor as compared to the slight but unmistakable tartness of the original.
Was this review helpful to you?

Memories
LOVE.
I've loved this recipe long time. Have it bookmarked. But it used to be slightly different, with flax seeds? Is there any way to get that recipe back? It was *perfect*
Thank you so much.
Was this review helpful to you?

amber7lux
Top 1000 Reviewer
View all my reviews (1)
Perfect
This cake is just perfect. I baked for about 25 minutes, and the texture is just the right balance of springy and slightly dense. It is not a fluffy cake, but it makes for easy handling and frosting. I used a rounded teaspoon of the ground flaxseed. I made it for a friend's birthday tonight and am so glad it turned out well. I will update once I've tasted the finished product. :) Thank you!
Was this review helpful to you?

Baker Baba
Top 1000 Reviewer
View all my reviews (1)
Terrific Cake
My granddaughter recently went Vegan, and requested a vegan cake for her 17th birthday. This recipe looked simple enough, but I had little hope that it would even be edible.. I tasted the batter before I baked it, and I could not have told it was vegan, but I still had my doubts. I made two separate recipes for the layers, and they came from the oven looking better than my regular cakes. Made a vegan chocolate frosting as she requested. I warned everyone that it was my first attempt at vegan baking, and not to expect too much

Oh my gosh. This cake is incredible.....moist and flavorful. Everyone agreed that it is a winner! Most important, the birthday girl loved it. I will definitely make this my "go to" cake for her.

She loves pancakes, and I used this recipe as the basis for a pancake batter, and they were delicious. Light and fluffy....so good we non vegans had them for breakfast this morning

Thanks for making my vegan adventure so rewarding.
Was this review helpful to you?

Micheill
Top 500 Reviewer
View all my reviews (1)
Good, but wouldn't make again.
This cake tastes like cornbread. It has the consistency of cornbread (fluffy, moist and dense), looks like it (is yellow from the flax and canola oil, not white) and it somehow tastes like it too (maybe from the flax). It had mostly good reviews so that's why I tried it and I usually don't write reviews on recipes unless I feel I should warn other unsuspecting bakers who stay up all night like myself at the last minute to make a cake. I mean it would be edible, but not good. I'm going to have to remake the cake. And I tripled the recipe....blaahhhhh. I should have listened to the other reviewers that said it tasted like cornbread, because it totally does. Sorry for the not so good review. Good job for posting a vegan cake recipe though.
Was this review helpful to you?

Newcindy
Easy, pretty, fluffy! And Soda Cake mix discovery!
I made this and no one would be able to tell it is vegan. It is light and fluffy, very quick to make. Easy to cut, easy to frost. Would be easy to do a layer cake if two were made. Again, another recipe I will recommend to all my friends and have posted a link to it from my web site.
http://www.veganaugusta.com/desserts/
Most importantly, your wonderful information on the science of baking led to a discovery. I had been using the long standing box mix/can of soda recipe in some vegan outreach and while I love the concentrated sweetness, I know some prefer fluffy. And they are sticky so they were hard to frost and you could not do a layer cake using a box and 10 or 12 oz of soda. So following your sage advice, I dropped it to 8 oz and made the batter more like biscuit dough and BINGO!!! Fluffy cake!! So I posted a two method approach to the box and soda cake and will be offering both versions to people to try and reduce animal product consumption. Thanks so much for your great information!!! (both methods at the same dessert link above)

Was this review helpful to you?

Karin
wedding cake base
What a brilliant recipe! I am making the wedding cake for a close friend and I've been baking al sorts of white cakes to find the best. And this is my winner! It's fluffy, yet not crumbly, flavourful (I used lemon instead of almond extract), easy to cut in half - perfect really. Thanks for that recipe!
Was this review helpful to you?
Nice! Tips on even rising?
This cake is very tasty and airy! It came out a little dry for me, but possibly I baked it a bit too long. I made half a two-layer cake by cutting one layer in half and stacking it with a creamed coconut frosting (http://www.adventures-in-cooking.com/2012/03/thai-tea-cake-with-creamed-coconut.html with vegan margarine instead of butter). One question I have is: how do I prevent the cake from rising mainly in the middle and leaving me with very thin edges? This makes it not so nice to stack... I know people usually trim their cake a bit before stacking (and I guess this probably helps the icing adhere as well) but I don't like cutting away parts of my nice cake... Thank you in advance, and keep up the good work!
Was this review helpful to you?

H.D.
Grand!
This turned out beautifully, you've now given me my go-to white sponge cake recipe. I also made this a "lemon cake" but really don't recommend trying to make lemony cakes by adding to the batter*.... instead make a sugar/lemon juice/lemon zest glaze, puncture holes into the cake whilst it's still a bit warm then drizzle the glaze over, it will absorb the liquid and dry to a glossy, transparent finish on top. I then make a lemon icing/frosting (thicker, often with a tablespoon or two of vegan "butter" or coconut butter lot's of lemon zest, vanilla extract and powdered sugar) and paste it on top, leave in a cool place to harden. A GORGEOUS cake! Thankyou.
Was this review helpful to you?

razzldazzl23
Top 50 Reviewer
View all my reviews (3)
Great White Cake Recipe!
The cake came out nice and fluffy. I followed the recipe exact. I did use an 8x8 square pan instead because I don't have a cake pan (yet). Thank you for this amazing recipe!
Was this review helpful to you?

cupcakefdoom
Top 500 Reviewer
View all my reviews (2)
Jelly Roll..?
Hi Mattie! Haven't tried this recipe yet, but I trust your recipes. I was just wondering if I could tweak it into a jelly roll with any success. How fragile is it? Some people said it has a good moist, crumb so I think I am going to try it....I will hook you up with my results :)
Was this review helpful to you?

Jenny
Cupcakes?
Do you think this would translate well to cupcakes?
Was this review helpful to you?

Shannon
tender cake
This came out very well, nice and tender. I quadrupled it to make the triple layered checker-board cake (dyed red and green) for a friend's birthday and it looked lovely. thank you for sharing this.
Was this review helpful to you?

patty
delicious!
I made this today and it was absolutely delicious! It was exactly what I was looking for. It was light and had a great texture. I had made another vanilla cake from another source and it was too heavy and dense and not as sweet even though the other recipe used more sugar. This is definitely a hit in our house. I used 2 tbls water instead of the oil and it didn't affect it at all. Thanks for the recipe!
Was this review helpful to you?

andreanewengland
Top 500 Reviewer
View all my reviews (2)
Double it!
I can only give it a 3 based on my changes, so maybe not a fair score for the white cake. I made it Lemon Cake by using lemon juice in place of vinegar, which was fine. I used a teaspoon+ of lemon extract for the extracts. They say on the bottle to be careful because it's so concentrated. But it was only vaguely lemony. The cake itself was rather heavy or dense. But at least it didn't crumble like some vegan cakes. It was an extremely thick batter. For my second layer (see below), I added a bit of water to the batter. So maybe altering this recipe was not the best way to make a lemon cake. I'll try it again as a white cake sometime!

I want to emphasize that this makes one layer, which I wouldn't actually call a "cake." I didn't notice that (my bad), so once I realized it, I just went ahead and finished the one layer and started over to make another one so I'd have an entire layer cake. Not a huge problem since all the ingredients and cups were still out.
Was this review helpful to you?

Andrea
Need Help.
Help, I need to make a tangy lemon cake tomorrow morning for my daughter's b'day cake. She wants lemon with chocolate frosting all of a sudden. Can I use lemon juice instead of the vinegar? And use lemon extract or oil for the extracts?

Thanks Mattie!!
Was this review helpful to you?

patty
can you skip the oil? not a big fan.
Was this review helpful to you?