Yeasted Vegan Banana Bread

Mattie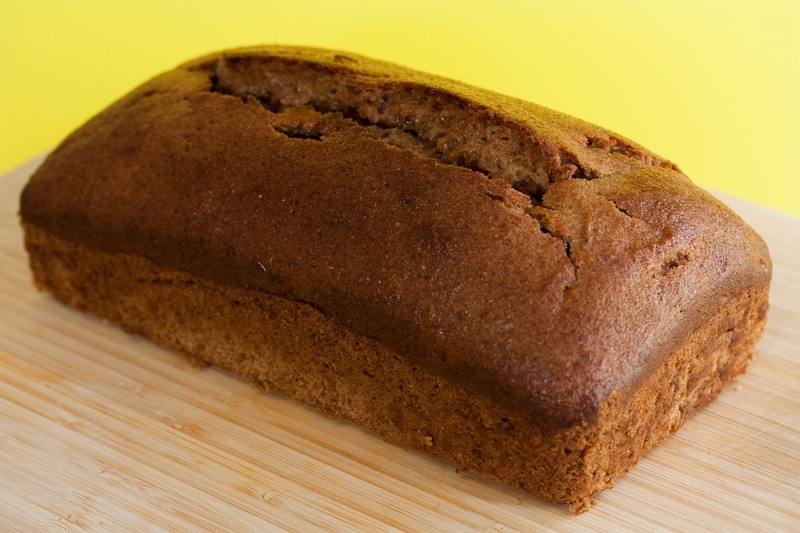 The more I use yeast instead of baking powder for quick breads such as Yeasted Vegan Banana Bread, the more I notice that yeasted breads produce far better flavor results. How did we get into this bad habit of
chemically leavening
our sweet breads with baking powder and baking soda? One word: convenience. Yeasted breads take about 3 times longer to make because we have to wait for the yeast to do it's thing. Yeast leavened breads are usually considerably more flavorful than chemically leavened breads because as the yeast ferments and spits out C02 that rises the bread, it also produces a multitude of complex flavor compounds. This is not the case with chemically leavened breads where few flavor byproducts are produced during the chemical reaction between acid and alkalne that produces the C02. Yeasted Vegan Banana Bread is now my go-to vegan banana bread recipe.
This banana bread recipe is an upgrade on the old classic and features a more complex flavor. It's slightly more time consuming to make but well worth it. This is now my go-to banana bread recipe.
Find more
Banana recipes
on Veganbaking.net
Yeasted Vegan Banana Bread Recipe
½ cup non-dairy milk, warm
1 teaspoon active dry yeast
1 ¼ cups mashed over ripe bananas (about 3)
1 cup sugar
½ cup
vegetable oil
1 teaspoon cinnamon
1 teaspoon nutmeg
1 teaspoon salt
1 ½ teaspoons vanilla extract
2 ¼ cups whole wheat flour
½ cup chopped walnuts
1) Activate the yeast
In a medium bowl, whisk together the warm non-dairy milk and yeast. Let sit for 10 minutes so the yeast activates.
2) Prepare the bananas and whisk in the flavor building ingredients
Mash enough bananas to make 1 ¼ cups and add this to a separate large mixing bowl. Whisk in the yeast mixture, sugar, vegetable oil, cinnamon, nutmeg, salt and vanilla extract.
3) Build the batter
Add the half of the flour to the bowl and mix with an electric mixer until just incorporated. Add the rest of the flour and mix on low speed for two minutes. Cover the bowl with plastic wrap and let it sit for two hours. After two hours, mix the dough for about 30 seconds. Stir in the walnuts if desired.
4) Bake the vegan banana bread to perfection
To make muffins
Line a muffin pan with cupcake liners. Pour the batter into the muffin pan making sure the dough is filled up to the top of the pan and domed. Preheat oven to 325F (163C). Let the muffins sit for 1 ½ hours with a bowl inverted over the top of the muffin pan to keep the dough from drying out. Bake for 25 to 30 minutes or until an inserted toothpick comes out clean.
To make bread
Pour the batter into a lightly oiled 8 x 4 inch loaf pan. Preheat oven to 325F (163C). Cover the loaf pan with plastic wrap and let it sit for 1 ½ hours. Bake for about 1 hour or until an inserted toothpick comes out clean.
This recipe makes one loaf or 6 to 8 muffins of Yeasted Vegan Banana Bread.
User reviews

Alana
Perfect!!!
So this is the second time I made this banana bread and it came out wonderful! The first time it fell in the oven (but that was due to me letting it rise too long) but this time it came out perfect! This recipe is easy to follow and tasty. I wish there was a way to upload photos. If you want to see the pictures of the B.B just email me @ This email address is being protected from spambots. You need JavaScript enabled to view it..

Also, this time I added pureed strawberries to mines ?
Was this review helpful to you?

Satisfied baker
So happy
I am so happy to have found this recipe; I can finally have good banana bread again!
I have been trying to make banana bread/muffins using yeast for quite some time now; however, my recipe has always been a fail. The bread rises but falls back down in the pan. I was so excited to see the bread rise and stay that way. Thanks so much!
Was this review helpful to you?

dangermouse
View all my reviews (1)
not foolproof
This didn't work for me. I cut down the amount of oil by half and replaced it with extra banana, something I usually do with quickbread and muffin recipes. I also subbed all purpose flour for a third of the whole wheat. After an hour and 20 min baking at 325º, the middle of the loaf was still liquidy.
Was this review helpful to you?

Jenny
Terrible!
Came out undercooked, too dense, and horrible half assed recipe.
Was this review helpful to you?

Alexandra
Reducing the Time
Here is a tip that I used to reduce the time for making the banana bread. I heated the milk till it was hot, then added the bananas, oil, sugar, and seasonings. I made sure the whole mixture (and not just the milk) was the right temperature before I added the yeast. I only needed to let the dough rise for 1 hr. the first time and 1/2 hr. in the pan.
Was this review helpful to you?

Alexandra
Wow!
Hi, I also learned about baking powder being bad for you, so I was looking for a banana bread recipe with yeast. I expected the result to be more 'bready,' since I used yeast, but I was surprised. This banana bread has a texture and moisture just like its unhealthy cousin! Since I wanted to use this bread for breakfast, I used 1/4 c. oil and 1/4 c. soymilk instead of 1/2 c. oil. I also reduced the sugar to 1/4 c, and the result was still DELICIOUS! Thank you for a great recipe.
Was this review helpful to you?

julietta
Top 1000 Reviewer
View all my reviews (1)
? hand stirring
Just want to know whether this would work with hand stirring. I notice that you specify stirring with an electric mixer. I much prefer recipes I can stir only by hand, and find that with cakes it works pretty well... but haven't tried yeast-based doughs
Was this review helpful to you?

David
Warning! Yeast uses chemicals to make bread rise t
Just to let you know, modern yeast fully utilises potentially harmful chemicals as intermediate compounds when leavening your bread. Not to mention the yeast you buy in stores has undergone generations of aggressively gene-altering processes to produce the 'perfect' loaf. Only capture wild yeast (preferably from a meadow environment away from any pollution) and use this as its the only 100% natural way to make bread, also avoid store bought flour which contains hybrid, unnatural grains.

Even bananas have undergone many years of modification by man to reduce the seed content and increase sweetness! At the cost of nutrition and health!! If you want my advice only produce your bread from hand picked wild grasses when they are in season, try using local wild fruits for your bread also, no need for the virtually man-made banana!!

And please whatever you do don't heat your bread (or any food)! Even slight burning produces horrendously toxic and carcinogenic chemicals such as benzopyrene (not even cooking on an open fire helps like our ancestors used to do, in fact it makes it WORSE! Try heating your bread on a rock in full sun or just eating the delicious dough as it is. It's time to throw away the shackles of the kitchen and really taste nature's bounty for the first time! If you want any advice about going raw vegan please get in touch!
Was this review helpful to you?

belmontina
yeast instead of baking powder
hi, thanks for recipe. I m not vegan, but i can t digest baking powder and milk, that s why i am looking for new recipes. I can t proof but i think baking powder is also not healthy for normal people!

Was this review helpful to you?

Rebecca
Storage Help
I want to serve this in three days but I am making it right now - I am going to store it in the freezer.

When the time comes should I just thaw it and serve? Or should I stick it directly in the oven for a few minutes?
Was this review helpful to you?

jo
tasty
the taste was really good, but the texture of the bread seemed a bit too dence. othher than that it was great!
Was this review helpful to you?

Patrina
Delish but too oily
Just out the oven. This is delicious and very moist but a bit too oily for me. I used EVOO and the sample piece I cut is saturating the napkin it is on. Not sure why it is soooo oily but I prefer this recipe as I did not have baking soda and I preferred not to use any. Now I have a recipe I can use without using any chemical additives. 'Preciate it. Blessings.

I am pretty new baking vegan-style, would the yeast concept work for cookies as well? Thank you in advance.

Peace, Patrina
Was this review helpful to you?

melbaker30
Top 500 Reviewer
View all my reviews (2)
Easy
The only thing is I tried to substitute the sugar with stevia and I don't think I put enough. Wasn't very sweet. I did add vegan chocolate chips to it and that was good. I would love to see all recipes that call for sugar list a substitute and the amount to use. I am new to vegan and cutting out refined sugars. The help is welcome. :)
Was this review helpful to you?

Gitsham-Kenny
Top 500 Reviewer
View all my reviews (2)
P.S.
Also: I added two tablespoons of rice-bran oil to make it extra moist!
I find this also works with chocolate cakes, instead of soy milk use water the same ammount of water as you would've used soy and half a cup--a whole cup of rice-bran oil depending on how moist you like it! =D
Was this review helpful to you?

Gitsham-Kenny
Top 500 Reviewer
View all my reviews (2)
Banana bread by Mattie
Hi everyone,
I just finished baking this banana bread, it is amazing! I just got it out of the oven (Well about 15 minutes ago) and it's heavenly, so moist and sweet, absolutely perfect! Can't wait to have some more with breakfast! Thank you!!!
Was this review helpful to you?