Vegan Banana Walnut Muffins or Bread

Mattie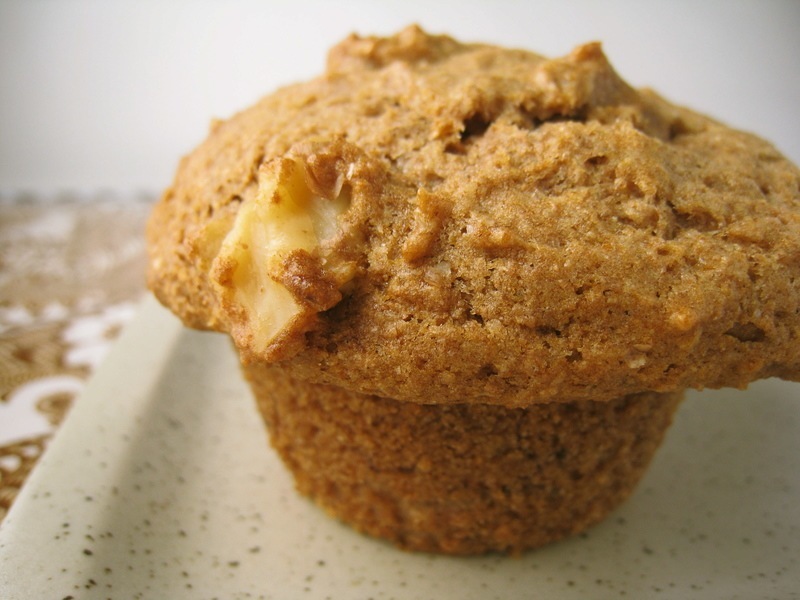 There's something about bananas and walnuts that just makes a perfect quick bread. This Vegan Banana Walnut Muffin recipe delivers it to your tastebuds thanks to the help of cinnamon, nutmeg a touch of vanilla extract. A slice of these vegan muffins topped with almond butter is a great thing.
Find more
Banana recipes
on Veganbaking.net
Vegan Banana Walnut Muffin Recipe
½ cup non-dairy milk
1 teaspoon apple cider vinegar
2 ¼ cups whole wheat flour
1 ½ teaspoon non-aluminum baking powder
½ teaspoon baking soda
1 ¼ cups mashed over ripe bananas (about 3 ½ bananas)
1 cup sugar
½ cup
vegetable oil
1 teaspoon cinnamon
1 teaspoon nutmeg
1 teaspoon salt
1 ½ teaspoons vanilla extract
½ cup chopped walnuts
½ cup chocolate chips (optional)
1) Curdle the non-dairy milk
Preheat your oven to 325F (163C). In a medium bowl, whisk together the non-dairy milk and apple cider vinegar. Let sit for 10 minutes so the non-dairy milk curdles.
2) Whisk together the dry ingredients
In a large mixing bowl whisk together the whole wheat flour, baking powder and baking soda.
3) Mash your bananas and whisk in the flavor building ingredients
Mash enough bananas to make 1 ¼ cups and add this to a separate large mixing bowl. Whisk in the non-dairy milk and apple cider mixture, sugar, vegetable oil, cinnamon, nutmeg, salt and vanilla extract.
4) Mix the batter
Pour the wet ingredients into the bowl containing the dry ingredients and mix until just incorporated. Due to the moisture variations of bananas, more water or flour may need to be added to achieve the desired dough thickness. Stir in the walnuts and chocolate chips if desired.
5) Bake to perfection
To make muffins
Line a muffin pan with cupcake liners. Pour the batter into the muffin pan making sure the dough is filled up to the top of the pan and domed. Bake for 25 to 30 minutes or until an inserted toothpick comes out clean.
To make bread
Pour the batter into a lightly oiled 8 x 4 inch loaf pan and bake for about 1 hour or until an inserted toothpick comes out clean.
Store in a covered container or plastic freezer bag in the refrigerator for up to 1 week or the freezer for up to 6 months. This recipe makes 1 loaf or 6 to 8 Vegan Banana Walnut Muffins.
User reviews
Great for muffins
I was looking for a straight forward recipe for banana bread or muffins and this worked perfectly, very easy, exactly the right texture, great taste. Thanks for the recipe!
Was this review helpful to you?

Myriam
These are amazing!
This recipe is a keeper! I used whole wheat pastry flour, coconut milk, coconut oil, and cut the sugar by half. They turned out wonderful! They popped right out of the muffin pan and are perfectly springy, not too dense or mushy, the texture is great and the taste even better.
Thank you! I'll be making again.
Was this review helpful to you?

barbaragarnier
Top 500 Reviewer
View all my reviews (1)
Many thanks for the recipe, it was so delicious! When I usually try to bake banana bread, it ends up being dry and not very tasty. The result was this time just amazing, even with 2 bananas and less sugar. I even got compliments from my mother in law :-). Thanks again for sharing it! Greetings from Beriln, Barbara
Was this review helpful to you?

Jennifer
So yummy
I think this is some of the best banana nut bread I've ever had. I only had 2 bananas to use, and it still turned out fluffy and moist. So good!
Was this review helpful to you?

Spunkie
View all my reviews (1)
So easy! And it came out perfect!
I made this today (the loaf) and it came out perfect! So easy and delicious. Yum!
Was this review helpful to you?
finally!
I have been looking for excellent vegan muffin recipes that don't include a lot funky and bizarre ingredients. This recipe is amazingly simple and delicious. The banana muffin tastes incredible rich and moist. The nutmeg is delicious.

I used almond milk for the curdling, next time I will try soy. I added flax seeds, because I love adding that to everything.
Was this review helpful to you?

Dana
Wonderful!
Easy to make, looks great and tastes great. Got 16 medium muffins.
Thank you!!!
Was this review helpful to you?

RaZion
View all my reviews (1)
Best I have ever had!!!!
I just made these as muffins!!!! I live in Miami so I used some "native" ingredients!! I used coconut milk( yes it curdled) & I used small, native Bananas- Known as Manzano or. Sugar/Native Bananas. These were the lightest, fluffiest Vegan baked item I have ever made!!!!!!!!!!!! Addicted!!! & I know my boyfriend will be to :) !!!!! Thank You for sharing!! JAH love :)
Was this review helpful to you?
Bee-bread
I recently made my first batch of banana walnut bread from this recipe. I bought non-aluminum baking soda instead of the powder. I attempted to only use that and I think the results were still good. I wonder what the texture would have been like w/ it. I will know next time. I didn't get the curdling effect w/ rice (not soy) milk and apple cider.

I would maybe add a little less sugar. I think my over ripe bananas were were very sweet.

I gave some b-bread to some friends and they loved it. Yes, you can have yummy desserts w/o milk or eggs!

I will be using this recipe in the future (w/chia seeds)!
Was this review helpful to you?

Amelia
View all my reviews (1)
Yummm
I have used this recipe about five times in the past month. My roomie adores it "for vegan food" (her quote). I omit the walnuts because they are to pricey for my wallet. Super soft, moist, and delicious.
Was this review helpful to you?

Boho Vegan
Top 1000 Reviewer
View all my reviews (1)
Wonderful!
This recipe was great!!! I didn't add walnuts as I didn't have them, (I used normal chopped peanuts) but it turned out so delicious!

I found I had to bake the bread for much longer (about another half hour at 100C degrees) but at least the bread was cooked right through. I tried a slice warm with Nuttlex and both my fiance and I (he is omni) agreed it was much better than regular banana bread!

Thanks for the recipe :) Keep it up!
Was this review helpful to you?