Balsamic Candied Pecans

Mattie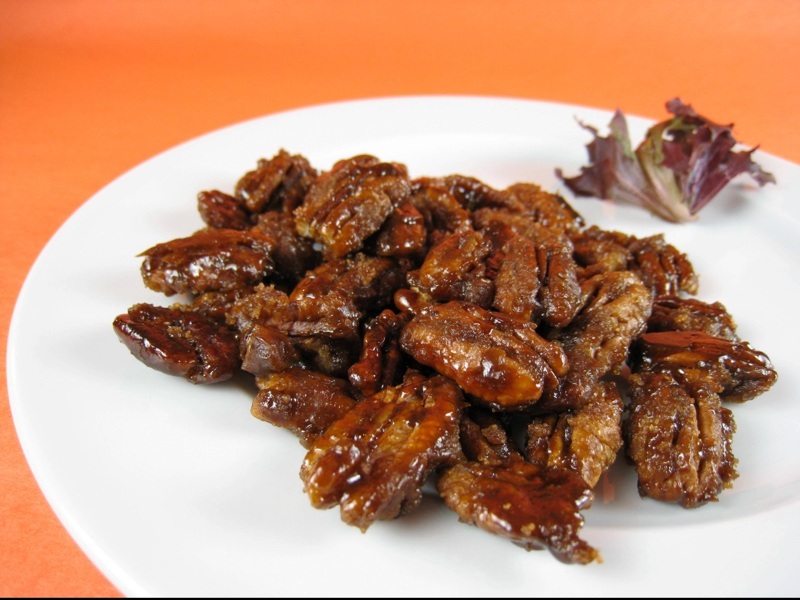 These Balsamic Candied Pecans are great for salads, ice cream or just random munching. It's one of those examples of how balsamic vinegar can mysteriously elevate certain foods to
food crack
status. This vegan recipe also features a touch of molasses and salt that work behind-the-scenes to enable proper texture and complex flavors. Don't like molasses? Too bad! Or should I say, "please add it. Pretty please?" It's essential for allowing the proper texture and flavors come through. You shouldn't be able to taste it in the finished product. Oh and here's a little secret: Put these babies in your next pecan pie for a secret candy coated weapon that's sure to wow your pie eating brethren.
Find more
Pecan recipes
on Veganbaking.net
Balsamic Candied Pecans Recipe
½ cup white granulated sugar
2 Tablespoons vegetable oil
2 Tablespoons balsamic vinegar
½ teaspoon molasses
¼ teaspoon salt
2 cups pecan halves
1) Caramelize the sugar
Place a piece of parchment paper on a baking sheet and set it aside. In an 8 inch skillet, stir together the sugar, olive oil, balsamic vinegar, molasses and salt over medium-high heat until the sugar melts and the syrup bubbles. This should take about two minutes.
2) Stir in the pecans
Add the pecans and stir constantly they're evenly coated and toasted. This should take about 4 minutes.
3) Spread and allow to cool
Transfer the mixture to the baking sheet and use two forks to separate the clumps of pecans. Allow the nuts to cool completely. The pecans can be stored in an airtight container for up to one month. This recipe makes about 2 cups of Balsamic Candied Pecans.