Easy Vegan Wheat Bread

Mattie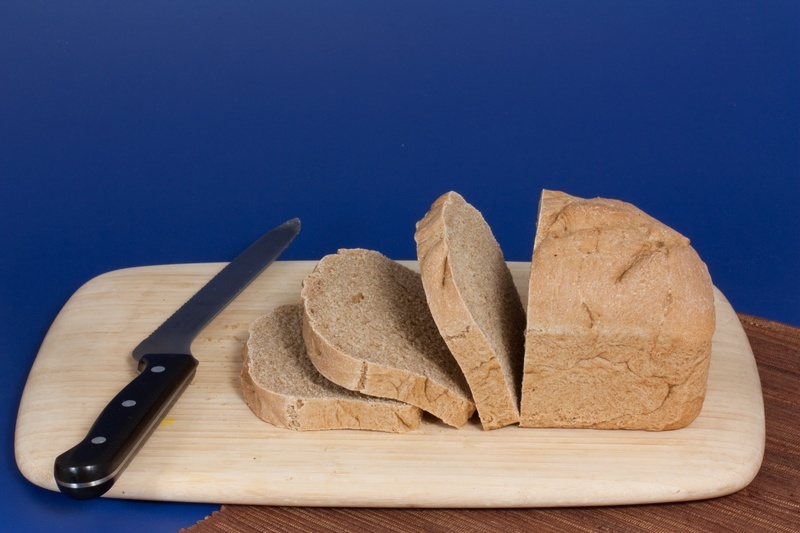 There's nothing quite like home made bread. This hearty Easy Vegan Wheat Bread recipe is easy to whip up if you have a few hours and it's really simple. In bread baking, longer rise cycles at lower temperatures usually result in more flavor compounds that are generated due to the yeast extracting and break down more starches in the flour and converting them into sugars which will then get caramelized during baking. Some doughs call for an overnight rise in the refrigerator so optimum flavor can be developed. In this vegan loaf you have the option of doing an overnight slow rise in the refrigerator or a regular rise. The two first rise cycle is for the main fermentation of the dough where the yeast eats the most sugars and rises the bread with CO2. The last rise is called
proofing
in where the dough rises after it's been molded into it's desired shape or placed in it's specific mold.
In bread baking it's absolutely essential that no shortcuts are taken when following a recipe because you're manipulating a fermentation with very exacting tolerances; just like when brewing beer. Any deviation can result in a botched experiment, aka a
brick
.
Find more
Whole Wheat recipes
on Veganbaking.net
Easy Vegan Wheat Bread Recipe
1 ¾ cups + 3 Tablespoons warm water
2 Tablespoons maple syrup or agave syrup
2 ¼ teaspoons, or one ¼ ounce package active dry yeast
4 cups whole wheat flour
1 ¾ teaspoons salt
1) Activate the yeast
In a small mixing bowl, whisk together the warm water, maple syrup and yeast. Let the mixture sit for about 10 minutes so the yeast activates.
2) Whisk together the dry ingredients
In a medium mixing bowl whisk together the whole wheat flour and salt.
3) Assemble the dough
Add the water mixture to the flour mixture and stir with a wooden spoon until the dough comes together into a sticky ball.
4) Knead the dough and let it rise
Transfer the dough to a clean surface. Knead for 12 to 15 minutes while adding flour only if the dough gets too sticky to work with. Form the dough into a ball and lightly coat it with oil. This will reduce the dough's tendency to dry out while it rises. Place it in a bowl, cover with a plastic bag and let it rise in a warm place until it's doubled in size, about 1 ½ hours. Alternatively, place in the refrigerator for about 12 to 24 hours. Remember that we want our dough to double in size regardless of whether it spends a full 24 hours in the refrigerator or rises at room temperature. Feel free to let it rise in the refrigerator for some of the time and outside of the refrigerator the rest of the time.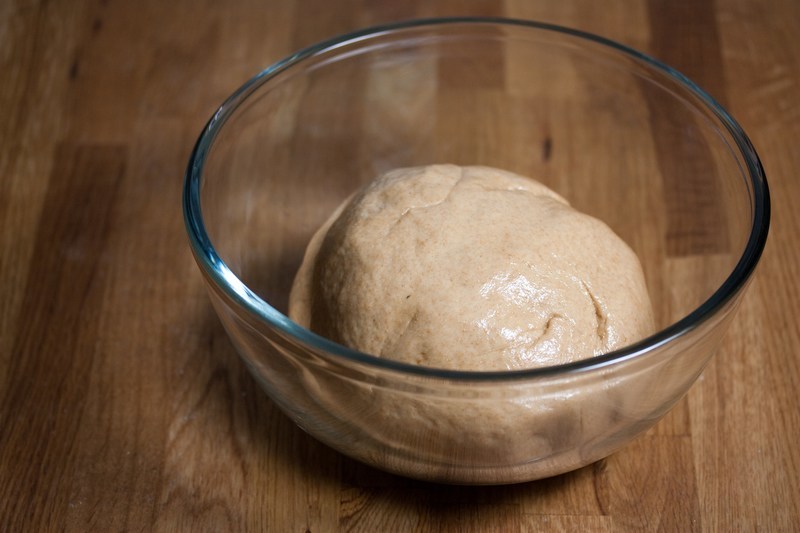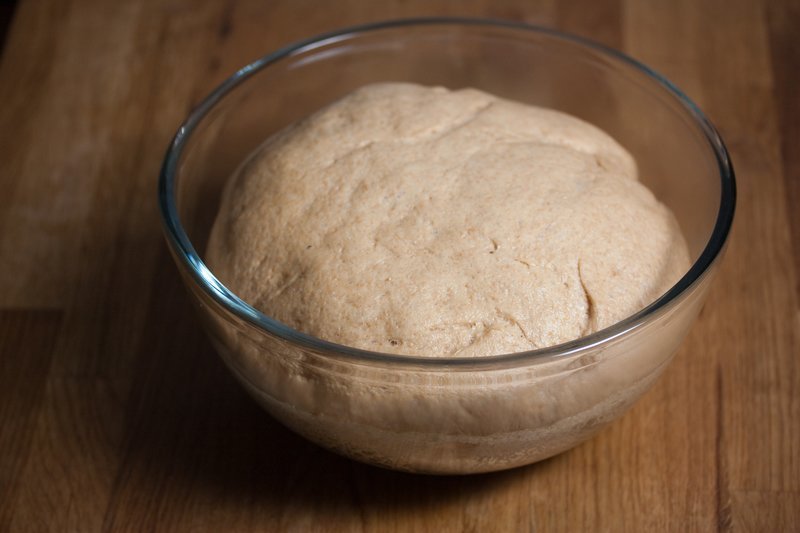 5) Let the dough rise once more
Degass the dough by pressing on it with dampened hands several times until no more gas comes out of the dough. Form the dough into a ball again and let it rise until it's doubled in size, about 1 ½ hours. If you did your last rise in the refrigerator, do this rise at room temperature and allow 4 hours of rise time.
6) Proof the dough
The dough can now be
proofed
by gently forming it into a lightly oiled loaf pan and allowed to sit covered with a plastic bag until it reaches about 80% to 90% of it's intended size, which should be about 40 minutes. The proofing stage is where the dough takes most of it's shape. It's important to leave room under the plastic bag so the dough can rise sufficiently.
7) Bake the vegan wheat bread to perfection
Preheat your oven to 375F (191C). Remove the plastic bag so the dough can rest for about 10 minutes while your oven is preheating. During the baking process, the dough will rise another 10% to 20% of it's intended size in the process known as
oven spring
. Bake until the internal temperature of the bread measured with an
instant-read thermometer
registers 180-190F (82-88C). If you don't have a thermometer, this is about 25 to 30 minutes or until the bottom of the loaf sounds hollow when the loaf pan is tapped with a blunt object like a rolling pin.
8) Allow the bread to cool slightly
Remove the bread from the loaf pan after about 15 minutes. Allow the bread to cool on a wire rack until it's room temperature. This bread is best stored covered in a cool dark place or pre-sliced and stored in a plastic freezer bag in the freezer. This recipe makes one loaf of Easy Vegan Wheat Bread.
User reviews

BBB
I followed this recipe to the letter, deviating only by incorporating a handful of chopped fresh rosemary. The result was a beautifully soft, fluffy loaf. Really gorgeous results! I'm very new to leavened bread, and the last time I tried to make wheat bread ended in disaster. I'm definitely going to be using this recipe again.
Was this review helpful to you?

Debra
Makes a wonderful loaf!!!
Since I started eating vegan about a year ago I have been looking for a whole wheat bread recipe with no egg. I have tried a few recipes with not very good success. So I have mostly been buying bread at the grocery. I love homemade bread though! And the specialty breads are really expensive. Today I tried this recipe and I was amazed! I followed the recipe directions with just a couple changes. I used instant yeast instead of active dry (2 tsp). I also added 4 tsps of vital gluten. The dough rose very nicely and I could see the gluten stands that formed in the dough, it looked wonderful! Before putting the dough into the loaf pan, I rounded the dough and let it rest for about 10 mins. Then completed the recipe instructions. I live in Colorado at about 6,000 ft., so baking can be a little difficult here due to the elevation, and also the low humidity. (I do grind my own wheat berries at the time that I am making the bread. This helps with the dryness) During the proofing stage I was really impressed with how much the dough had risen. Much more that I have had before. When I took the loaf out of the oven it looked great. I just had a couple slices along with a gazpacho type soup with chickpeas. The bread was delicious!!! I am so excited to have found this recipe!!! And I love how easy it was to make. I am back to baking my own bread again, hallelujah!!
Was this review helpful to you?
Solid recipe, but it's came out on the denser side for me the three times I've made it, any advice on making it less dense?
Was this review helpful to you?

Grace
So perfect
At last, I found this one is very best recipe. I baked and let it rise overnight like the recipe instructed. The vegan bread turns out to be great taste and soft. My family loves it. Thank you Thank you!!! I am not going to use other bread recipes. Your recipe is a treasure to me.
Was this review helpful to you?

Emily
You are a perfect human being. A god among men. This bread is AMAZING and your instructions are fantastic. I just made my first loaf today and this is going to become my go-to bread recipe. I'll never have to buy bread again!
Was this review helpful to you?
Perfect!
Before this recipe, I had never made bread by hand before. I was worried but for no reason. This is my all-time favorite bread recipe! I like to add 2 Tbsp. of flaxseed to it as well. I threw out all the store-bought bread in the house and make this a couple times a week now. It turns out perfectly every, single time. Thank you!!
Was this review helpful to you?

corinnemartine
I'm new to vegan recipes and was really intimidated to start baking bread. I'm so happy to have found this yummy recipe! It turned out perfect =D
Was this review helpful to you?

Divya
Nice recipe! Can I replace agave nectar/maple syrup with brown sugar?
Was this review helpful to you?

steph
Easy Wheat Bread
There's great info here, except one major part is missing! How much "Bread Flour" are you supposed to use? You refer to it in the preparation instructions, yet it's not listed in the ingredients! Only the whole wheat flour is listed...
Was this review helpful to you?

asaam
Hearty
This bread came out very hearty, and the taste grew on me more and more as i continued to eat it.
After my first rising session was over, i decided to put the dough in the baking pan i was using and have it rise 3 times. (30 mins each)
that probably added to the flavor a bit more.

thanks!
Was this review helpful to you?

melbaker30
Top 500 Reviewer
View all my reviews (2)
Easy and Delicious
This was easy and delicious! Exactly what I needed!
Was this review helpful to you?