Vegan Ginger Pear Muffins or Bread

Mattie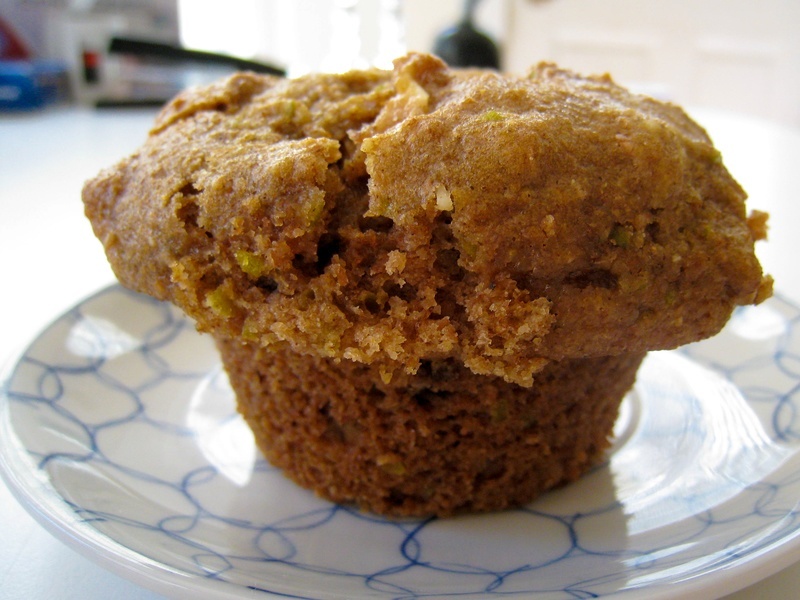 Pear chunks, pear purée and ginger come together to compliment each other in this tasty Vegan Ginger Pear Muffin recipe. Lemon juice, cinnamon and nutmeg further unify flavors and a touch of vanilla extract brings it all together.
Find more
Ginger recipes
on Veganbaking.net
Vegan Ginger Pear Muffin Recipe
1 ¼ cups pear puree (about 2 ½ medium sized pears)
¾ cup sugar
½ cup
vegetable oil
2 Tablespoons non-dairy milk
1 Tablespoon ginger
1 teaspoon lemon juice
1 teaspoon salt
3 Tablespoons
Egg Replacer Powder
1 cup diced pear, peeled (about 1 medium sized pear)
1 teaspoon sugar
½ teaspoon cinnamon
½ teaspoon nutmeg
1 ¼ cups whole wheat flour
1 cup all-purpose flour
1 teaspoon non-aluminum baking powder
1 teaspoon baking soda
1) Prepare the pear purée and blend it with the flavor building ingredients
Preheat oven to 325F (163C). Peel and core about 2 ½ medium sized pears and blend or process into 1 ¼ cup of pear purée. After 1 ¼ cup of puree has been measured, save the excess for another use before adding the measured amount back to the food processor or blender. Add the sugar, vegetable oil, non-dairy milk, ginger, lemon juice and salt and process until smooth. Add the Eggless Binder Powder and and process until smooth.
2) Prepare the spiced, diced pears
In a small bowl, hand mix together 1 cup diced pear with 1 teaspoon sugar, ½ teaspoon cinnamon and ½ teaspoon nutmeg. Stir this with a spoon, making sure all the diced pear pieces are evenly covered. Set aside.
3) Whisk together the dry ingredients
In a large mixing bowl, whisk together the whole wheat flour, all-purpose flour, baking powder and baking soda.
4) Mix the batter
Pour the wet ingredients into the bowl containing the dry ingredients and mix until just incorporated. Stir the diced pear mixture into the dough.
5) Bake to perfection
To make muffins
Line a muffin pan with cupcake liners. Pour the batter into the muffin pan making sure the dough is filled up to the top of the pan and domed. Bake for 25 to 30 minutes or until an inserted toothpick comes out clean.
To make bread
Pour the dough mixture into a lightly oiled loaf pan and bake for about 1 hour or until an inserted toothpick comes out clean.
Store in a covered container or plastic freezer bag in the refrigerator for up to 1 week or the freezer for up to 6 months. This recipe makes one loaf or 6 to 8 Vegan Ginger Pear Muffins.