Vegan Carrot Cake Muffins or Bread

Mattie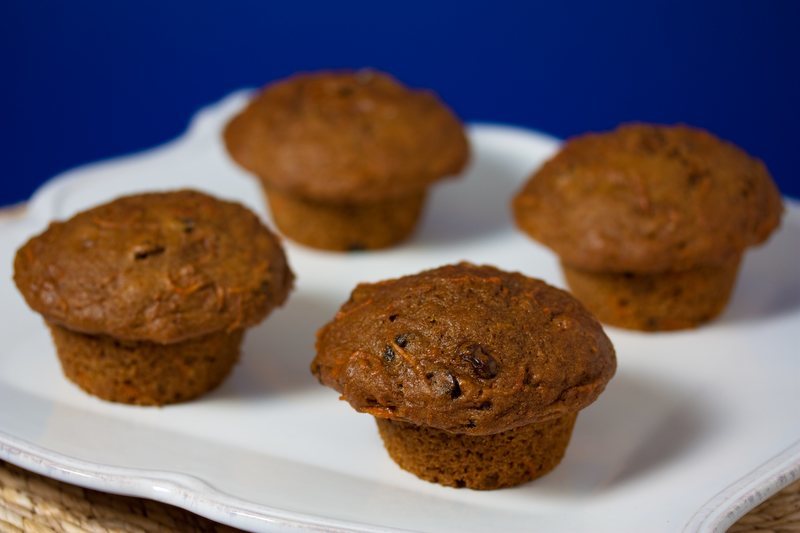 Carrot cake is my all-time favorite dessert so I adapted it into a heartier quick bread in the form of this Vegan Carrot Cake Muffin recipe so I could justify having it for breakfast. It's pointless to resist carrot cake goodness in it's new quick bread form so don't even try. A dollop of almond butter on top contrasts nicely with carrot cake flavor and adds extra nutritious oomph to power your day of world domination.
Find more
Soy-free recipes
on Veganbaking.net
Vegan Carrot Cake Muffin Recipe
1 cup non-dairy milk
1 ½ teaspoons apple cider vinegar
1 ¾ cups whole wheat flour
½ cup all-purpose flour
1 teaspoon non-aluminum baking powder
1 teaspoon baking soda
1 ½ cups grated carrot (about 4)
¾ cup chopped pineapple, drained
¾ cup raisins
½ cup chopped walnuts
¾ cup + 2 Tablespoons sugar
½ cup
vegetable oil
2 Tablespoons molasses
1 ½ teaspoons vanilla extract
1 teaspoon cinnamon
1 teaspoon nutmeg
1 teaspoon salt
½ teaspoon cardamom
1) Curdle the non-dairy milk
Preheat your oven to 325F (163C). In a small bowl, whisk together non-dairy milk and apple cider vinegar. Let sit for about 10 minutes so the non-dairy milk curdles.
2) Whisk together the dry ingredients
In a large mixing bowl, whisk together the whole wheat flour, all-purpose flour, baking powder, baking soda and set aside.
3) Add your carrots, pineapple, raisins and walnuts
Grate the carrots and add them to a small bowl. Add the chopped pineapple, raisins and walnuts.
4) Whisk together your flavor building ingredients
In another large mixing bowl whisk together the sugar, vegetable oil, vanilla extract, cinnamon, nutmeg, salt and cardamom. Now whisk in the non-dairy milk mixture from step 1.
5) Build your vegan muffin batter
Pour the wet ingredients into the bowl containing the dry ingredients and mix until just incorporated. Stir in the shredded carrots, pineapple, raisins and walnuts.
6) Bake to perfection
To make muffins
Line a muffin pan with cupcake liners. Pour the batter into the muffin pan making sure the dough is filled up to the top of the pan and domed. Bake for 25 to 30 minutes or until an inserted toothpick comes out clean.
To make bread
Pour the batter into a lightly oiled 8 x 4 inch loaf pan and bake for about 1 hour or until an inserted toothpick comes out clean.
This recipe makes 1 loaf or 6 to 8 Vegan Carrot Cake Muffins.