Vegan Apricot Rye Muffins or Bread

Mattie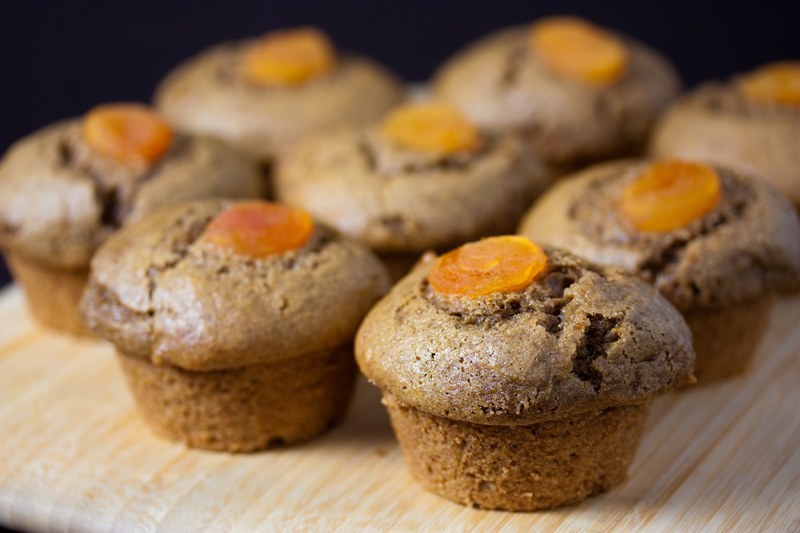 The sweetness of apricots and the earthiness of 100% rye flour complement each other, especially when accompanied by molasses, cardamom and espresso powder in this Vegan Apricot Rye Muffin or Bread recipe. Rye flour contains a low amount of gluten compared to wheat based flour so in order to enhance binding, the batter is mixed for 1 minute to allow the starches in the flour to become activated. The pectin in the apricot preserves also acts wonderfully as a binder in these vegan muffins.
Find more
Rye recipes
on Veganbaking.net
Vegan Apricot Rye Muffin Recipe
¾ cup non-dairy milk 1 teaspoon apple cider vinegar
2 ¼ cups rye flour
1 ½ teaspoon baking powder
½ teaspoon baking soda
½ cup sugar
½ cup
vegetable oil
1 Tablespoon molasses
1 teaspoon cinnamon
1 teaspoon salt
1 teaspoon vanilla extract
½ teaspoon cardamom
½ teaspoon espresso powder
1 cup apricot preserves
12 dried apricots
1) Curdle the non-dairy milk
Preheat oven to 325F (163C). In a medium bowl, whisk together non-dairy milk and apple cider vinegar. Let sit for 10 minutes so the non-dairy milk curdles.
2) Whisk together the dry ingredients
In a large mixing bowl whisk together the rye flour, baking powder and baking soda. Set aside.
3) Whisk together the flavor building ingredients
In a medium mixing bowl whisk together the sugar, vegetable oil, molasses, cinnamon, salt, vanilla extract, cardamom and espresso powder until well incorporated.
4) Mix the muffin batter
Pour the wet ingredients into the bowl containing the dry ingredients and mix with an electric mixer for 1 minute. Now add the apricot preserves mix for an additional 30 seconds.
5) Bake to perfection
To make muffins
Line a muffin pan with cupcake liners. Pour the batter into the muffin pan making sure the dough is filled up to the top of the pan and domed. Top each muffin with a dried apricot. Bake for 20 to 25 minutes or until an inserted toothpick comes out clean.
To make bread
Pour the batter into a lightly oiled 8 x 4 inch loaf pan. Top the loaf with 2 rows of 6 dried apricots. Bake for 55 minutes to 1 hour or until an inserted toothpick comes out clean. This recipe makes about 6 to 8 Vegan Apricot Rye Muffins.
User reviews

Alex
Great receipe!
Thanks for that muffin receipe, its awesome!
Was this review helpful to you?

baskin115
Top 50 Reviewer
View all my reviews (6)
I will try it
I am not usually a vegan guru but this looks really good. Going to try this and see what happens.
Was this review helpful to you?

Lisa
Substituting fruit
Hi

I live in spain so I dont think I can get the apricot preserve, could I substitute that part for mashed banana or applesauce or jam?

Thanks Lisa
Was this review helpful to you?

dl
I made a loaf of this bread. Substituted: regular milk for non-dairy, cherry preserves, and instant coffee granules instead of espresso. It turned out fabulous. It was so complex in taste but so delicious that my 6 year old went through almost the entire loaf. I did need to cook it for a bit longer - about 65 minutes total. But overall a fabulous egg-free recipe..
Was this review helpful to you?

Boris
-
Ab-so-lutely delicious! The rye flour is a great idea. These rose and rose and rose so I think the liners shouldn't be filled as full as suggested: I had enough for 9.5 huge ones - I think distributing them into the usual 12 liners would've been okay.
Thanks for the recipe!
Was this review helpful to you?

Mihl
.
Those look so amazing! I never thought of baking muffins with rye. Unfortunately you are wrong about the gluten. Rye does contain it. Not as much as wheat, but it's there.
Was this review helpful to you?