Vegan Pumpkin Spice Muffins or Bread

Mattie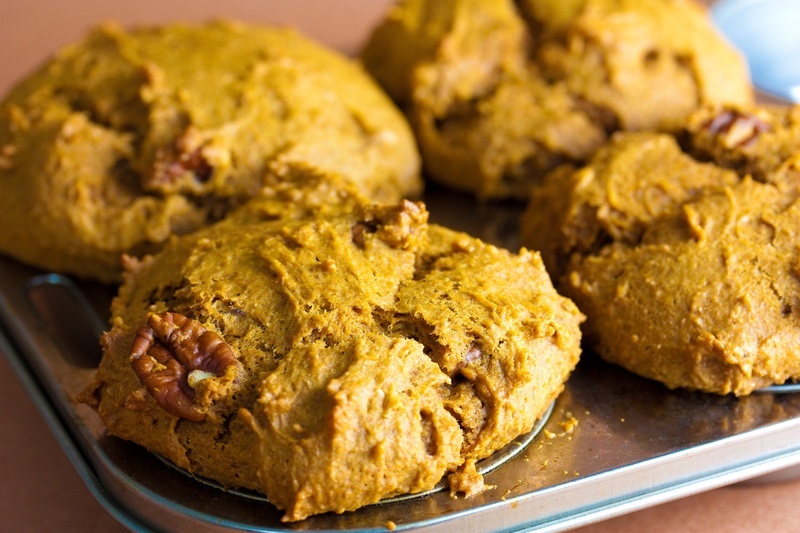 This Pumpkin Spice Muffin recipe has a wonderful warm, buttery flavor that is enhanced by barley malt syrup, lemon juice, cinnamon, ginger and a touch of cloves. Pecans add flavor complexity and a delightful crunch. These vegan muffins are equally good with baked sweet potato purée substituted for the pumpkin as well.
Find more
Pumpkin recipes
on Veganbaking.net
Vegan Pumpkin Spice Muffin Recipe
3 Tablespoons water
1 Tablespoon
golden flax meal
2 Tablespoons non-dairy milk
1 teaspoon apple cider vinegar
1 ¼ cups whole wheat flour
1 cup all-purpose flour
1 teaspoon non-aluminum baking powder
1 teaspoon baking soda
1 cup pumpkin purée
1 cup sugar
½ cup
vegetable oil
¼ cup barley malt syrup
1 teaspoon salt
1 teaspoon cinnamon
1 teaspoon lemon juice
½ teaspoon ginger
¼ teaspoon cloves
½ cup chopped pecans or walnuts
1) Prepare the flax mixture and curdled non-dairy milk
Preheat your oven to 325F (163C). In a small bowl whisk together the water and golden flax meal. In another small bowl whisk together the non-dairy milk and apple cider vinegar. Set aside.
2) Whisk together the dry ingredients
In a large bowl, whisk together the whole wheat flour, all-purpose flour, baking powder and baking soda.
3) Whisk together the flavor building ingredients
In another large mixing bowl whisk together the pumpkin puree, sugar, vegetable oil, barley malt syrup, salt, cinnamon, lemon juice, ginger and cloves. Whisk in the flax meal slurry and the non-dairy milk apple cider mixture.
4) Build the batter
Pour the wet ingredients into the bowl containing the dry ingredients and mix until just incorporated. Due to the varying moisture of the pumpkin puree, you may need to add a small amount of non-dairy milk or flour for optimum dough thickness. Keep in mind that this dough is supposed to be on the thick side. Stir in the chopped pecans or walnuts.
5) Bake to perfection
To make muffins
Line a muffin pan with cupcake liners. Pour the batter into the muffin pan making sure the dough is filled up to the top of the pan and domed. Bake for 25 to 30 minutes or until an inserted toothpick comes out clean.
To make bread
Pour the batter into a lightly oiled 8 x 4 inch loaf pan and bake for about 1 hour or until an inserted toothpick comes out clean.
This recipe makes one loaf or 6 to 8 Vegan Pumpkin Spice Muffins.
User reviews

britt
Just made these they are great. To make them lighter I added a half cup of unsweetened applesauce instead of oil. I also cut the sugar down to a quarter cup.
Was this review helpful to you?

wimergirl
Top 500 Reviewer
View all my reviews (1)
The Best!
I recently became a vegan and a week ago it dawned on me that yummy baked goods may be a thing of the past. Not so! I searched the internet and found this site. I made your zucchini pineapple muffins and a batch of brownies (yum!) and just made this recipe tonight. I have tried several different "regular" pumpkin muffin recipes over the last year and these are by far the best! Thank you for the delicious recipes!
Was this review helpful to you?

laurelvb
Top 10 Reviewer
View all my reviews (16)
Barley Malt Syrup
Hi Mattie: I notice you use Barley Malt Syrup often. Is it used for flavor or texture or both? Do you think Rice Syrup would have the same effect if one were Gluten Free?
Thanks and Happy Halloween!
Was this review helpful to you?

laurelvb
Top 10 Reviewer
View all my reviews (16)
Link to a Gluten Free Version
I don't mean to steal your thunder because these look AMAZING as always. I just wanted to let the Gluten Free folks know that Annalise Roberts posted a GF pumpkin bread on her website and there's a Vegan version noted in the comments.
http://mygluten-freetable.com/2011/10/gluten-free-pumpkin-bars/?utm_source=feedburner&utm_medium=feed&utm_campaign=Feed%3A+MyGluten-FreeTable+%28My+Gluten-Free+Table%29&utm_content=My+Yahoo
Was this review helpful to you?

Alysia
Perfect Pumpkin Muffins
I made these last night following the recipe exactly and they came out perfect. The amount of spice was not overpowering, the sweetness right on and the texture was moist, not too dense and not crumbly. The recipe made 12 normal sized muffins for me.
Was this review helpful to you?

Quinn
I love pumpkin!
After consuming this recipe, i decided to add a lot more pumpkin to my diet.(:
Was this review helpful to you?