Candied Spiced Pumpkin Seeds

Mattie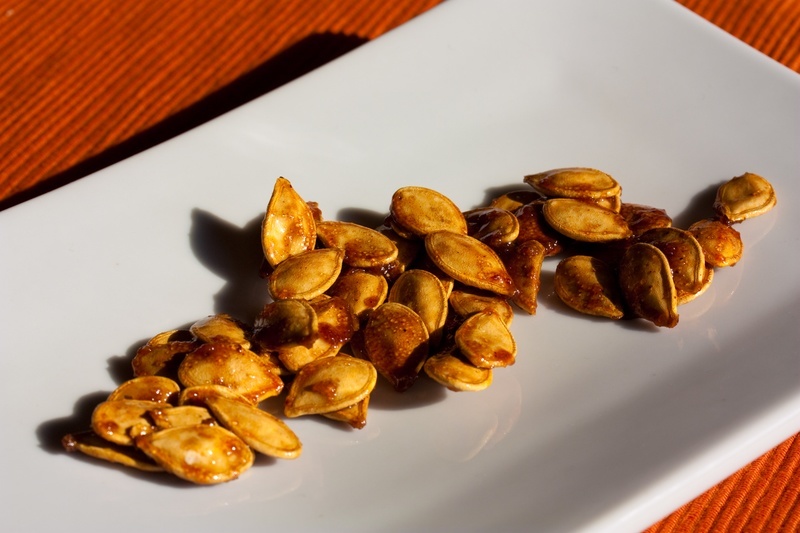 Don't know what to do with all those pumpkin seeds from pumpkin carving? Take those little pepitas and dress them up in little spiced sugar costumes with this Candied Spiced Pumpkin Seeds recipe. They'll love it and you will too because this vegan recipe features barley malt syrup, cinnamon, cloves and cardamom to help push the savory pumpkin seed flavors forward.
2 cups pumpkin seeds, also known as pepitas. 1 pie pumpkin produces about 1 cup of seeds.
Find more
Pumpkin recipes
on Veganbaking.net
Candied Spiced Pumpkin Seeds Recipe
¼ cup sugar
1 Tablespoon olive oil
4 teaspoons barley malt syrup
¾ teaspoon salt
½ teaspoon cinnamon
¼ pinch ginger
¼ pinch cloves
¼ pinch cardamom
1) Remove your pumpkin seeds from the pumpkin and sauté
After cutting your pumpkin open, grab a hold of the seed bunches and pull them out. This is far easier than scraping out the 'guts' and removing the seeds later. Rinse the seeds in a colander and drain. Place them in a medium skillet over medium heat, stirring frequently, for about 10 minutes or until puffed.
2) Add the ingredients and continue sautéing
Remove the skillet from heat and add the sugar, olive oil, barley malt syrup, salt, cinnamon, ginger, cloves and cardamom. Apply low heat while stirring constantly for about 6 minutes.
3) Cool the pumpkin seeds
Spread the pumpkin seeds out on a piece of parchment paper, separate using two forks and allow to cool completely. Store the seeds in an air tight container for up to 1 month. This recipe makes about 2 cups Candied Spiced Pumpkin Seeds.
{loadposition article-end]