Cherry Candied Almonds

Mattie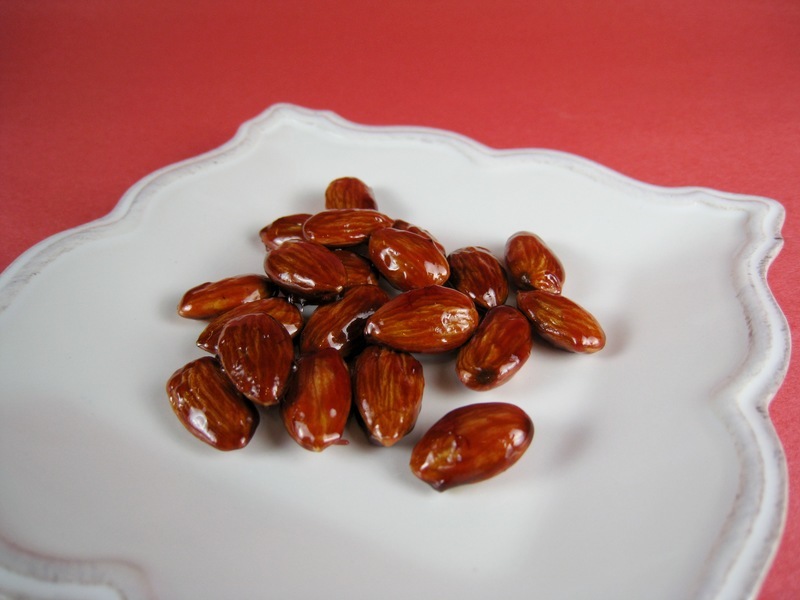 This Cherry Candied Almond recipe is an excuse for me to combine two of my most favorite flavor combinations: cherries and almonds. I used brown sugar and olive oil for a more complex sweetness profile and just the right amount of almond extract to bind the cherry and almond flavor in holy matrimony. Try these as a relatively guilt-free vegan snack, add them to salads or sprinkle them on your ice cream.
Find more
Almond recipes
on Veganbaking.net
Cherry Candied Almonds Recipe
3 Tablespoons brown sugar
2 Tablespoons cherry jam
2 teaspoons olive oil
½ teaspoon salt
1 cup almonds, raw and unsalted
½ teaspoon almond extract
1) Make a sugar syrup over heat
In a medium skillet, stir together the brown sugar, cherry jam, olive oil and salt over medium heat until the sugar melts and the syrup bubbles. This should take about 3 minutes.
2) Add the almonds
Stir the almonds and the almond extract until they're evenly coated and toasted. This should take about 5 minutes.
3) Allow the almonds to cool and harden
Spread the nuts out on a piece of parchment paper and separate using two forks. Allow the nuts to cool completely. Nuts can be stored in an airtight container for up to one month. This recipe makes about 1 cup of Cherry Candied Almonds.