Vegan White Chocolate

Mattie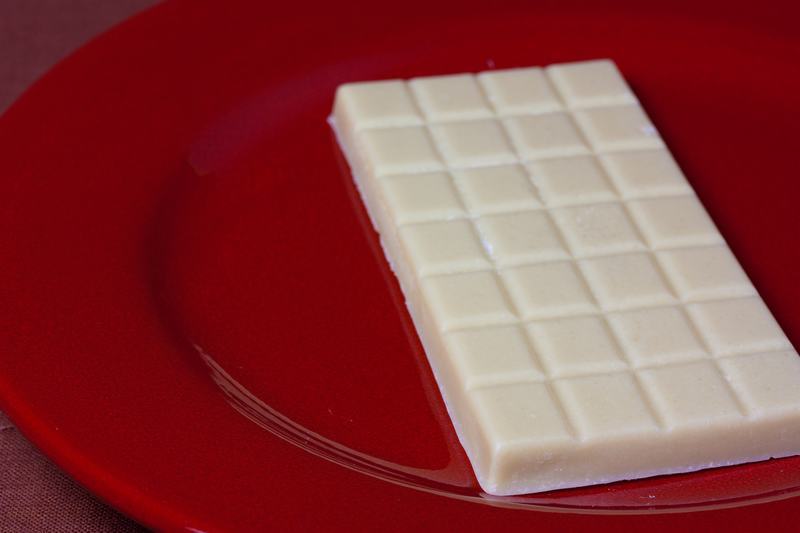 Commercial vegan white chocolate is relatively difficult to find but is an extremely versatile ingredient to have in your kitchen. Luckily, white chocolate's main ingredient, cocoa butter, is
easy to find at affordable prices on the internet
if you can't find it at your local health food store. A touch of
soy milk powder
and vanilla extract enhances depth of flavor in this chocolate.
Earlier attempts at making this Vegan White Chocolate recipe have resulted in excessively grainy bars due to the absence of industrial chocolate making equipment. A few extra steps will ensure this bar is as smooth as possible. Grinding your soy milk powder in a rotary coffee grinder will make the powder granules as small as possible and cause them to not be as noticeable on the palate. Tempering the chocolate to ensure proper fat crystal formation is the other crucial step to ensuring a smooth, high quality bar. Once you've mastered these steps you can add flavorings like cardamom, matcha, cinnamon and ginger powder for a truly outstanding vegan white chocolate.
Find more
White Chocolate recipes
on Veganbaking.net
Vegan White Chocolate Recipe
1 teaspoon soy milk powder
¼ cup + 1 Tablespoon confectioners sugar
pinch of salt
2.1 ounces (1/3 cup) cocoa butter
½ teaspoon vanilla extract, alcohol-based
1) Grind the soy milk powder then sift it with the confectioners sugar
To ensure your chocolate is as smooth as possible, run the soy milk powder through a rotary coffee grinder. Sift the soy milk powder, confectioners sugar and salt into a medium mixing bowl and set aside.
2) Whisk together the cocoa butter, soy milk powder, sugar and vanilla
Add the cocoa butter to a small saucepan and melt over medium heat. Alternatively, the cocoa butter can be melted in the microwave. Transfer the mixture to a
double boiler
and whisk until smooth. Whisk in the soy milk powder, confectioners sugar and salt mixture followed by the vanilla extract. Continue whisking until smooth.
3) Temper the chocolate
This process is critical when making chocolate that has a smooth mouthfeel and has that snap when you break a piece of it off. If you're not going to temper than you shouldn't make chocolate because the grainy texture won't make it worth the effort. Tempering is really easy with a double boiler and a good thermometer. Once you grasp the theory it becomes even easier.
Tempering is all about encouraging the fat to solidify, also known as crystallize, a specific way that results in dense, not too jagged crystals that pack together tightly. The result is chocolate that is dense, smooth and breaks with a snap. Tempered chocolate is also more resistant to
bloom
which is when fat crystallizes on the surface of the chocolate that resembles white dust.
There are 6 known fat crystal types in cocoa butter: Forms I, II, III, IV, V and VI. In tempering, the specific desired type of crystals, known as Form V crystals, melt at a temperature of 90F (32C) for dark chocolate and about 87F (31C) for white chocolate. We encourage, or
seed
these tiny crystals into our chocolate by first melting all other undesirable forms that melt at other temperatures. The crystal forms that melt at lower temperatures than Form V are Form I through Form IV and the crystal form that melts above Form V is Form VI. Bringing the mixture to a temperature of 120F (49C) melts all Forms. Think of this step as hitting the reset button on your chocolate so now you have a clean slate as far as the fat crystals are concerned. Now you need to bring the chocolate down to a low temperature so all of the fat Form types have been initiated. Bringing the temperature down to about 79F (26C) ensures this. We then increase the temperature until the Form V crystals have been melted which is 87F (31C) before pouring the chocolate. After the chocolate is poured into the mold it's important to let it sit at room temperature and not immediately be placed in the refrigerator. This ensures the Form V crystals have time to develop.
In summary: bring the mixture up to 120F (49C) while whisking frequently. Remove the bowl containing the mixture from the double boiler. Place the mixture in the refrigerator periodically and whisk occasionally to allow the mixture to reduce to 79F (26C). Now place the mixture back on the double boiler and bring it up to 87F (31C). If you overshoot and the temperature goes past 89F (32C), start the tempering process over.
Learn more about how to temper chocolate
.
4) Pour the vegan white chocolate into a mold
Pour the mixture into your preferred chocolate mold. You can order chocolate bar molds online or get creative pour the chocolate ½ inch high in paper cups. Lift your mold up about an inch or so and drop it onto the counter top a couple times to release excess air bubbles. Allow the chocolate to solidify at room temperature overnight if possible to allow it to crystallize properly. If your kitchen is too hot for the fat to solidify then place it in the refrigerator after about 30 minutes. Remove the white chocolate from the mold and store it in an air tight container for up to 6 months in a cool, dark place. This recipe makes 3.5 ounces of Vegan White Chocolate.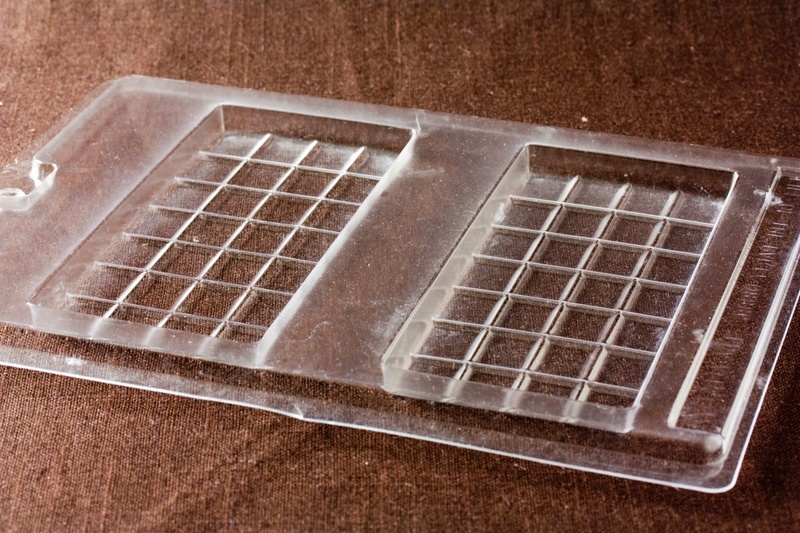 User reviews

Richard
Amazing
Couldn't imagine how easy it is to make this vegan white chocolate. Anyway, the funny thing is, I tried using the ice cube tray since I don't have a customize molding tray for this one. Thanks a lot for sharing the recipe and please check our link if you need fencing services in Lakewood, CO.
Was this review helpful to you?

Kate
Need this
I have to get a chocolate mold and try this!
Was this review helpful to you?

Steven
thanks
thanks for sharing this! seems like a great recipe
Was this review helpful to you?

Lisa
1). Vanilla powder is available for sale on various baking ingredients and flavorings sites. It requires no liquid.
2). Is it ok to go a little over 120 degrees F, like to 125 or 130?
Thanks
Was this review helpful to you?

Olivia
Your Search is Over!
Hi There,

I should have written this sooner, because this recipe has helped me out so much! I used this recipe to make vegan white chocolate cake gems for a wedding. As a previously serious non-vegan baker, I know the inns and outs of vegan and "regular" baking and know that getting the exact flavor, texture, etc. can be tough, but this recipe is suitable for any white chocolate substitute. It can be melted, made into chocolate chips, anything! I highly recommend!
Was this review helpful to you?

Nancy
Love This!
Hi. I LOVE this recipe.

I'm avoiding soy right now, so I made it with vegan coconut milk powder (Native Forest is the brand I use. The ingredients are coconut milk, tapioca syrup & sugar esters(plant based)). I also used vanilla bean paste & organic powdered sugar. It did comm out a little gritty but nothing that was a deal breaker. I made some apple "ganache" with it for my apple pie macaron. It did the job & tasted great!

I'm going make a batch today using vanilla bean powder. I'm going try blending all the dry ingredients together in the Vitamix & see if that helps with the grittiness.

You are such an inspiration! Thank you!
Was this review helpful to you?

malicious.marsupial
Top 500 Reviewer
View all my reviews (1)
Grittyness?
Hi Mattie,

I noticed my chocolate came out kind of gritty, and reading other reviews they had the same experience. Would it be possible for me to remelt my chocolate, stick it in a blender for a bit, and re-temper it in hopes of it coming out smoother?
Was this review helpful to you?

This email address is being protected from spambots. You need JavaScript enabled to view it.
Top 500 Reviewer
View all my reviews (1)
Amazing site
I feel like I've stumbled on a goldmine by finding your site
Was this review helpful to you?

Sami
Organic Sugar
Organic sugar is not supposed to be made with bone char (See: http://www.vrg.org/journal/vj2007issue4/2007_issue4_sugar.php). Bone char is not considered organic, therefore organic sugar cannot be made with it. Now, sugar not labeled organic would not be considered vegan unless otherwise labeled.
Was this review helpful to you?

friedman369
Top 1000 Reviewer
View all my reviews (1)
About recipe.....
I am sorry, but if the confection sugar is not unrefined or raw, than this it NOT a vegan recipe. Please make sure to either find vegan confection sugar, or take raw or unrefined sugar and then take a mortar and pestle and make the powdered sugar yourself. Just an FYI, the reason why only raw and unrefined sugar is ok, is because most processed sugars and confection sugar comes from that, is processed using bone char, which is usually cow bones. They use it for some part of the refinement. Just wanted to add that so people knew because it was not clear...Can't wait to try the recipe today.
-Jon
Was this review helpful to you?

mely
Hello,
Do you have any pointers for adding color to the chocolate? Is it possible?
Was this review helpful to you?

tanya
I love how you explain what you use to make it and how

Was this review helpful to you?

linda
have to try
Hi Mattie,

Is this based of Hannah's white chocolate from the Bittersweet Vegan blog?

You can also use vanilla powder and you won't have to worry about any clumping from the vanilla extract.

I have had trouble in the past with my vegan chocolate baking out of things like cookies because of they very low melting point mine had. I haven't done a true temper but I was careful and it still had the snap/shine of tempered chocolate once it was molded and wasn't crumbly (except in the batch where I used vanilla extract and not vanilla powder)

Have you had any issues with the chocolate melting out of baked goods? It tasted great and would be nice to dip fruit/biscotti in but I'd really like a vegan white chocolate I could bake with! I think I even tried freezing the chocolate chunks before I baked with them and that didn't work either...

anyway, I can't wait to try your recipe!
Was this review helpful to you?

Juliana
doubt
Hi, I can't find water free vanilla basis here in Brazil, could I make it with vanilla paste? In this case, what amount would it be? Great site! Thanks.
Was this review helpful to you?

Nadia
Soy milk powder substitute
For Katy below living in India: use coconut milk powder. Easy to find, cheap and creamy! Goodluck :-)
Was this review helpful to you?

helen
View all my reviews (1)
vanilla / soy milk powder
I have used this recipe and was really impressed but have a few questions:

1) I can't find and vanilla essence that is entirely water free - I'm not sure if this is just something that it's hard to find in England or if a little water is ok? When I made it I used the seeds from a vanilla pod but this would be expensive to repeat regularly.

2) I found the chocolate to be a little powdery and not as creamy as I was hoping. I wondered if this is due to the use of icing sugar and soy milk powder. If people ask I tell them that I am a vegan but in reality I eat ahimsa (this means that I will eat milk/eggs if they come from animals who will never be killed and whose off-spring will live out their full lives also.) There are a couple of ahimsa farms in the UK so I can access ahimsa milk; I am aware that sometimes chocolate is made with condensed milk and was wondering if by condensing some of my milk with sugar to make sweetened condensed milk I could then use this to give richness and substance to the chocolate. Do you think this would work? Could you give me any advise on quantities? White chocolate is one of the things I miss most since I gave up commercial milk products and I would love to be able to recreate a really creamy flavour!

3) How much difference does the quality of the cacao butter make? Do you think this could be the problem with my chocolate?

Thanks a lot - this website has improved my enjoyment of food and cooking no-end!
Was this review helpful to you?

Katy
Milk Powder Substitute
I live in India where vegan milk powders are not available. Is there any substitute that you can suggest? Or any homemade milk powder recipe? Thank you so much!
Was this review helpful to you?

LcoyoteS
View all my reviews (1)
Curdling
Help! Not long after I added the vanilla extract, the nice, smooth mixture curdled. No amount of whisking will mix the solid lumps back into the melted cocoa butter. What did I do wrong? What do I do now??!!
Was this review helpful to you?

Kate
Spelling
It's "palate", not "palette".
Was this review helpful to you?

Anna
Soy milk powder
Thanks for sharing! I tried making white chocolate once but without a recipe and the result... Well, not great:s . I'm sure it will turn out better this time:) for those of you that can't get soy milk powder, I buy mine from iherb. It's called better than milk: http://iherb.com/p/31943?rcode=dij596 . They have fast delivery and a good selection in vegan products. If it's your first time shopping with them you can use discount code dij596 :)
Was this review helpful to you?

Erin @ Texanerin Baking
Thanks a bunch for this post! I used the tempering information to make a honey sweetened version. It's unbelievable the difference tempering can make. Thanks a ton! :)
Was this review helpful to you?

tali
looks to die for - just a quick question
like a lot of the commenters - i cant seem to be able to get my hands on soy milk powder. i thought about replacing that with nougat powder. think it'll work?
Was this review helpful to you?

Nicole
Soy powder
I was wondering if this would work without the the powder? I don't have any one hand and really want to make some white chocolate macadamia nut cookies. I will not be eating the chocolate alone, so I didn't know how it was effect the texture/taste. Thanks Mattie!
Was this review helpful to you?

Rio4me
at what point do you add the sugar/soymilk powder? After step 3, before pouring it into the mold?
Was this review helpful to you?

sugarmamabakeshop
View all my reviews (1)
Wonderful! Thank you!
This was so easy (and I am NOT a candy maker)!! I made mine with rice milk powder, vanilla powder and organic cane sugar all ground in a coffee grinder. It turned out a little grainy but I think it's because I didn't have an accurate enough thermometer for the tempering stage. Thanks for the awesome recipe :)

I do have a question about remelting and using for coating things... It's pretty thin and doesn't make a very good covering. Is there anything I could do about that?
Was this review helpful to you?

Gwendolyn
This is pretty similar to the recipe I use. I've found also that powdered vanilla works better than extract and powdered sugar with arrowroot instead of cornstarch does create that grainy texture.

I was wondering though if you had any experience tempering this chocolate...? I could not get mine to temper at all and just ended up 'ruining' a lot of molded chocolates.
Was this review helpful to you?

AikoVenus
Fantastic!
This is great! Could this work with shea butter too?
Was this review helpful to you?

Yashoda
vegan white chocolate
After reading these comments, I wonder if I can substitute sugar with brown rice syrup. Anyone? If not, I will experiment and let you know later
Was this review helpful to you?

Kate
Hey, thanks for the recipe! I tried making it a few times (with caster sugar, not powdered), and I find that the crystals will not dissolve no matter how much I stir. I always get a block of gritty chocolate. Any suggestions?
Was this review helpful to you?

Rachael Bush
I just tried this recipe, and found that after I added the powdered sugar/soymilk powder/salt mixture to the melted cocoa butter, it got all gritty. I think it's my organic powdered sugar, which seems to not dissolve for some reason. Can I use ultrafine sugar instead of powdered or is the cornstarch ingredient in powdered sugar necessary for this recipe? I also used vanilla powder and had no problems with texture.

Any suggestions to help with the gritty sugar would be greatly appreciated! Thanks, Rachael :)
Was this review helpful to you?