Vegan Chocolate Orange Bombs

Mattie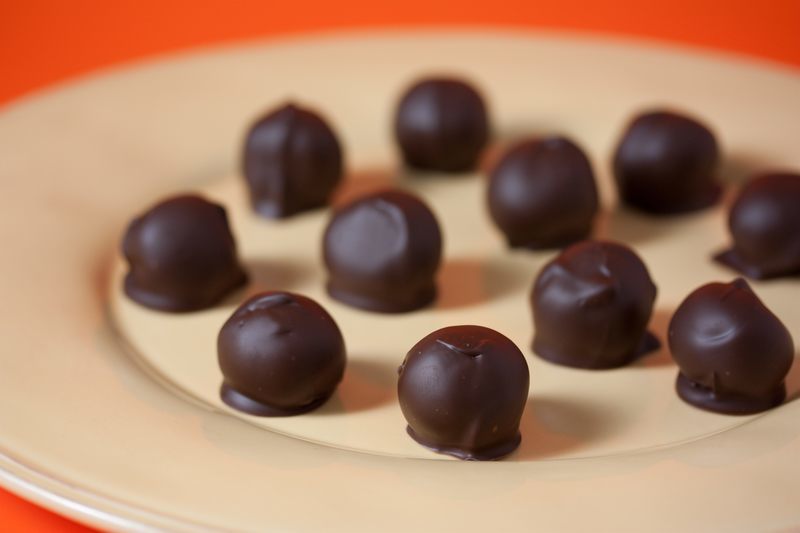 This Vegan Chocolate Orange Bomb bonbon recipe packs a seductive orange one two punch: They involve candied orange peel pureed with a kiss of Grand Marnier, mixed together with chocolate, then enrobed in a chocolate shell. This is a great vegan bonbon to have on hand when assembling your own box of chocolates for a special occasion.
Find more
Chocolate recipes
on Veganbaking.net
Vegan Chocolate Orange Bomb Recipe
3 oz
Candied Orange Peel
1 Tablespoon Grand Marnier
10 ounces semi-sweet chocolate
7 Tablespoons
vegetable oil
8 oz semi-sweet chocolate
1) Process the candied orange peel and Grand Marnier
Place the candied orange peel and the Grand Marnier in a food processor and pulse until the mixture resembles coarse sand. Set aside.
2) Melt the chocolate and mix in the orange peel mixture
Using a
double boiler
, melt the 10 ounces of chocolate with the vegetable oil while stirring occasionally until there are no more solid pieces. Turn off the heat under the double boiler. Mix in the candied orange peel and Grand Marnier mixture until well incorporated. The mixture will thicken considerably.
3) Cool the mixture and roll it into balls and cool further
Transfer the mixture to a clean surface such as a cutting board and allow the mixture to cool until you can work with it easily without burning yourself. Using the palm of your hand, roll pieces of the chocolate into 1 inch diameter balls and place them on a cookie sheet lined with parchment paper or wax paper. When you've used up all of the chocolate orange mixture, place the cookie sheet in the freezer for an hour or so.
4) Prepare more melted chocolate and coat the orange chocoalte balls
Clean the top bowl of the
double boiler
and melt 8 ounces of semi-sweet chocolate just like you did in step 2. Remove the cookie sheet with the chocolate orange balls from the freezer. Take one and roll it around in the melted chocolate in the double boiler until it's evenly coated, then carefully transfer it back to the cookie sheet. Repeat this process for the remainder of the chocolate orange balls. Place the cookie sheet back into the freezer for about another hour so the chocolate hardens.
Store in a cool dry place. This recipe makes about 20 Vegan Chocolate Orange Bomb Bonbons.
Learn how to temper chocolate
.