Vegan Peanut Butter Bombs

Mattie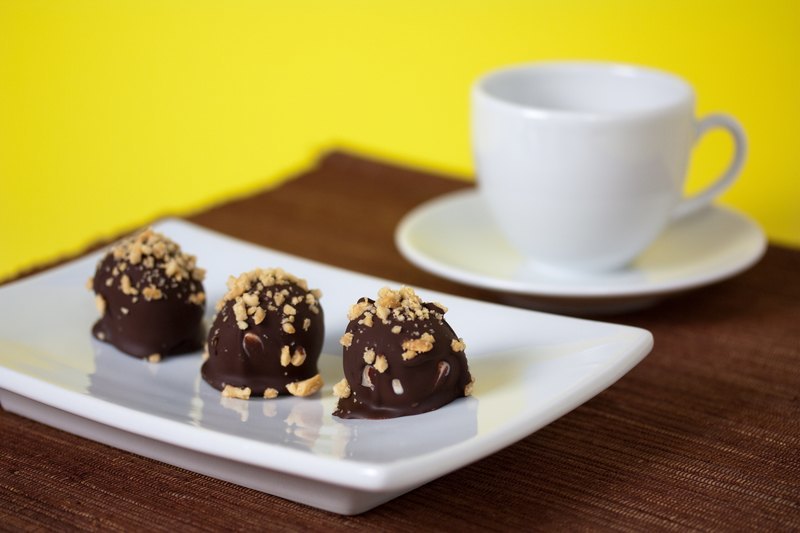 With this Vegan Peanut Butter Bomb recipe I captured the essence of fine, natural peanut butter, combined it with some lightly caramelized sugar and
Regular Vegan Butter
or margarine, then covered it in a dark chocolate exterior, completing an irresistible vegan chocolate bonbon.
Ever since the eighties when two people were walking down the street in opposite directions, one eating a chocolate bar, the other eating peanut butter out of a jar, we've known that the two go together really well. We know this because the two people allegedly collided exclaiming, "hey you're chocolate's in my peanut butter!" "My peanut butter's in your chocolate!" This has been documented as a true occurrence because I saw it in a Reese's Peanut Butter Cup commercial. I'm so thankful they just happened to have TV cameras rolling to get that on film. But what is up with the peanut butter in those things? It always tastes like it's deemed at the factory to be too low quality to actually make it into the panut butter jars. And the chocolate seemed like typical mass produced American chocolate fare, over-sweetened and chalky which barely qualifies as chocolate to this chocaholic.
Find more
Chocolate recipes
on Veganbaking.net
Vegan Peanut Butter Bombs Recipe
½ cup sugar
3 Tablespoons water
1 Tablespoon (13 grams)
Regular Vegan Butter
or stick margarine
1/3 teaspoon salt
½ cup smooth, unsalted peanut butter (natural style)
¼ cup peanuts
7 ounces semi-sweet chocolate
1) Create your ice water bath
First we want to create an ice water bath that we can briefly dunk the saucepan with hot caramel into so the mixture stops caramelizing. To do this select a mixing bowl that is larger than the small saucepan that you're going to use to make the caramel. Fill the large mixing bowl with water and a couple large handfuls of ice cubes. This will also be used as a place for you to cool off your hand if you get hot caramel splashed on it.
Learn more about the sugar caramelization stages
.
2) Make the peanut butter caramel mixture
Place the sugar, water, Vegan Butter and salt in the small saucepan and place over medium-low heat, stirring occasionally, until a candy thermometer registers 230F (110C). Dunk the saucepan into the ice water bath for about 10 seconds so the mixture stops caramelizing. Remove from heat and carefully whisk in the peanut butter until smooth. Transfer the mixture to a mixing bowl and place it in the freezer for about 15 minutes so the mixture cools.
3) Cool the peanut butter mixture and form it into balls
Line a cookie sheet with parchment paper or wax paper. Remove the peanut butter mixture from the freezer and knead it on a clean surface for one minute so it becomes smooth and elastic. Form it into 1 inch balls by rolling a piece of it in between the palm of your hands in a circular motion. Set these pieces on the cookie sheet and place it back into the freezer for about an hour.
4) Process the peanuts
Place the peanuts in a food processor and pulse them until they resemble bread crumbs.
5) Coat the vegan peanut butter balls in chocolate
Using a double boiler
, melt 7 ounces of semi-sweet chocolate, stirring constantly until there are no more solid chocolate pieces. Turn the heat off under the double boiler. Remove the cookie sheet with the peanut butter balls from the freezer. Take one and roll it around in the melted chocolate in the double boiler until it's evenly coated, carefully transfer it back to the cookie sheet then sprinkle it with ground peanuts. Repeat this process for the remainder of the peanut butter balls. Place the cookie sheet back into the freezer for roughly another hour so the chocolate hardens.
Store the Peanut Butter Bombs in a cool dry place.
This recipe makes about 12 Vegan Peanut Butter Bombs.
User reviews

vajiya3892
#1 Reviewer
View all my reviews (57)
Perfect desert together with coffee
Was this review helpful to you?