Vegan Marzipan

Mattie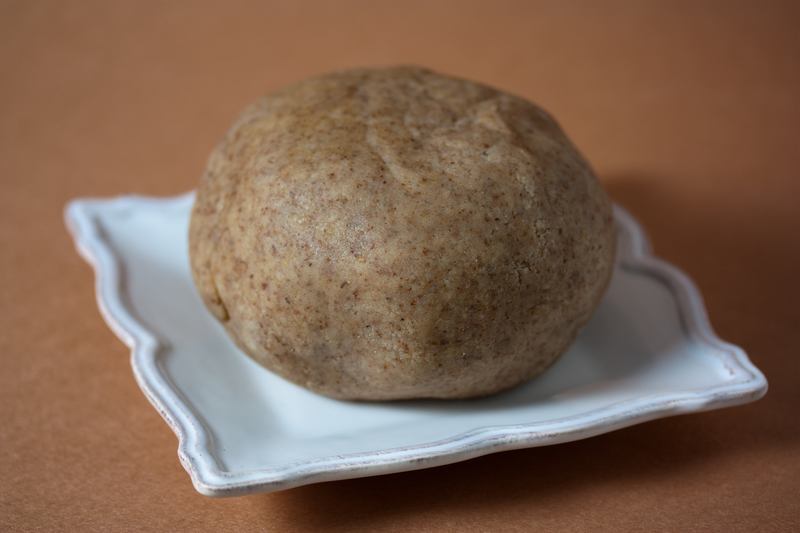 Marzipan is almond meal that's been added to caramelized sugar which makes it similar to frosting in consistency. It's origins come from present day Iran or Spain according to theory but its true origins, as well as where the term 'marzipan' originated from are shrouded in mystery. It's extremely versatile, making a fantastic filling for cookies and pastries, a center for chocolates like
Marzipan Truffles
or rolled into stollen. It can be colored, flavored and formed into candies or used in cake decorating. You can even use other nuts besides almonds like macadamia nuts, cashews or brazil nuts. Marzipan can also be mixed with fruit and served in squares. In the vegan recipe below I didn't remove the skins of the almonds so it came out a light brown.
If you're interested in making white marzipan, you can remove the almond skins. This is known as blanching and involves covering the almonds with boiling water for about 1 minute, draining then rinsing them with cold water. The skins can then be removed and the almonds ground up as usual using a blender.
Find more
Almond recipes
on Veganbaking.net
Vegan Marzipan Recipe
3 Tablespoons water
1 Tablespoons
golden flax meal
1 cup granulated sugar
1/3 cup water
2 cups ground almonds (or almond meal)
Powdered sugar for dusting
1) Activate the flax mixture
In a small bowl, whisk together the water and flax meal. Let it sit for about 10 minutes so the mixture gets goopy. Find a bowl that is larger than a small saucepan that you own and fill it with cold water.
2) Caramelize the sugar mixture
In a medium, heavy duty saucepan, add the sugar and water. Mix it together with clean fingers then bring it to a boil while covered, stirring occasionally. Once the mixture boils, remove the cover and do not stir. Natural convection heat currents will stir the mixture from now on. Stirring the mixture from this point on can introduce particles that can cause premature sugar crystallization. Carefully insert a candy thermometer and monitor the mixture until it gets to 240F (156C) which is the soft ball stage.
Learn about the stages of sugar caramelization
.
3) Stop the caramelization process and stir in the flax mixture and almond meal
When the mixture has reached 240F (156C), remove from heat and carefully dunk the saucepan into the bowl of cold water for about 10 seconds to stop the caramelization process. Stir in the water and flax meal mixture and the almond meal.
4) Continue to mix the marzipan to ensure smoothness
Put the saucepan over low heat for 2 more minutes while stirring constantly. This will ensure that the mixture is evenly mixed.
5) Knead the marzipan
Transfer the marzipan to a clean surface and start kneading it when it's cool enough to do touch. If the marzipan is too sticky to handle, feel free to dust it with some powdered sugar. Knead until it's smooth and elastic, about 5 minutes.
6) Use or store the vegan marzipan accordingly
Use the marzipan immediately or cover it with plastic wrap and store it in the refrigerator in a covered container for up to two weeks.
This recipe makes about 2 cups of Vegan Marzipan.