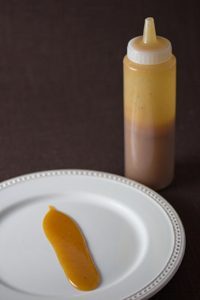 I love caramel because it's the closest thing there is to food alchemy. Ok, maybe chocolate is close to this too but caramel involves a few basic non-exotic ingredients and
a simple process
. The end result is something that's truly extraordinary and more than the sum of it's parts. One of the great things about caramel is how you can just swap in certain fats and sugars to create caramels with amazing layers of flavors. The more I experiment with working with caramel this way, the more surprised I am.
I've found that building rich vegan caramel flavors (and increasingly, most other vegan baking flavor building applications) works really well when there's a small amount of unrefined coconut oil supplanting the regular fats. Unrefined coconut oil has naturally occurring compounds that mimic some of the flavors of dairy. As I developed this method further I found that a good rule is to use about 10% to 20% of the total fat consisting of coconut oil for optimum flavor. I've been using this in my latest caramels combined with vegan creams or non-dairy milk with great results. Bananas also have some of the flavor compounds found in dairy. What if I combined coconut and banana to use instead of a vegan cream and incorporated it into a caramel?
In this Vegan Banana Caramel recipe, the vegan cream is swapped out for banana purée and unrefined coconut oil. It's the most simple caramel I've ever prepared and one of the most seductive. The banana, coconut and caramel combine to make something truly special. You should be able to reduce the banana and coconut oil slightly to get a more firm caramel if you prefer. I recommend using a squeeze bottle with the top cut slightly bigger than normal for convenient application.
This is the perfect caramel for anything from
apple pie
,
vanilla ice cream
or any other dessert you want to bring to the next level.