Vegan Strawberry Thumbprint Anzac Cookies

Renoodle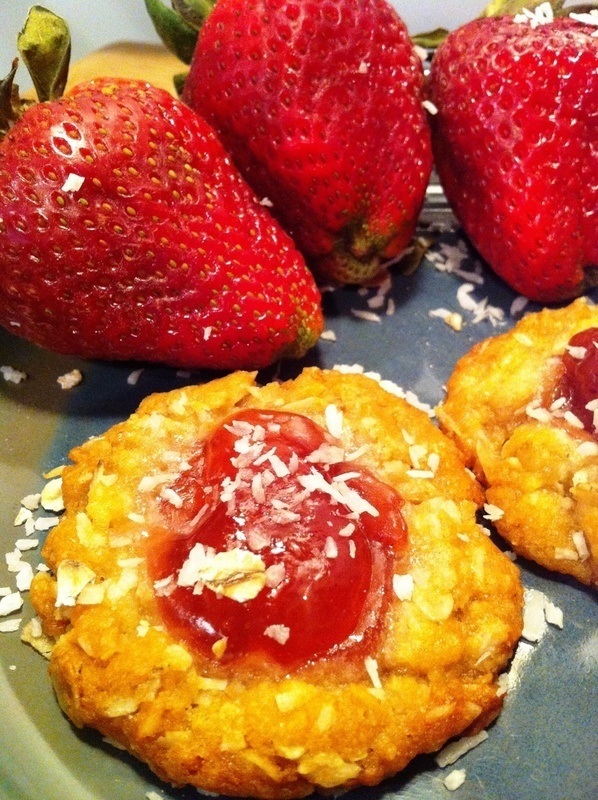 Anzac cookies are probably one of my favorite cookies! The richness of coconut, the depth of Lyle's golden syrup all held together with oats, flour and sugar…oh yeah, and your favorite non-dairy butter too! How incredibly delicious this mixture is. All I can say is THANKS AUSTRALIA for coming up with a perfect cookie. Australians call these cookies biscuits and they were developed during the first World War for the soldiers. They were perfect for travel because they do not contain milk or eggs, which means the soldiers had a yummy way to have sustenance while away. The one secret ingredient is Lyle's Golden Syrup. I found mine at a local store that has an international section. Look where you might find ingredients from the UK, you will likely find this sweet gem. There's only one way it could get better…add fruit! So which fruit goes well with coconut and oats? My pick is strawberry. I originally planned on making homemade strawberry jam but then got impatient (big surprise for those who know me) and bought a jar of organic strawberry preserves instead. I suppose that for this recipe you could use homemade jam and it would add another layer of deliciousness. These cookies are sweet, rich and the texture is a little chewy, a little soft…and A LOT delectable.
Find more
Strawberry recipes
on Veganbaking.net
Vegan Strawberry Thumbprint Anzac Cookie Recipe
1 cup rolled oats
¾ desiccated coconut (I use unsweetened)
1 cup white flour
1 cup sugar
125 grams (4 oz) Earth Balance (1 stick)
2 Tablespoons Lyle's golden syrup
½ teaspoon baking soda
1 to 3 Tablespoons water
1, 10 oz. jar of strawberry jam or preserves
1)
The recipe is fairly straightforward: Preheat oven to 300F (149C). In a big bowl, mix oats, flour, sugar & coconut together.
2)
In a little bowl, melt syrup and butter together.
3)
In a baby bowl, mix soda with 1 Teaspoon boiling water. Add to melted butter and syrup. Then add that to the dry ingredients. Mix together, add a little extra water if it seems really dry.
4)
Place 1 Tablespoon of mixture on parchment paper lined cookie sheets (allow room for spreading). Flatten with fingers just slightly and add a small spoonful of jam to the top of each cookie. Sprinkle with coconut as a garnish if desired
5)
Bake for 20 minutes, checking periodically. These cookies have a tendency to brown really fast. Let cool completely and devour. This recipe makes about 15 Vegan Strawberry Thumbprint Anzac Cookies.