Vegan Strawberry Thumbprint Anzac Cookies

Renoodle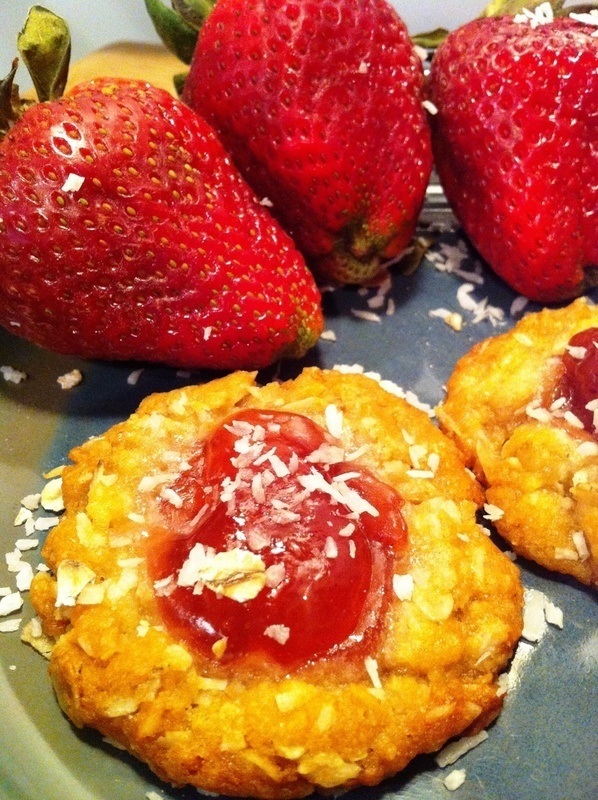 Anzac cookies are probably one of my favorite cookies! The richness of coconut, the depth of Lyle's golden syrup all held together with oats, flour and sugar…oh yeah, and your favorite non-dairy butter too! How incredibly delicious this mixture is. All I can say is THANKS AUSTRALIA for coming up with a perfect cookie. Australians call these cookies biscuits and they were developed during the first World War for the soldiers. They were perfect for travel because they do not contain milk or eggs, which means the soldiers had a yummy way to have sustenance while away. The one secret ingredient is Lyle's Golden Syrup. I found mine at a local store that has an international section. Look where you might find ingredients from the UK, you will likely find this sweet gem. There's only one way it could get better…add fruit! So which fruit goes well with coconut and oats? My pick is strawberry. I originally planned on making homemade strawberry jam but then got impatient (big surprise for those who know me) and bought a jar of organic strawberry preserves instead. I suppose that for this recipe you could use homemade jam and it would add another layer of deliciousness. These cookies are sweet, rich and the texture is a little chewy, a little soft…and A LOT delectable.
Find more
Strawberry recipes
on Veganbaking.net
Vegan Strawberry Thumbprint Anzac Cookie Recipe
1 cup rolled oats
¾ desiccated coconut (I use unsweetened)
1 cup white flour
1 cup sugar
125 grams (4 oz) Earth Balance (1 stick)
2 Tablespoons Lyle's golden syrup
½ teaspoon baking soda
1 to 3 Tablespoons water
1, 10 oz. jar of strawberry jam or preserves
1)
The recipe is fairly straightforward: Preheat oven to 300F (149C). In a big bowl, mix oats, flour, sugar & coconut together.
2)
In a little bowl, melt syrup and butter together.
3)
In a baby bowl, mix soda with 1 Teaspoon boiling water. Add to melted butter and syrup. Then add that to the dry ingredients. Mix together, add a little extra water if it seems really dry.
4)
Place 1 Tablespoon of mixture on parchment paper lined cookie sheets (allow room for spreading). Flatten with fingers just slightly and add a small spoonful of jam to the top of each cookie. Sprinkle with coconut as a garnish if desired
5)
Bake for 20 minutes, checking periodically. These cookies have a tendency to brown really fast. Let cool completely and devour. This recipe makes about 15 Vegan Strawberry Thumbprint Anzac Cookies.
User reviews

This email address is being protected from spambots. You need JavaScript enabled to view it.
Top 1000 Reviewer
View all my reviews (1)
Everything is very open
Everything is very open with a very clear explanation of the challenges. It was truly informative. Your site is very useful. Thanks for sharing!
Was this review helpful to you?

This email address is being protected from spambots. You need JavaScript enabled to view it.
Top 1000 Reviewer
View all my reviews (1)
good
I like cooking and I have tried to prepare new dishes with the help of YouTube. This is the first time I heard about this so I definitely prepare it soon. After making this, I will share its photos.
Was this review helpful to you?

scottheflin589
Top 500 Reviewer
View all my reviews (2)
Delicious
Your recipe is very informative, interesting and useful. I have enjoyed reading it and considering the many good thoughts in your content. I agree with numerous points and others need my full concentration to consider.
Was this review helpful to you?

ystahr
View all my reviews (1)
tasty cookie!
These are yummy. Thanks for the recipe. I did add extra water because I thought the batter was very dry but then regretted it once I removed them from the oven after 20 minutes and found that they were too soft. So I put them back in on the top rack of the oven and kept them in for an additional 10 minutes. They were perfect. I then set them out on my porch where our northern winter air cooled them to crispy perfection.

I only used half cup of sugar, since I'm cutting back. They were still very sweet, even in spite the sour whole cranberry sauce that I used for the jam filling.

Instead of Earth Balance for 1/2 cup fat I used 1/2 cup combination of canola and softened coconut oil. and I used maple syrup instead of golden syrup. I was able to get 22 small to medium sized cookies with this recipe.

Was this review helpful to you?

Elizabeth
Delicious but VERY sweet
Easy and yummy but extremely sweet. I baked at least 10 minutes longer than recipe says. They still came out gooey but after thorough cooling they solidified and developed a nice crunchy exterior.
Was this review helpful to you?

vegantester
Top 50 Reviewer
View all my reviews (4)
thank you australia AND NEW ZEALAND!!!!

basic ANZACs are also great with pecans and chocolate chips.
Was this review helpful to you?

Birgitta
Top 50 Reviewer
View all my reviews (7)
One of the top favorites with friends and family!
EDITED REVIEW:
I was only able to edit my written review of these cookies, but what I really wanted to do was change my original rating. Since the system wouldn't allow a rating change, I have submitted a whole new review... Having come back from the busy holidays after several friends and family dropped by for a visit, to which I served a variety of vegan delights, I have upgraded my rating for these cookies to a 5. Although I still do not care for them, they were one of the favorites with everyone else, and I only felt it would be fair to update this site. I have come to the conclusion that it is just my own preference, and I have accepted the fact of being clearly outvoted!
Was this review helpful to you?
these turned out great! I didn't have the golden syrup, so I used maple instead. My first batch did spread out as Birgitta's, but then I made another one without adding extra water and it solved the problem. Love the coconut and rolled oats combination!
Was this review helpful to you?
(Updated: December 28, 2011)

Birgitta
Top 50 Reviewer
View all my reviews (7)
Husband says "yes", I say "no"
ORIGINAL REVIEW:
I was really looking forward to these, but I have to honestly say that I was disappointed with the final product. It didn't bother me that they had spread flat to 4x the original raw dough size during baking. It was that they tasted too greasy that turned me off. I did not like the feeling of my lips and fingers all greasy while eating them.

However, I still gave this recipe a rating of 3 from my omnivore husband. He saved them from going into the garbage. I would also like to note that he lived in Australia for 6 months, and knew all about their history when I told him what they were.
Was this review helpful to you?

Justin
Nice idea for strawberry ANZAC biscuits! As an Aussie, I love these too, so I will have to try your idea. And might I also recommend, for another different twist and slightly richer flavour, to use granulated Palm Sugar instead of regular sugar. Last few times I made ANZACs this is what I used and enjoyed it very much! Thanks!
Was this review helpful to you?