Vegan Golden Caramel Sauce

Mattie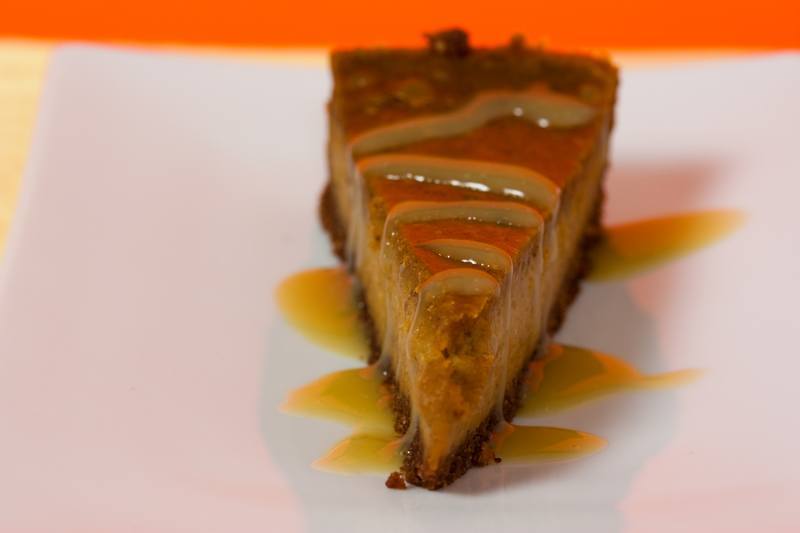 Where
Easy Vegan Caramel Sauce
is good for a quick caramel fix, Vegan Golden Caramel Sauce is the no-holds-barred recipe where flavor and consistency are top priorities. Traditional caramel sauce relies on heavy cream which allows the sauce to be thick and rich due to the solids present in the cream. This vegan caramel sauce recipe relies on cashew cream to supply the extra cream factor and solids, resulting in a silky smooth golden caramel that's perfect for drizzling on ice creams, baking into pies or tucked into
brownies
. Substitute the vanilla extract for bourbon, rum or brandy if you want an extra layer of flavor complexity.
Find more
Caramel recipes
on Veganbaking.net
Vegan Golden Caramel Sauce Recipe
1/3 cup raw, unsalted cashews, soaked and rinsed
1 cup water
1 Tablespoon + 1 teaspoon unrefined coconut oil
½ cup water
1 cup sugar
½ teaspoon lemon juice
½ teaspoon vanilla extract
1/8 teaspoon salt
1) Simmer the cashews to hydrate them
Place the cashews in a small saucepan with the water. Cover the saucepan, bring the cashews to a boil and simmer for 15 minutes.
2) Whip the cashews to make the cashew cream
Transfer the cashews and the water to a blender and add the coconut oil. Blend on the Whip setting for one minute.
3) Caramelize the sugar mixture
In a heavy duty, medium saucepan, add the water then add the sugar in a mound in the middle, taking care to not get sugar on the sides of the saucepan. In another small saucepan, add the cashew cream, cover and place on medium-low heat. Cover the sugar and water mixture and bring it to a boil over high heat until the mixture registers 300F (149C) with a candy thermometer. This should take about 7 minutes. Reduce heat to medium and continue to cook until the mixture registers 350F (177C) which should take about 1 to 2 minutes. Remove from heat.
While you're caramelizing the sugar, bring the cashew cream to a boil. The goal here is to add the hot cashew cream to the hot caramel; if the cashew cream boils before the water and sugar caramelization is done, remove the cashew cream from heat and leave the cover on.
Learn more about the
sugar caramelization temperature stages
.
4) Whisk the hot cashew cream and other ingredients into the hot caramel
Remove the cover from the cashew cream and carefully pour about ¼ of it into the caramel mixture, allowing it to bubble vigorously. When the bubbling has subsided, add the remaining cashew cream. Whisk in the lemon juice, vanilla extract and salt until smooth. Slowly and carefully transfer the mixture to a heat proof container placed over a wooden cutting board to insulate your work surface, cover and store in the refrigerator until cool, about 2 hours. Store in a covered container in the refrigerator for up to one month. To reheat, just warm it up in the microwave or in a pot and give it a quick stir. This recipe makes about 1 cup of Vegan Golden Caramel Sauce.
User reviews

Stan Smith
Thanks
really happy with this recipe. thanks for sharing it.
Was this review helpful to you?
(Updated: November 30, 2016)

kstepien
Top 100 Reviewer
View all my reviews (3)
Exactly like a caramel I used to make!
This turned out perfect, even though I thought I messed up the cashew cream and there was no hope! I only have one saucepan, so I figure I could microwave the cashew cream to heat it up, and it nearly solidified (side note: it would make a delicious warm whipped topping!). But I added it to my caramel anyways and it melted right down and turned out beautifully. I'll be making this again many times.

Also, I didn't leave myself enough time to pre-soak cashews, so I went straight to the simmering step with my raw cashews, and it worked just fine.
Was this review helpful to you?

mem297829
View all my reviews (1)
Question
I have the same question as Tammie 0 do you stir the caramel while it is cooking?
Thank you!
Was this review helpful to you?
Did not work for me!
I tried this recipe twice and each time the caramelized sugar ended up like rock candy in the pan when I added the cream, and it wouldn't mix with the cream--it just hardened into a clump. I checked my thermometer w/boiling water to make sure it was reading the temp correctly, and I made sure to tilt the pan so that I could get a good reading since the sugar/water was pretty shallow in the pan. I'm wondering what I did wrong! I used an older metal saucepan and I wonder if the metal is too thin? Do you need a super heavy duty saucepan? Help!
Was this review helpful to you?

Tammie
View all my reviews (1)
Novice vegan baker
Dear Mattie,
What is the shortest amount of time that I can soak the cashews? Also, do I stir the caramel while it is cooking? What if it burns; how often should I check the temp with the lid on.
Thanks,
Tammie
Was this review helpful to you?

Angela
thickness?
Hi! I was just wondering how thick this caramel sauce is. It will be my first time making caramel sauce so I'm not sure what the standard is. In the pictures it looks pretty thin. I'm looking for a caramel sauce to put in the middle of a cupcake as a filling, and I'm worried that if it's too thin it will just soak in or ooze out too quickly. If it is quite thin, any suggestions on how to thicken it up to a good filling consistency (somewhere between a sauce and a caramel candy)?
Thank you thank you thank you so much!!!
Was this review helpful to you?