Sweet Potato Hummus

Mattie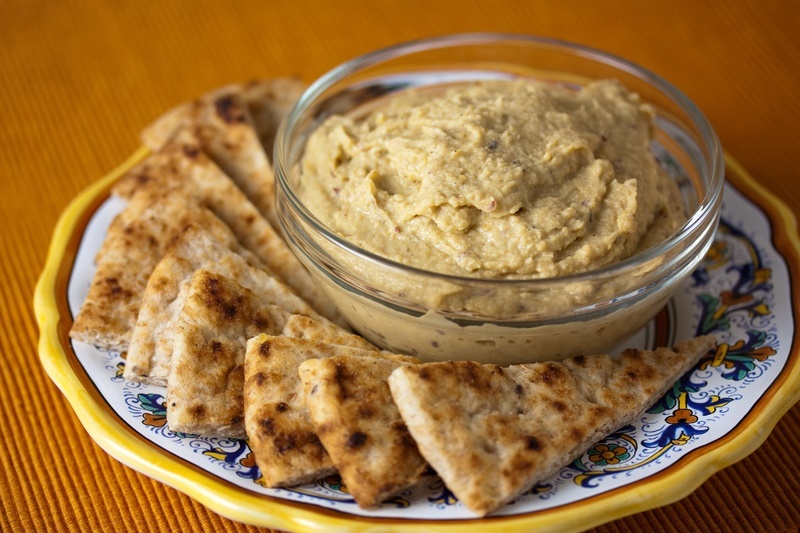 Sweet and savory flavors are brought together in a mysteriously perfect combination in this Sweet Potato Hummus recipe. Thyme along with ginger, cinnamon, cloves and just a touch of cayenne assist with the perfect flavor pairing which allows this hummus to go with almost anything.
Sweet Potato Hummus Recipe
1 pound sweet potato (about 1), chopped into 1 inch cubes
¾ cup dried chickpeas
½ cup extra virgin olive oil
½ cup lime juice
½ cup tahini
2 cloves garlic
1 ¾ teaspoons salt
½ teaspoon thyme
½ teaspoon ginger
½ teaspoon cinnamon
¼ teaspoon cloves
¼ teaspoon cayenne
1) Soak the chickpeas
Rinse and soak the chickpeas overnight or up to 24 hours. Soaking dried legumes before cooking is beneficial for two reasons: It allows certain starches to be broken down so digesting is easier. I also allows the legumes to be cooked in less time, thus requiring less energy.
2) Bake the sweet potato
Place the sweet potato in a metal or glass baking dish, cover with aluminum foil and poke a few holes with a knife so steam can escape. Bake the sweet potato at 400F (204C) for 40 minutes.
3) Cook the chickpeas
Drain and transfer the chickpeas to a medium saucepan. Add enough water so the chickpeas are submerged by a couple inches and simmer until soft which should take about 45 minutes.
4) Process the ingredients into hummus
Drain the legumes in a colander and transfer them to a food processor. Add the sweet potato, olive oil, lime juice, tahini, garlic, salt, thyme, ginger, cinnamon, cloves, cayenne and process until smooth. Transfer to a covered container and store in the refrigerator for up to one week. This recipe makes about 1 quart of Sweet Potato Hummus.