Vegan Apple Walnut Stuffing

Mattie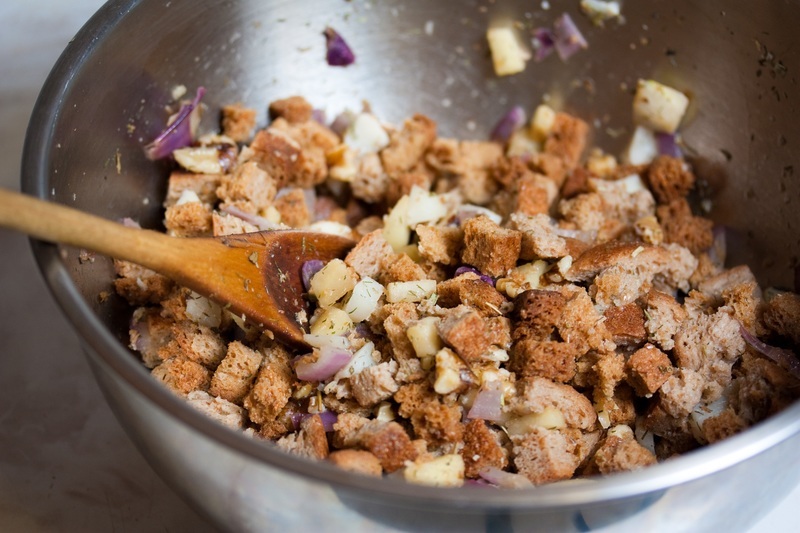 This Vegan Apple Walnut Stuffing recipe is great inside
Stuffed Seitan
or alongside some
Cranberry Sauce
during holiday feasts. Apples give it a light flavor-enhancing sweetness which is a great accompaniment to the textures of water chestnuts and walnuts.
Find more
Savory recipes
on Veganbaking.net
Vegan Apple Walnut Stuffing Recipe
3 cups firmly packed ½ inch cubed bread - 2 types such as whole grain and sourdough
1 Tablespoon
canola, light olive oil or rice bran oil
1 clove garlic, minced
¾ cup red onion, chopped into ¼ inch pieces
¾ cup peeled, diced apple
½ cup water chestnuts, chopped into ¼ inch pieces
1/3 cup chopped walnuts
½ teaspoon thyme
½ teaspoon savory
½ teaspoon sage
1 cup apple juice
Salt and pepper to taste
1) Lightly toast most of the bread cubes
Preheat the oven to 350F (177C). Lightly brown 2/3 of the bread by placing it on a cookie sheet and placing it in the oven for about 15 minutes. Allow the bread cubes to cool and place them with the rest of the bread in a large mixing bowl.
2) Sauté the onion and garlic
In a large pan add the canola oil and allow it to get hot. Sauté the onion and garlic for a few minutes over medium heat, add the apple and sauté for another 5 minutes. Remove from heat.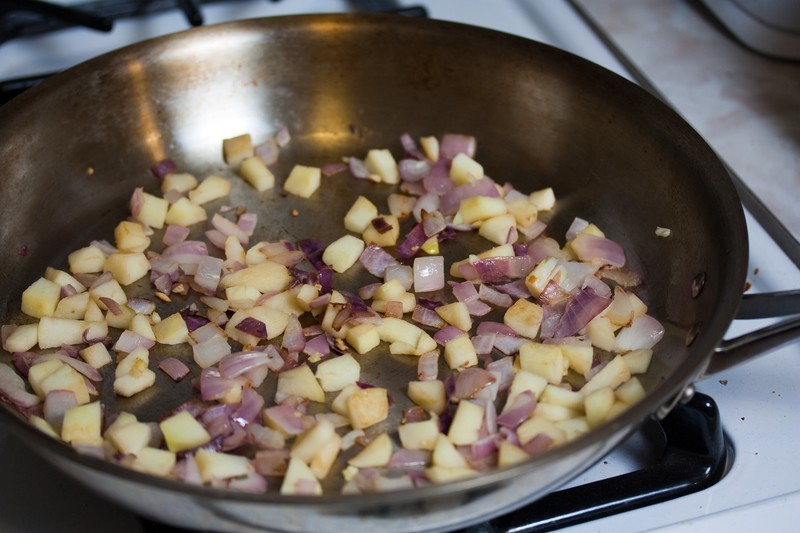 3) Combine the stuffing ingredients
In a large mixing bowl, combine the bread cubes from step 1 and the onion, garlic and apple mixture from step 2. Add the diced water chestnuts, walnuts, thyme, savory, sage and toss to mix. Drizzle the apple juice over the stuffing to moisten and toss until there is no more apple juice at the bottom of the bowl. Salt and pepper to taste.
4) Bake the vegan stuffing to perfection
Apple Walnut Stuffing can either be used in Stuffed Seitan or bake it in a 8 x 8 inch baking dish. To bake in the baking dish, cover it with tin foil, poke about 6 small holes in the tin foil with a knife and bake at 350F (177C) for about 45 minutes. This recipe makes about 3 cups Vegan Apple Walnut Stuffing or Dressing.