Vegan Garlic Tarragon Bread Spread

Mattie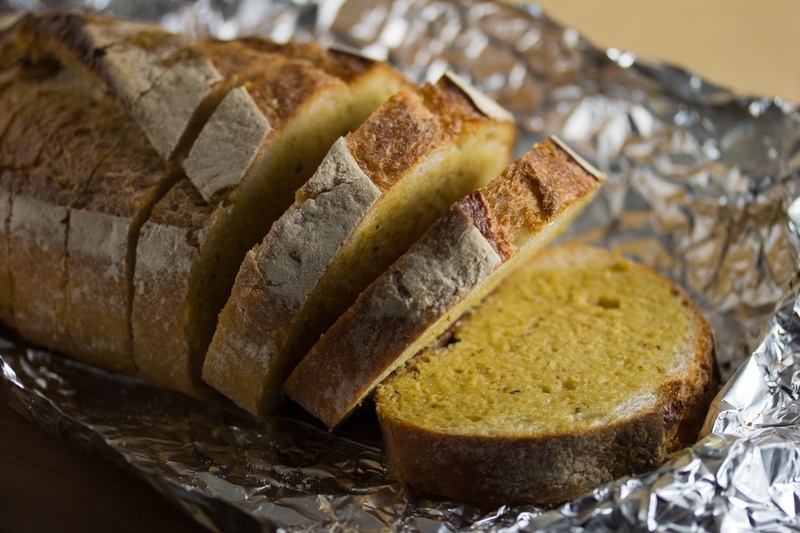 This Vegan Garlic Tarragon Bread Spread recipe features extra virgin olive oil, onion, garlic, fresh tarragon and just a touch of white wine vinegar to evoke a complex buttery flavor with a sharp cheese inspired finish.
Holiday dinners at my Godparent's house was always a special occasion. The food was inspirational but the the one dish that my brother and I looked forward to all year was the simple but perfect implementation of garlic bread. This consisted of a store-bought flute of San Francisco sourdough, sliced but leaving the bottom crust intact so the slices could be torn off as the loaf worked its way around the table. This loaf was buttered between the slices, wrapped in tin foil and warmed in the oven. Buttering the slices while leaving the loaf intact had the advantage of ensuring both sides of each slice was buttered. Wrapping the loaf in tin foil had the benefit of allowing the entire loaf to be saturated with buttery aromas and flavors during its time in the oven and the tin foil could be folded back over the loaf in between servings to keep the bread warm while it was on the table. Brilliant!
My brother and I eventually begged my parents to adopt this bread tradition for holiday feasts at our house. When I adopted a vegan diet we switched from butter to margarine and although the results were satisfactory, there seemed to be something lacking; substituting margarine doesn't always work as well as butter 100 percent of the time.
Several years later I was having a dinner with friends and everyone at the table was falling over themselves in anticipation for Vlad's famous garlic bread spread. What was in this bread spread? I never found out but it was thick, dairy-based, rich, spreadable and smelled what a bread spread would probably smell like if you took the best elements of butter and sharp cheddar. Without even tasting it I was mesmerized by it. What if I combined these two garlic bread methods to make a vegan rich, buttery bread spread that could take garlic bread to another level?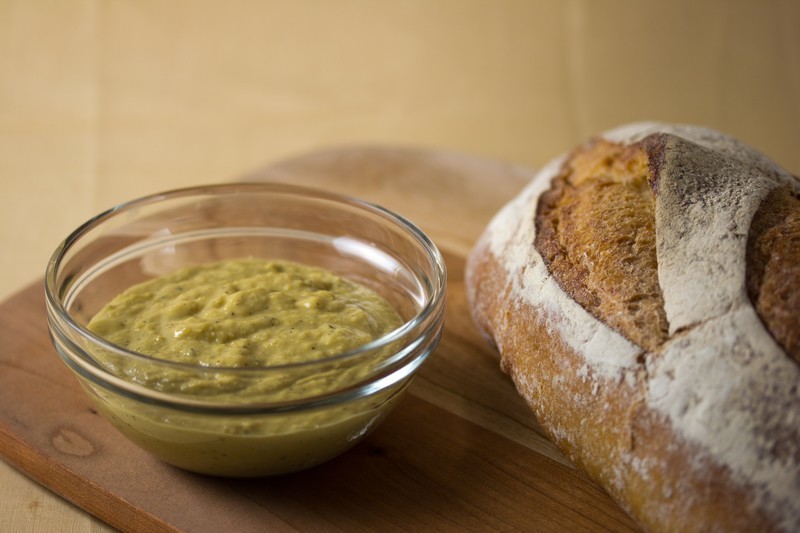 Find more
Healthy recipes
on Veganbaking.net
Vegan Garlic Tarragon Bread Spread Recipe
¾ cup extra virgin olive oil
¼ of a red onion
¼ cup nutritional yeast flakes
6 cloves garlic
1 Tablespoon + 2 teaspoons tahini
1 Tablespoon (3 grams) fresh tarragon, minced
1 ½ teaspoons lemon juice
1 ½ teaspoons white wine vinegar
1 teaspoon salt
1) Blend all of the ingredients until smooth
Preheat your oven to 350F (177C). Add the olive oil, onion, nutritional yeast flakes, garlic, tahini, tarragon, lemon juice, white wine vinegar and salt to a food processor or blender. If you're using a food processor, process for about 1 minute. If you're using a blender, blend for about 30 seconds. Transfer the bread spread to a small bowl.
2) Slice the bread
Slice loaf of bread in ¾ inch thick slices using a serrated knife with cuts going down into the bottom of the crust. It's important to leave the bottom crust intact to it's easier to apply the bread spread. The slices can be torn off the loaf as it's served.
3) Apply the vegan bread spread to the bread
Cut a piece of tin foil about 2 to 3 feet long and place the bread on top. Using a pastry brush, work your way through the bread slices, liberally spreading the bread spread in betweet each slice.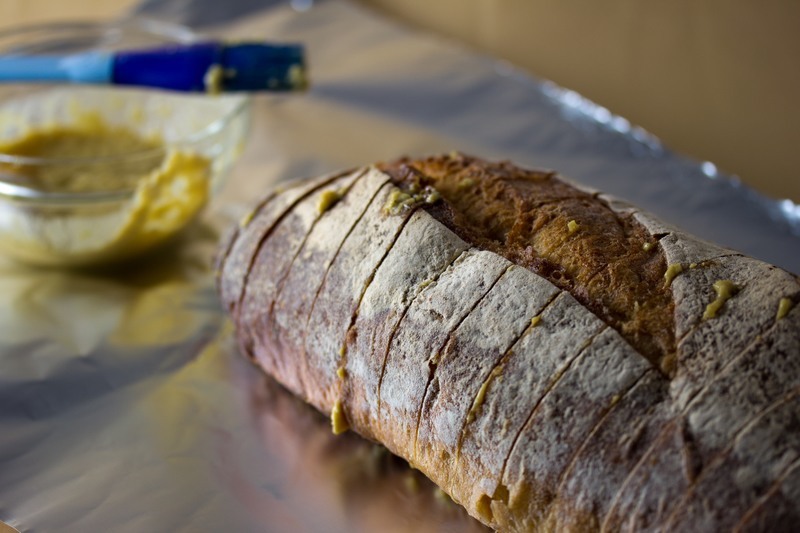 4) Bake the bread to perfection
Wrap the bread tightly with the tin foil and bake the bread for 20 minutes. Remove the bread from the oven, unwrap the top so steam can escape and allow it to cool for a few minutes. The bread can be served on the table directly out of the tin foil. In between servings, wrap the bread in its tin foil to keep it warm and flavorful. Store the bread spread in a covered container for up to 1 week in the refrigerator or up to 3 months in the freezer. This recipe makes about 1 ½ cups Vegan Garlic Tarragon Bread Spread, which should be enough for 2 flutes, boules or baguettes.
User reviews

Kennedy
Delish
This was so good. I really loved the spread!
http://www.rapidcityroofingpros.com
Was this review helpful to you?

JeffG
Great recipe!
Great recipe! I am making this for my sister!
http://www.helenaroofingpros.com
Was this review helpful to you?

Sophie
This spread is amazing & so tasty too! :)

I like your cool foodblog here! I am not a vegan but eat vegan or vegetarian 3 x / week! I learn a lot from this tasty blog!
Many greetings from a foodie fan from Brussles, Belgium!
Was this review helpful to you?