Rich Vegan Banana Cream Frosting

Mattie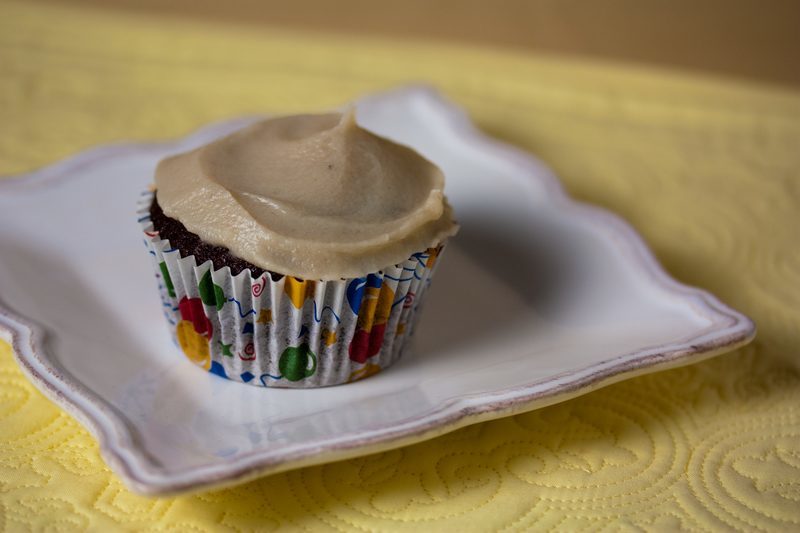 Real banana is blended into this Rich Vegan Banana Cream Frosting recipe which creates a rich banana cream with butterscotch overtones. This vegan frosting recipe utilizes the power of soy milk powder (not to be confused with soy flour) which adds extraordinary creaminess while still allowing the frosting to remain firm. It also takes advantage of caramelizing sugar to the
thread
stage of 230F (110C) where it contributes a smooth velvety texture. The firmness of this frosting can be customized to your preference easily by adding or subtracting 1 Tablespoon of water.
Find more
Banana recipes
on Veganbaking.net
Rich Vegan Banana Cream Frosting Recipe
2 cups granulated white sugar
½ cup water
2 Tablespoons soy milk powder
2 Tablespoons amber agave syrup or corn syrup
½ teaspoon salt
1 cup (215 grams)
Vegan Shortening
or store bought shortening (2 sticks, room temperature)
1 teaspoon vanilla extract
½ cup banana purée (about 1 banana)
1) Caramelize your sugar mixture
In a small saucepan, constantly whisk together the sugar, water, soy milk powder, agave syrup or corn syrup, salt and place over medium heat while whisking frequently until it starts to simmer. Insert a candy thermometer and bring the mixture to 230F (110C). Once the candy thermometer is inserted you don't need to worry about whisking because natural heat convection currents will do the mixing for you. Transfer to a heat proof bowl and let it cool in the refrigerator until it's near room temperature, about 1 hour.
2) Beat in the rest of the vegan frosting ingredients
Beat in the shortening until fluffy. Using a fork, mash enough bananas on a plate to make ½ cup. Beat the banana into the frosting until smooth. Store frosting in an airtight container in the refrigerator for up to 10 days. Make sure the frosting is at or near room temperature for optimum frost-ability. This recipe makes about 2 cups of Rich Vegan Banana Cream Frosting, or enough for about one layer of an 8 inch diameter cake.