Rich Vegan Maple Frosting

Mattie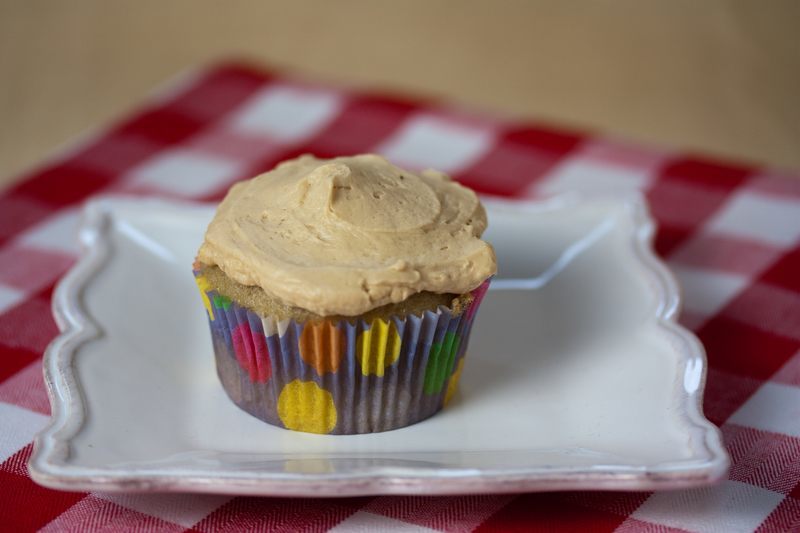 This silky smooth Rich Vegan Maple Frosting recipe uses slightly caramelized maple and agave syrup as its base. This allows it to be 100% sweetened by these syrups, giving it maximum maple flavor and a velvety consistency with no sugar crystals. The agave syrup prevents the maple syrup from crystalizing after it's caramelized. The firmness of this frosting can be customized to your preference easily by caramelizing your syrups plus or minus 5F (3C) from the 235F (113C) caramelization temperature which is known as the
thread
stage. If you slather this on pancakes I promise not to tell anyone.
Find more
Maple recipes
on Veganbaking.net
Rich Vegan Maple Frosting Recipe
1 ¾ cups + 1 Tablespoon Grade B maple syrup
¼ cup light agave syrup
¼ teaspoon salt
½ cup (108 grams)
Vegan Shortening
or store bought shortening (1 stick, room temperature)
½ cup (108 grams)
Regular Vegan Butter
or non-hydrogenated stick margarine (1 stick, not tub margarine, room temperature)
1) Caramelize your sugar mixture
In a medium saucepan whisk together the maple syrup, agave syrup and salt. Bring the mixture to a boil on high heat, covered, then remove cover and reduce heat to medium and simmer. Do not stir the mixture from now on because natural convection currents will do the stirring for you.
Find out more about the
sugar caramelization temperature stages
.
2) Cool the sugar mixture
Insert a candy thermometer and bring the mixture up to 235F (113C). Remove it from heat, carefully transfer the mixture to a bowl and place it in the refrigerator for about an hour so it cools to about room temperature. At room temperature the mixture should have a thickness similar to molasses.
3) Beat in the rest of your vegan frosting ingredients
Beat in the shortening and Vegan Butter until fluffy. Store frosting in an airtight container in the refrigerator for up to 10 days. Make sure the frosting is at or near room temperature for optimum frost-ability. This recipe makes about 2 cups of Rich Vegan Maple Frosting, or enough for about one layer of an 8 inch diameter cake.
User reviews

Alanna
Freezing?
Hey Mattie,
Thanks for sharing this recipe its great and really tasty!
I was wondering if you had tried freezing this recipe, and how long does it keep for?
I am making the cupcakes for my sisters wedding and her fiancé fell in love with this frosting last time I made it. I have to take a 6-7 hour drive and I am concerned about how it will hold up in the cooler in the car and if the consistency of the frosting will hold up by the time I get it on the cupcakes?
Thanks Again,
Alanna
Was this review helpful to you?

joyce
question about agave nectar in cooking
Hi Mattie~ thanks for sharing!

I've been curious why does milk & agave never mix? Cooked together or w/o heat, the final product physically & by taste don't stick together. (sharp-agave-sweetness completely separated creaminess of milk, feels they're pretty intent on going separate ways.)
Does agave blend better with milk substitutes or not really? Is there a more suitable natural syrupy sugar alternative for cooking with milk? Or a suitable milk substitute for milk+sweetener in all these indian dessert recipes? Would coconut butter & something else work perhaps?

Blessings
Was this review helpful to you?

Caitlin
Tastes so good! but it curdled!
I was so excited to try this recipe! I just whipped some together, and.....it tasted so good, but curdled by the time I finished blending it together. Has this happened to anyone else? I used all margarine since I had no shortening, and I also added two spoonfuls of Tofutti cream "cheese" (because I love that stuff). Anyway, it tastes great, but the curdled effect doesn't look so good. :( Maybe it was the Tofutti...
Was this review helpful to you?

mom2brenna
Top 50 Reviewer
View all my reviews (4)
For maple lovers
This frosting is intensily maple. Too sweet on its own but on a cake the flavor gets balanced out.Very delicious. It did take awhile to reach 235 degrees, somewhere between 15-25 minutes and make sure to put it in the fridge to set up.
Was this review helpful to you?

Lauren
A little too sweet...
I found this to be a little too sweet for my liking...and it was also quite runny even after refrigerating it for half an hour after mixing in the margarine & shortening... maybe I didn't make it right though? I really wanted to like this one! :/ Made it with the maple cupcakes from Vegan Cupcakes Take Over the World.
Was this review helpful to you?