Vegan Pecan Walnut Baklava

Mattie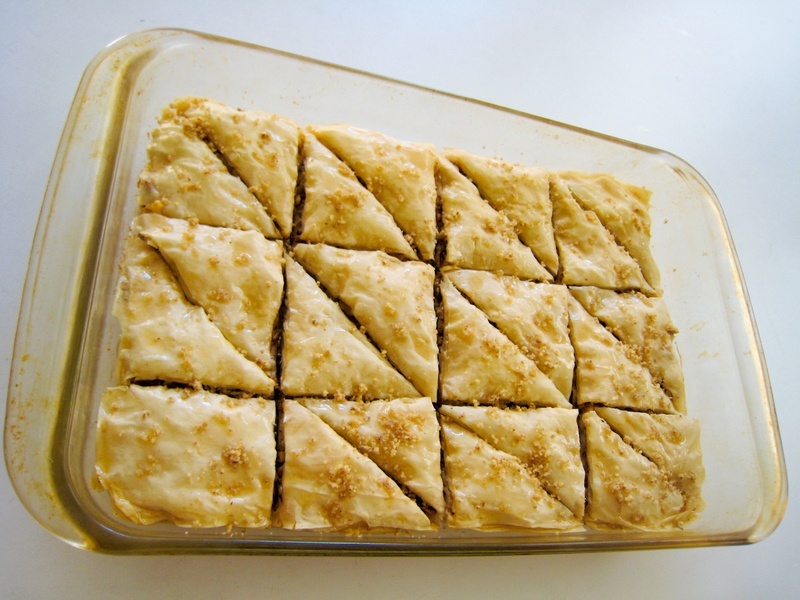 This Vegan Pecan Walnut Baklava recipe is much easier to make than it looks. It features layers of phyllo dough coated with Vegan Butter, layered with chopped pecans, walnuts and spices then drizzled with sweet syrup. Below are recipes for two different types of syrups to use depending on the availability of ingredients in your area.
Find more
Easy recipes
on Veganbaking.net
Vegan Pecan Walnut Baklava Recipe
30 sheets whole wheat phyllo dough
½ cup
Vegan Butter
or margarine, melted
½ cup walnuts
½ cup pecans
¾ teaspoon cinnamon
½ teaspoon nutmeg
¼ teaspoon cloves
Syrup mixture (see below)
1) Process or chop your nuts
Preheat oven to 350F (177C). Place the pecans, walnuts, cinnamon nutmeg and cloves in a food processor or blender and process until the nuts are ground into a powdery consistency. This is important because big nut pieces will prevent some of the phyllo dough layers from sticking together, making the baklava fall apart in your fingers.
2) Grease your baking dish and prepare your phyllo dough
Melt the Vegan Butter in a small bowl. Lightly grease a 9 x 13 inch baking dish and set aside. Take 18 sheets of phyllo dough, cut them to 9 x 13 inches with a knife and cover with a damp towel to prevent them from drying out.
3) Layer your phyllo dough
Place one layer of phyllo dough in the baking dish. Using a pastry brush, lightly coat the phyllo dough with Vegan Butter. If you don't have a pastry brush, this can be done with your fingers. Repeat this so that there's 10 layers of phyllo dough, with margarine after each layer. It is important that the phyllo layers are thoroughly covered with margarine or the baklava will be dry and not chewy.
4) Add a layer of nuts
After the 10 layers of phyllo dough, add a ½ cup of the nut mixture evenly to the top.
5) Repeat the layering steps to build the baklava
Repeat steps 3 and 4, then step 3 again.
6) Cut the baklava
Using a sharp knife, cut the baklava evenly spaced 2 times lengthwise and 3 times widthwise. Then cut each piece across diagonally. Lightly sprinkle a light layer of remaining nut mixture on top if desired.
7) Bake to perfection and prepare your Vegan Baklava Syrup
Bake at 350F (177C) for 20 minutes, then reduce heat to 300F (149C) and bake an additional 20 minutes. While the baklava is baking, prepare the Vegan Baklava Syrup below.
8) Pour the syrup over the baklava and allow to cool
After removing the baklava from the oven, immediately pour syrup mixture over it and let cool completely.
Optional: place three pecans and three walnuts in a food processor or blender and process into a flour-like consistency. Sprinkle a light layer of this nut powder on top of the baklava.
Vegan Baklava Syrup 1
1 cup agave syrup
3 Tablespoons maple syrup
3 Tablespoon brown rice syrup
Whisk agave syrup, maple syrup and brown rice syrup in a small bowl and set aside.
Vegan Baklava Syrup 2
1 cup sugar
3 Tablespoons maple syrup
2 Tablespoons water
1 teaspoon arrowroot powder
1 teaspoon lemon juice
1 teaspoon vanilla extract
Add the sugar, maple syrup, water, arrowroot powder and lemon juice to a medium sauce pan. Bring to a boil, reduce heat and simmer until thickened. Whisk vanilla extract into the mixture and set aside. Store in a covered container at room temperature for about 1 week or in a freezer bag in the freezer for up to 6 months. This recipe makes one 9 x 13 inch tray of Vegan Pecan Walnut Baklava.