Vegan Double Cranberry Cinnamon Oatmeal Nut Bars

aliciak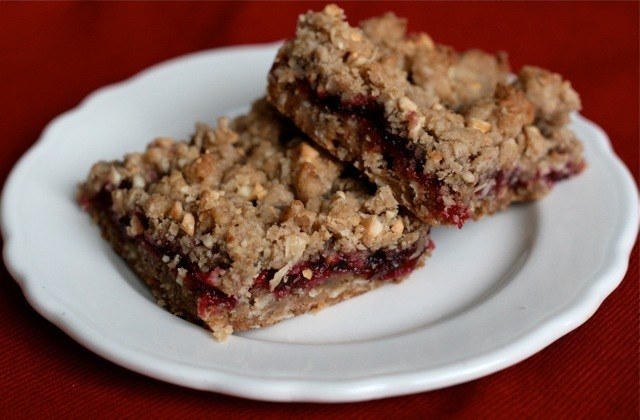 I first became obsessed with crumb-topped bars when I discovered Whole Foods'
caramelita bar
, a decadent mixture of chocolate, caramel, pecans, sugar and butter. Definitely not vegan, and not all that good for you either. If made with real fruit, the jelly crumb bars at least hit one of the healthier food groups. This vegan version of the recipe takes advantage of the wonder that is Earth Balance and combines it with homemade cranberry jelly, dried cranberries and cashews.
Find more
Cranberry recipes
on Veganbaking.net
Vegan Double Cranberry Cinnamon Oatmeal Nut Bar Recipe
2 cups flour
2 cups oats
1 ½ cups brown sugar
1 ¼ cups vegan "butter" (Earth Balance)
1 teaspoon baking soda
½ teaspoon salt
1 ½ teaspoon cinnamon
½ cup chopped cashews
½ cup chopped dried cranberries
1)
1 ½ cups cranberry jelly (I made from scratch, from back of cranberry bag: boil 1 cup of water with 1 cup of sugar. Add 1 12-oz package of whole cranberries and return to boil. Reduce heat and boil gently for 10 minutes, stirring occasionally. Put through a ricer/sieve/wire mesh strainer to collect the jelly part. Cool slightly).
2)
Grease a 9 x 13 inch glass dish and preheat oven to 350F (177F). Beat the top seven ingredients together until crumbly, about 1 minute. Remove 2 cups and place in a medium-sized bowl. With the rest of the crumb mixture, press into the glass dish and bake uncovered for ten minutes.
3)
In the bowl with 2 cups of the crumb mixture, add the ½ cup chopped cashews to this and mix. In a small bowl, stir the jelly and dried cranberries together. Spread the jelly mixture onto the crumb mixture and top with the cashew mixture. Bake for 15-20 minutes or until lightly golden on top. Yum! This recipe makes one 9 x 13 inch tray of Vegan Double Cranberry Cinnamon Oatmeal Nut Bars.
User reviews

vajiya3892
#1 Reviewer
View all my reviews (57)
I've tried to make this, but didnt come up as expected lol
Was this review helpful to you?

Hope
Bars
I made these one time and 5 tried later I can't seem to get them to stick together. They come out as a crumble. Any ideas how I can get them again to stick together? There are really good when they come out good.
Was this review helpful to you?

Steve
Excellent recipe
I've made these twice now, to rave reviews.

I was in a hurry the second time I made them and realized after I'd put them in the oven that I'd used dramatically less Earth Balance than called for -- only one stick instead of 2.5 sticks (1.25 cups). I was dismayed and worried that they wouldn't turn out well, but they were fine, and when I brought them to a church coffee hour they vanished very quickly.

I lightly toasted the cashews to bring out a bit more flavor, and drizzed a glaze of melted Earth Balance, powdered sugar, soy creamer and orange extract over the top of the cooled bars.

I made my own cranberry sauce the first time, and used a 14 ounce can of jellied cranberry sauce (gently warmed for spreadability) the second time. Both worked beautifully.

A definite keeper. Thanks for the recipe!
Was this review helpful to you?

Rebecca
Fabulous!
I hate to cook. These bar cookies are simple to make and taste fabulous. I took them to a vegan potluck and every bar was eaten. I used SmartBalance instead of vegan margarine.
Was this review helpful to you?