Vegan Pecan Blondies

Mattie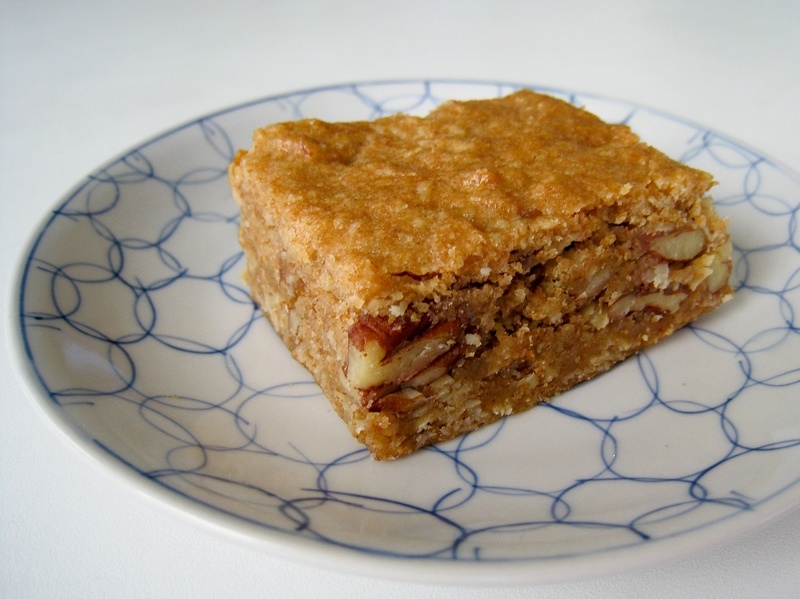 This Vegan Pecan Blondie recipe makes a dense, moist and chewy vegan bar due to its use of flax meal, coconut oil and brown rice syrup. Rolled oats, vanilla and pecans enhance the caramel notes. Use refined
coconut oil
if you want an overall balanced flavor or unrefined coconut oil if you want a slight coconut flavor that will tend to enhance the flavor more overall.
Find more
Pecan recipes
on Veganbaking.net
Vegan Pecan Blondie Recipe
¼ cup non-dairy milk
2 Tablespoons
golden flax meal
1 teaspoon apple cider vinegar
2/3 cup unrefined coconut oil
1/3 cup brown rice syrup
¾ cup sugar
1 teaspoon vanilla extract
¾ teaspoon salt
1 ½ cups whole wheat flour
1 cup rolled oats
½ cup pecans, chopped
½ cup semi-sweet chocolate chips (optional)
1) Prepare your baking dish and egg replacer mixture
Preheat your oven to 350F (177C). Line an 8 x 8 inch baking dish with parchment paper. In a small bowl, mix the non-dairy milk, golden flax meal and apple cider vinegar with a fork and let it sit for about 10 minutes so the mixture thickens. Set aside.
2) Mix together the flavor building ingredients
In a medium mixing bowl, add the coconut oil, brown rice syrup, sugar, vanilla extract, salt and the flax meal and non-dairy milk mixture and mix until smooth.
3) Whisk together the flour and oats
In another medium mixing bowl, whisk together the flour and rolled oats.
4) Build the dough and bake the vegan blondies to perfection
Add the first half of the dry ingredients to the bowl containing the wet ingredients and mix thoroughly with a mixer for about one minute. Add the pecans, chocolate chips if using, remaining dry ingredients and hand mix with a spoon. Transfer the dough to the prepared pan and press it into shape. Bake for 40 minutes. Set on a rack to cool. When cooled, remove from baking pan and slice into desired squares. It's normal for the center to slightly depress after baking. Store in a covered container at room temperature for about 1 week or in a freezer bag in the freezer for up to 6 months. This recipe makes one 8 x 8 inch baking dish of Vegan Pecan Blondies.
User reviews

Moxy
Yummylicious!
Made this for the first time last night since i was craving for a healthy snack which i and my husband can bring to work. I tweaked the recipe a little due to dietary restrictions and availability of ingredients at home- substituted 4 Tbsp. molasses for the brown rice syrup ,1/2 c. brown sugar for the sugar and walnuts (more available here in the Philippines) instead of pecans.
And so, the supposed-to-be "Pecan Blondie" became "Walnut Brunette"...!
Sorry, Mattie, for that. But, wait- sorry, i'm not really sorry 'cause it turned out great. Truly yummylicious!!
Thank you so much for this recipe. Looking forward to trying our more recipes from here. :)
Was this review helpful to you?

Kimb
Newbie wondering where the egg replacement goes?
Newbie here, how/where/when/how much of "egg replacer"? I don't understand that part.
Was this review helpful to you?
Very good - Maple Walnut version
Really good - I replaced the brown rice syrup with maple, and pecans with toasted walnuts. Some white raisins (sultanas) added fruitiness. Great for kids' lunchboxes and mums' breakfasts. I mean, morning teas ;)
Was this review helpful to you?

Bpep257000
Top 500 Reviewer
View all my reviews (1)
Awesome!!
Just found this site for the first time looking for a blondie recipe. Replaced the brown rice syrup with molasses and the dough tasted amazing! Can't wait for them to come out of the oven!!!
Was this review helpful to you?
So Good!
These are awesome. Made them twice now and we have loved them since first bite. Followed recipe exactly. All of our friends love them too vegan or not. Delicious and rich, they're an awesome finish for any meal or late night snack! Looking forward to making these again soon.
Was this review helpful to you?

terraleighbell
View all my reviews (1)
So delicious!!
So good! I'm so grateful. I'm new to being vegan, and last week I tried just taking my old blondie recipe and replacing the eggs with egg replacer and the butter with margarine. It ended up being the strangest, most deranged thing I've ever pulled out of my oven, and I was determined to find something wonderful. These came out very buttery, and I loved the texture.

As a sidenote, I was low on white sugar so about a third of the sugar I used was brown sugar, and it turned out great.
Was this review helpful to you?

mannagifts
View all my reviews (1)
Didn't work for me..
I'm sure I must have done something wrong, although I really did follow the recipe (for a change). A real shame, as I had pinned this a while ago and was looking forward to trying it, hoping it might resemble the almond blondies I am crazy about at Cookies & Scream. But this came out hard and dry - and with the amounts of coconut oil and rice syrup in here, not a cheap recipe to end up throwing in the bin! Still, my husband and I enjoyed a coffee while picking out all the pecans... Sorry Matti.
Was this review helpful to you?

Alisa
Yum
I used unrefined coconut oil and love the coconut flavor it gave them. Makes the oatmeal seem like coconut flakes. I also added 1/2 cup chocolate chips which I recommend if your a chocolate lover. Very dense, chewy and filling. I will make these again!
Was this review helpful to you?

skinnyvegan
Top 10 Reviewer
View all my reviews (9)
Great!!
So good that even my non-vegan husband, who is not a big sweets person to begin with, ate half the pan last night!!! Thanks for the great recipe!
Was this review helpful to you?

Cupcakefdoom
Hi again Mattie :) I was wondering if brown rice syrup is really necessary for this recipe, or if I could successfully sub it with maple, honey, or any other sweet syrup?
Was this review helpful to you?

marla679
Top 1000 Reviewer
View all my reviews (1)
Loved this recipe. This was better than any vegan desert (store-bought or homemade) I've had since I really went vegan six months ago; doesn't seem vegan because it's so buttery-tasting. Non-vegan mom loved them and wants me to make again. I added Enjoy Life semi-sweet chocolate chips (I'm a chocolate lover), which made the bars taste kind of like chocolate chip oatmeal cookies. Next time I will add more pecans, maybe a whole cup (I love nuts, too).
Was this review helpful to you?

Lb
wax paper is not a great idea for baking!
use parchment paper instead.....

otherwise AMAZING recipe, thanks so much!!!!
Was this review helpful to you?