Vegan Pecan Blondies

Mattie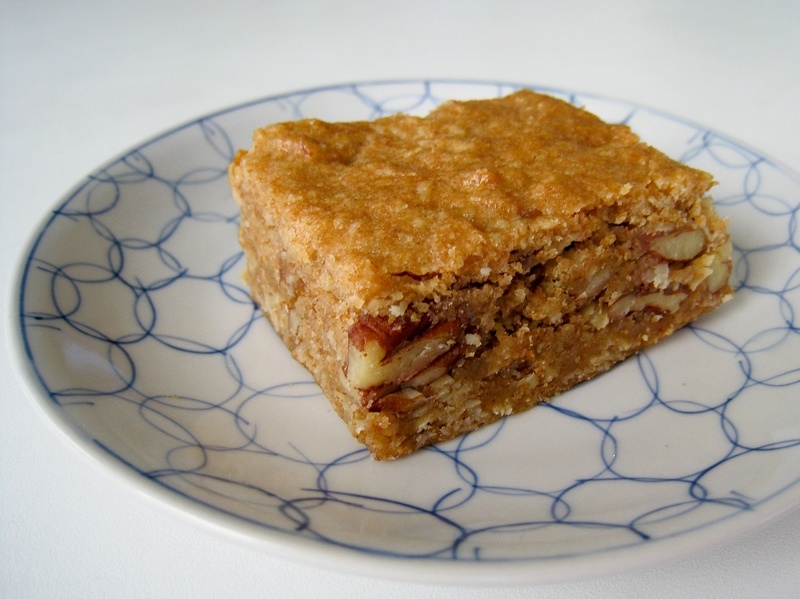 This Vegan Pecan Blondie recipe makes a dense, moist and chewy vegan bar due to its use of flax meal, coconut oil and brown rice syrup. Rolled oats, vanilla and pecans enhance the caramel notes. Use refined
coconut oil
if you want an overall balanced flavor or unrefined coconut oil if you want a slight coconut flavor that will tend to enhance the flavor more overall.
Find more
Pecan recipes
on Veganbaking.net
Vegan Pecan Blondie Recipe
¼ cup non-dairy milk
2 Tablespoons
golden flax meal
1 teaspoon apple cider vinegar
2/3 cup unrefined coconut oil
1/3 cup brown rice syrup
¾ cup sugar
1 teaspoon vanilla extract
¾ teaspoon salt
1 ½ cups whole wheat flour
1 cup rolled oats
½ cup pecans, chopped
½ cup semi-sweet chocolate chips (optional)
1) Prepare your baking dish and egg replacer mixture
Preheat your oven to 350F (177C). Line an 8 x 8 inch baking dish with parchment paper. In a small bowl, mix the non-dairy milk, golden flax meal and apple cider vinegar with a fork and let it sit for about 10 minutes so the mixture thickens. Set aside.
2) Mix together the flavor building ingredients
In a medium mixing bowl, add the coconut oil, brown rice syrup, sugar, vanilla extract, salt and the flax meal and non-dairy milk mixture and mix until smooth.
3) Whisk together the flour and oats
In another medium mixing bowl, whisk together the flour and rolled oats.
4) Build the dough and bake the vegan blondies to perfection
Add the first half of the dry ingredients to the bowl containing the wet ingredients and mix thoroughly with a mixer for about one minute. Add the pecans, chocolate chips if using, remaining dry ingredients and hand mix with a spoon. Transfer the dough to the prepared pan and press it into shape. Bake for 40 minutes. Set on a rack to cool. When cooled, remove from baking pan and slice into desired squares. It's normal for the center to slightly depress after baking. Store in a covered container at room temperature for about 1 week or in a freezer bag in the freezer for up to 6 months. This recipe makes one 8 x 8 inch baking dish of Vegan Pecan Blondies.