Vegan Peanut Butter Maple Fudge

Mattie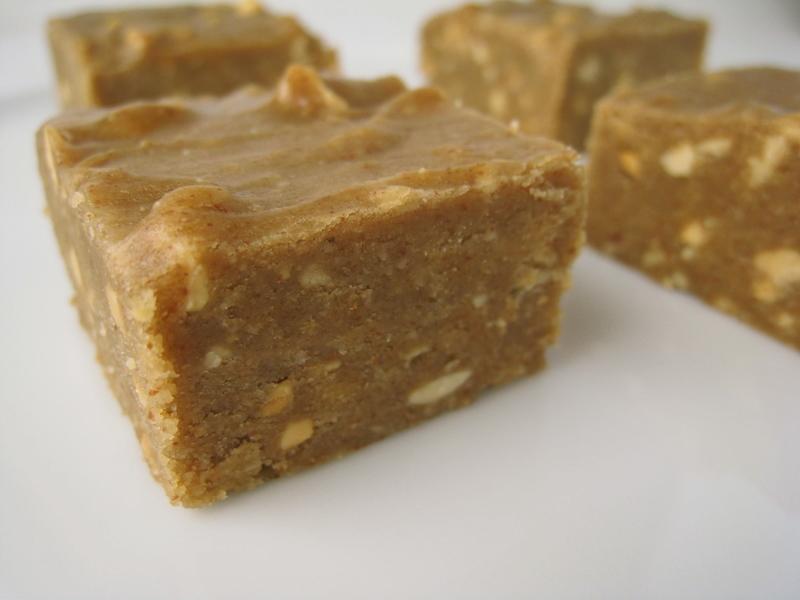 Peanut butter and maple syrup have this amazing relationship. I think they might be in love with each other. This Vegan Peanut Butter Maple Fudge recipe is really easy to make and you have the option of adding chocolate chips if you want to crank up the flavor/passion levels even more.
Find more
Gluten-free recipes
on Veganbaking.net
Vegan Peanut Butter Maple Fudge Recipe
2 cups natural style peanut butter, unsalted
2 teaspoons vanilla extract
2 cups powdered sugar
1 1/3 cup maple syrup
2 teaspoons arrowroot or tapioca flour
1 teaspoon salt
1) Prepare the peanut butter and vanilla extract
In a large mixing bowl, add the peanut butter and vanilla extract. Line an 8 x 8 inch baking dish with parchment paper.
2) Simmer the flavor building ingredients
In a medium saucepan, whisk together the sugar, maple syrup, arrowroot or tapioca flour and salt. Bring the mixture to a simmer for about 1 minute then remove from heat. Pour the mixture into the bowl containing the peanut butter and vanilla. Stir until well incorporated then pour into the baking dish. Allow it to cool completely.
3) Cool and slice the vegan fudge
Lift the fudge out of the baking dish by its wax paper liner and place it on a cutting board. Slice into pieces with a large knife. This recipe makes one 8 x 8 inch baking dish of Vegan Peanut Butter Maple Fudge.
User reviews
yum!
Hi Mattie - me and my flatmates down here in New Zealand are devouring this fudge, it is sooo good. One thing I'm wanting to get your expert advice on is - is it possible to make this with brown sugar instead of powdered ( I prefer the taste ) - and get a good solid consistency with that? I tried it first with soft brown sugar (don't know what the equivalent would be in the US) and it tasted amazing, but didn't set (would be perfect as the caramel bit in a caramel slice though!) and then I made it with the powdered sugar and it set way better, but still gets a bit gooey out of the fridge so hard to wrap in parchment paper and give as gifts (which is what I want to do). What do you think? I would be eternally indebted for your help!
thanks,
Khadiravan
ps love all the cookie/brownie recipes here too. Great site!
Was this review helpful to you?
This is magnificently sweet and completely addictive. It is also very easy to make - do it!!!
Was this review helpful to you?
Really yummy!
I made this for my family tonight and vegans and non vegans loved it. It came out perfectly for me...now I just need more peanut butter. Could one use the non natural stuff and get similar results?
Was this review helpful to you?
Question
Hi...I absolutely love the taste of this fudge. But, it didn't harden as fudge usually does. The fudge was completely at room temperature and when I went to cut it, the consistency is like a thicker peanut butter. I re-read the directions and I did exactly what it says. Do you have a trick to make it more solid? Taste is so good! Thanks in advance for your help! :)
Was this review helpful to you?
Amazing Peanut Butter Fudge
I am not vegan but I have a few friends that are. My biggest challenge was to find vegan dishes that would fool all of my friends into believing that they were not depriving themselves of dairy. This was my winner! ALL of my friends said that this is the best Peanut Butter Fudge of any kind that they have had and when I told them it was Vegan they did not believe me. I didn't add the Chocolate as I couldn't find any Vegan Chocolate Chips that melted the way I wanted but in my opinion they were amazing without it. I also recommend making the Banana Chocolate Chip Cookies, they were also a hit!
Was this review helpful to you?
Peanut Butter Maple Fudge
This fudge is AH-mazing, and super easy to make. As suggested, I added chocolate. Once the fudge was cooling in the pan, I melted some semi-sweet chocolate chips and spread it all over the top. When I was done eating a square, I felt a strong urge to brush my teeth. However, the fudge is so delicious that I would gladly brush my teeth all day. Yum!
Was this review helpful to you?