Vegan Toasted Coconut Chocolate Chip Cookies

Mattie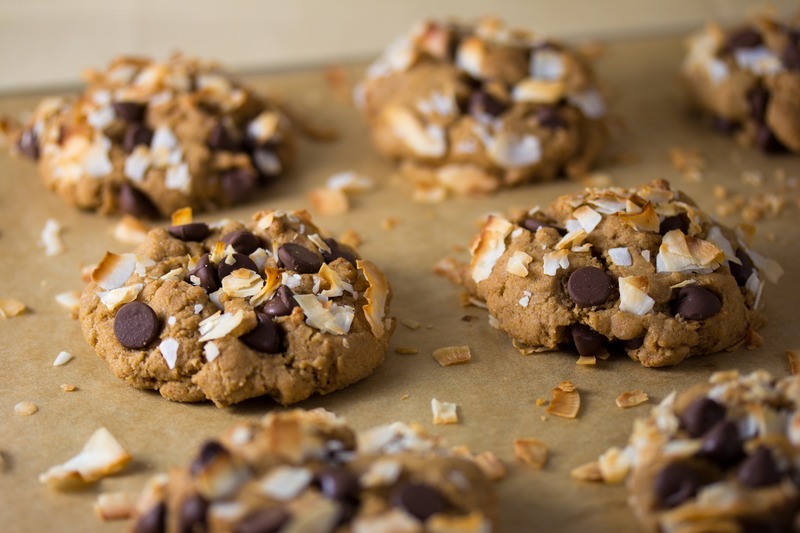 I decided to assemble Team Coconut: an all-star team of players dedicated to bringing in some serious coconut action. Like a Quiet Riot - Bang Your Head (on the Coconut) remix. Based on my
Vegan Chewy Chocolate Chip Cookie
recipe, Vegan Toasted Coconut Chocolate Chip Cookies boast toasted coconut flour, unrefined coconut oil, coconut sugar and shredded coconut that toasts during baking. Let's do this.
Infusing multiple layers of coconut into a cookie recipe
Reworking my vegan Chewy Chocolate Chip Cookie recipe into a toasted coconut version was much more difficult than I had anticipated. A couple months and many happy taste testers later I had an entirely different recipe. I say
many happy taste testers
because even when this recipe doesn't turn out, it's still just coconut, chocolate and sugar; you can't really go wrong with that.
Did you know you can toast coconut flour and it becomes twice as good? Check it out. Below is coconut flour before toasting.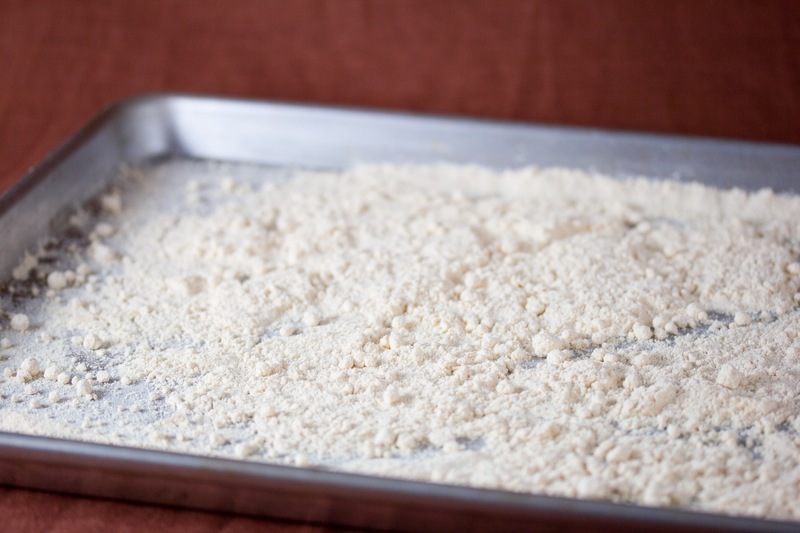 Now here's coconut flour after toasting at 300F (149C) for 20 minutes, below. It makes your house smell real nice.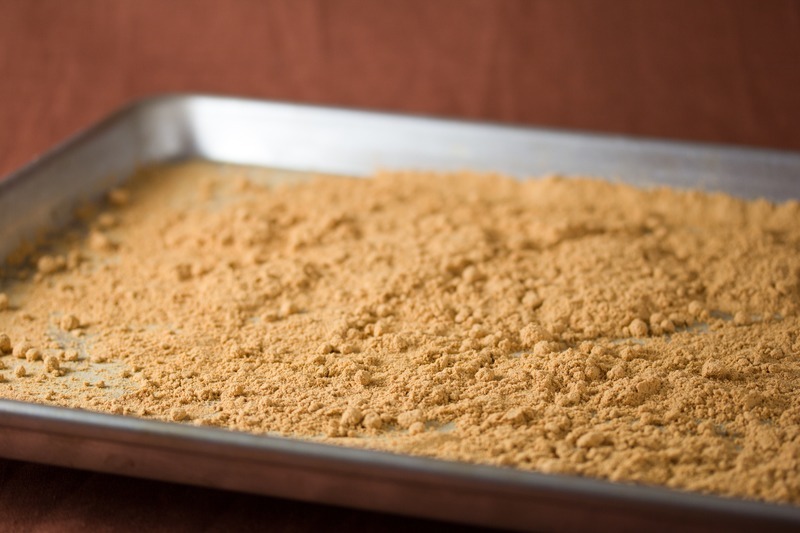 Working with Coconut Flour
The piece of the puzzle that made this recipe so hard to master was the coconut flour. How much coconut flour should you add? It can lend a sandy mouthfeel to things like cookies and cakes when used in excess so you probably want to add just enough to where you have coconut flavor, but just before you feel like you're eating something from the beach.
Coconut flour absorbs about six times the water content of regular all-purpose flour. This means that once you find out how much coconut flour you can cram into your recipe, you're going to need to know how much more water-based ingredients to add. Now since your recipe contains more water, you're going to need to know how much longer you're going to need to bake it. Oh and your recipe now has less gluten than it used to so the texture is going to be different too. Good luck with that.
Getting gluten levels back in check for optimum texture
Less gluten normally means that you're not going to have the chewiness you used to have. So I got around this problem by using gluten-rich bread flour instead of all-purpose flour, which increased the water requirements even more because gluten absolutely lurvs water. "Can you make these cookies gluten-free?" you might ask. Unfortunately the simple answer right now is no. It would require a complete rebuild from the ground up. A challenge which I'll probably rise to someday.
Unrefined coconut oil and coconut sugar is used to increase the level of coconut flavor as much as possible. It's actually still on the subtle side but if you're a fan of chocolate chip cookies and coconut, you're going to love these cookies. Please don't skimp on the molasses. I use it instead of brown sugar because brown sugar is just granulated white sugar with molasses added anyway. It's crucial to moisture retention and chewiness in cookies and it adds a subtle background richness. It's all part of Team Coconut.
Find more
Coconut recipes
on Veganbaking.net
Vegan Toasted Coconut Chocolate Chip Cookie Recipe
1 cup + 2 Tablespoons non-dairy milk
½ teaspoon apple cider vinegar
1 ½ cups bread flour
¾ cups toasted coconut flour
¾ teaspoon salt
1 ½ cups + 1 Tablespoon coconut sugar or granulated white sugar
½ cup + 3 Tablespoons unrefined coconut oil, melted
2 teaspoons vanilla extract
2 teaspoons molasses
1 cup + 2 Tablespoons semisweet chocolate chips
1 cup shredded coconut, unsweetened
1) Toast the shredded coconut
Preheat your oven to 300F (149C). Toast your coconut flour by placing it on a rimmed baking sheet and baking it for 20 minutes. Set the toasted coconut flour aside. Feel free to find out more
information on toasting coconut flour
. If you're working with toasted coconut flour often and you love it as much as I do, you might want to consider making a large amount of it and storing it in a covered container for future use.
2) Curdle the non-dairy milk mixture
Preheat your oven to 350F (177C). In a small bowl whisk together the non-dairy milk, flax meal and apple cider vinegar. Allow it to sit for 10 minutes so the mixture thickens and slightly curdles. Line two baking sheets with parchment paper.
3) Whisk together the dry ingredients
In a medium mixing bowl whisk together the bread flour, toasted coconut flour and salt. Set aside.
4) Whisk together the flavor building ingredients
In another medium mixing bowl whisk together the
coconut sugar
or granulated white sugar, coconut oil, vanilla extract and molasses until well mixed. Add the flax meal mixture from Step 2 and beat until well combined.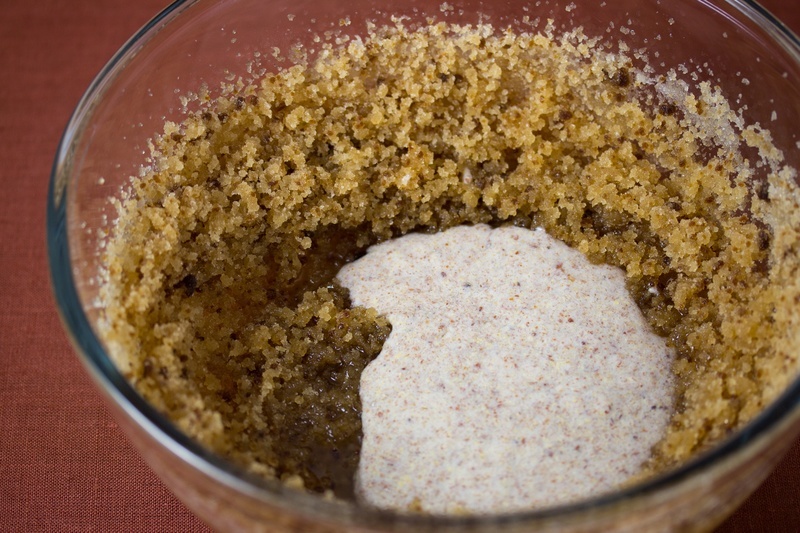 5) Mix the dough
Add the flour mixture from Step 3 and hand mix with a spoon until just incorporated. Stir in the chocolate chips until well mixed but no more. This recipe utilizes bread flour to add additional gluten to make up for the lack of it in the coconut flour. Overmixing this dough will activate too much gluten which will result in cookies that don't spread and come out excessively dry and crumbly due to gluten's ability to hold onto moisture the more it's activated. This is why it's important to mix this dough by hand with a spoon only until just combined. Do not use an electric mixer to mix the dough.
After mixing, allow the dough to sit for about 1 minute so the coconut flour can soak up extra moisture in the dough. The cookie dough will be easier to handle this way.
6) Form the dough into balls, place them on the cookie sheet, coat with coconut and bake to perfection
Form the dough into 1 ½ inch balls. Place them on the cookie sheet so they're spaced about 2 to 3 inches apart. Using your hands, press the shredded coconut up against and on top of the cookies so it's sticking to the dough while still leaving the dough mostly in the shape of a dome. If you were careful to not overmix your dough during mixing, they will flatten adequately during baking.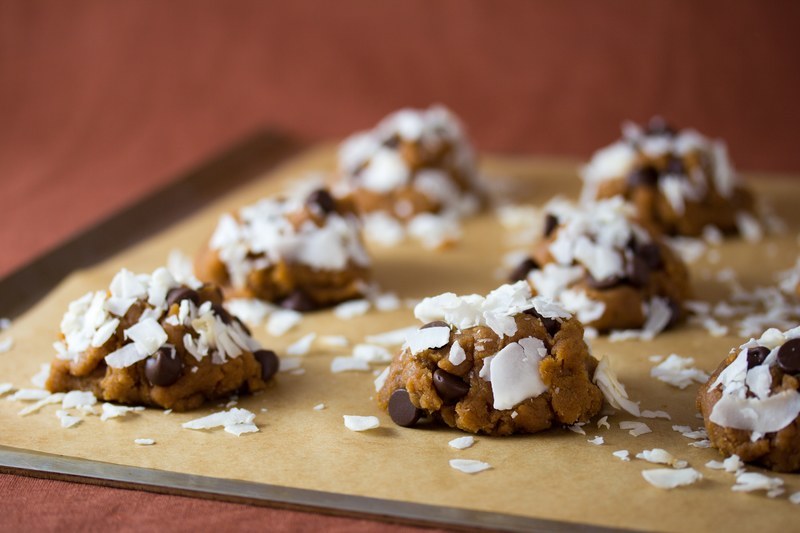 Bake for 26 minutes, rotating the baking sheets halfway through the baking duration. This long baking time is required due to the cookies containing a significantly higher amount of water due to coconut flour's absorptive properties. The cookies will store in an airtight container at room temperature for about one week or in a freezer bag in the freezer for up to six months. This recipe makes about 22 to 24 Vegan Toasted Coconut Chocolate Chip Cookies.